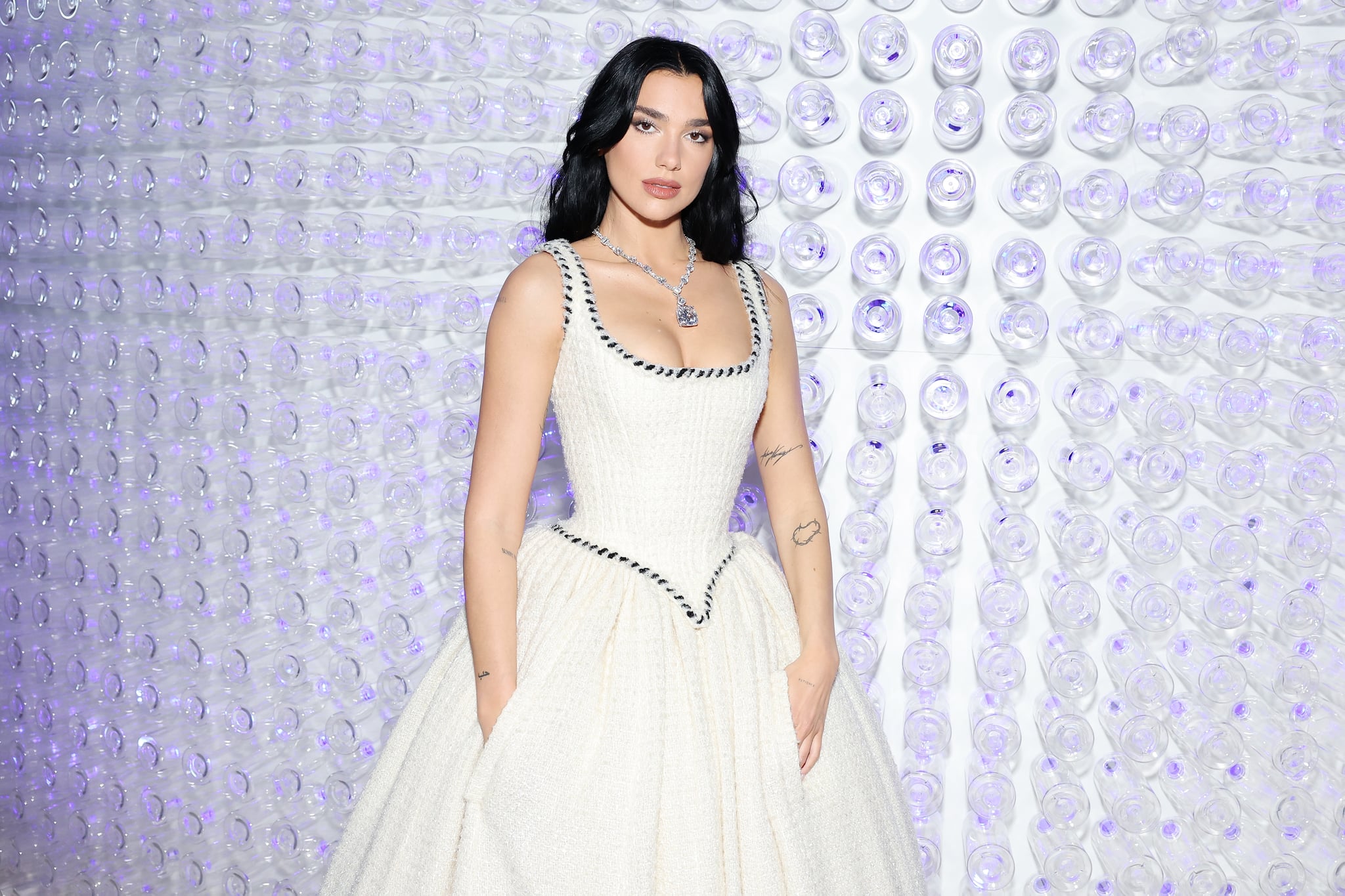 Since her debut album dropped in 2017, Dua Lipa's mastered more than just jaw-dropping performances on stage. From becoming an honorary ambassador to her home country, Kosovo, to serving as cochair at this year's Met Gala, the "New Rules" singer has rocketed into the stratosphere of superstardom, and she's just getting started.
As her fame continues to grow, the Albanian-English pop star's life has become increasingly hectic. In the midst of performing 82 shows on her "Future Nostalgia" world tour last year, Lipa also wrapped up the second season of her podcast, "Dua Lipa: At Your Service," which is tied to her lifestyle platform, Service 95. In the busyness of it all, there's one thing that seems to keep Lipa's feet on the ground: her dedication to taking care of herself from the inside, out.
Whether she's at home or on tour, Lipa's made it clear that her wellness routine is nonnegotiable. "It's such a busy lifestyle, I feel like I need to try and do something for myself every day," she told Viva Magazine in 2018.
From working out at the time of day when she feels the most energized to eating foods that are both nourishing and nostalgic, Lipa relies on a few core practices to stay grounded and connected. Here's everything we know about her wellness routine.
She Prefers Short, Impactful Workouts
Between shows, interviews, and engagements, Lipa is undoubtedly busy. But she tries to always make time to exercise — even if it's just for 15 minutes.
"I try and work out as much as I can," Lipa told Viva. "I love doing something that's really fast and quick, like a 15-minute HIIT session which I can do before I start my day."
It makes sense that high-intensity interval training works best with her schedule since it's a super-efficient workout, packing a lot of benefits into a short timeframe. "It's high-intensity interval training, but it's so quick, it's over before it's even started!" Lipa told Vogue in a 2017 interview.
More recently, Lipa has mentioned preferring mind-body and strength-based workouts instead of cardio — including Pilates, which tons of celebs are talking about at the moment. "I also love to do yoga, Pilates, or strength training," Lipa told Refinery29 in 2021. "I like to leave my cardio workout to dancing."
She Switches It Up
If it's not already clear, Lipa doesn't just stick to one type of exercise — she loves to switch things up in the gym.
"When I have a tiny bit more time on my side I love mixing up lots of different training, finding different workouts in whatever city I'm in, whether it's yoga, Pilates, boxing, or spinning. Whatever it is, I try to change it up every day to keep things interesting," Lipa told Viva.
Boxing workouts are a favorite of hers for more reasons than one. "I like that it's definitely a full-body workout. Since starting boxing I've probably been in the best shape ever," Lipa told Viva. "It's also a great stress reliever."
And in a hearteningly relatable moment, Lipa told Viva that she knows "planks are good" but admits they're her "least favorite" when it comes to ab exercises.
She Moves First Thing in the Morning
Lipa's schedule is subject to change every day, but one thing stays the same: mornings are for working out. "In the morning, I know I have that time for myself and I've always carved out time for it. Although I would do an evening one if I needed," Lipa told Glamour UK in a 2022 interview.
According to her interview with Refinery29 in which she details her daily routine, Lipa wakes up at around 7:30 a.m. every day and immediately gets moving alongside her adorable dog, Dexter. "Our walks are the perfect way to get my mind right for the day ahead," Lipa said. "While walking, I make a mental list of my intentions for the day."
After her walk, Lipa usually goes straight into a workout; "Getting physical really starts my day off right," Lipa said.
Yoga Is a Daily Practice
No matter where her job takes her, Lipa makes sure to get a solid yoga practice — and that's evidenced by the many Instagrams that show her doing headstands and flowing everywhere from Copenhagen to the desert. Yoga is so integral to her well-being that the singer told Vogue in a 73 Questions With Dua Lipa: "I always travel with my yoga mat."
When asked about the most difficult pose she's mastered in the video, Lipa doesn't hesitate before responding, "Crow pose into headstand." Then, she effortlessly demonstrates the pose while wearing an outfit fit for the stage.
"I've been practicing yoga for about seven years — just going to classes. But for the past, maybe three years, I've been doing it almost religiously," Lipa told Glamour UK. "When I first started, I saw it as more of a workout. Now, it's turned into a form of meditation. It's the only time [when] I don't think about anything else. And it's been really helpful because it's an hour of my day where all I focus on is just a movement."
She Doesn't Train Alone
Some people like to work out alone, but Lipa's the opposite: "I love workout classes or working with a trainer," Lipa told Viva, "I feel like I'm pretty useless on my own, so I prefer being around other people working out with me."
For Lipa, working out isn't just about getting fit — it's an opportunity for her to connect with her favorite people and cheer each other on.
"Whether it's on Zoom, doing a workout with my friend Ella in L.A. . . . or with my best friend, Bunny, who comes over to train me on days when I'm feeling super lazy and need someone to get me motivated," Lipa told Viva in 2018.
When it Comes to Food, Balance Is Key
Apart from being a singer, dancer, and activist, Lipa is a foodie. "I try and stay as healthy as possible whenever I can," Lipa told Viva. "I'm never one to stop myself having naughty treats, but I try and limit it to days when I'm not as busy because if I do eat a doughnut it usually puts me in a food coma!"
Lipa is also open about her love for Albanian food, especially when cooked by her mom. "I always look forward to [Albanian food] after a long stint on tour," she said in Vogue's video.
Specifically, "spinach pita [is] one of my favorite Albanian dishes," Lipa shared in an interview with First We Feast. "It's a pastry with spinach and cheese, and it's delicious." In the same interview, Lipa shared her love for an Albanian spicy sausage called sujuk and a roasted pepper paste called ajvar. And, of course, she gave a shoutout to her favorite UK dish: "Beans on toast . . . that's like one of my favorite English meals."
When it comes to fueling up after a workout, Lipa's favorite snack, according to her interview with Viva, is a banana with cashew butter. But, at the end of the day, she eats whatever feels right. "With all the running around I do for work, it's nice to come home, slow down, and connect with the food that nourishes my body and life," Lipa told Refinery29.
She Knows How to Unwind
It seems like Lipa's always on the go, but the singer knows just what she needs to unwind at the end of a busy day. When she's on tour, her night routine consists of two important things: "Lots of sleep and lots of tea," Lipa said in Vogue's 73 Questions video.
When she's at home, she typically likes to settle into bed at around 9 p.m. and have a quiet moment to herself. "I usually take this time to check in with myself and practice gratitude," Lipa told Refinery29. "I also like to take 30 minutes to meditate before bed for that added wind-down."
Image Source: Getty / Cindy Ord/MG23