My mother, Kimberly, loved white florals: freckled limbs moisturized with plumeria body lotion, rooms filled with Pottery Barn furniture and Madonna lilies, and pulse points misted with her signature tuberose perfume before she walked out the door.
When she died of cancer in 2011, the wake was filled with her favorite flowers, giving me a decade-long aversion to the scents she loved so much. Until recently, I was still haunted by white florals—I would give away bouquets oversaturated with pungent lilies because the smell made me nauseous. At the time of her death, I was a naïve 21-year-old who assumed the memories of my mother would be permanently etched into my brain. The image of her long nails always painted the same shade of OPI red, the sound of her guawffish laugh, even the way she said my name in her sorta-Southern drawl, are all now fading as I grow older. In a panic, I scoured the internet to find a fix.
I found, of all things, research on scent. A study published in 2021 in the journal Progress in Neurobiology found through neuroimaging that smell is the sense with the strongest relationship to the hippocampus, the part of the brain that controls memory, emotion, and the conscious and unconscious. Other studies examining the relationship between scent and remote memories have found that aromas can be used to help with memory loss recall, too. International Flavors & Fragrances (IFF), the perfume house that brought Lancôme La Vie Est Belle to the market, has been studying the emotional weight of scents for almost 40 years. Researchers have presented participants with a note like vanilla or a blend like grass, and then recorded their reactions via a combination of techniques, like word-association questionnaires and brain scanning.
"We've found that white florals can be associated with happiness and relaxation, among other aspects," says Céline Manetta, CSI Global Innovation senior manager at IFF, who has a PhD in the psychology of olfaction. Makes sense to me, because before my mom's funeral, the scent was connected to special moments for me like Valentine's Day deliveries and fancy nights out. With this in mind, I ask if there is a certain scent IFF has found that universally aligns with comfort and motherhood. "The scent of a mother is hard to identify because it's not a singular scent per se. It's associated with a variety of scents based on different factors and personal events," Manetta says. "One common association is vanilla, because a mother's breast milk and formula have strong vanilla fragrance compounds. Our first exposure to the scent is with comfort and cuddling warmth." While my mom baked phenomenal cookies and loved to cuddle, there was something much more personal I associated with her: plumeria, lilies, and tuberose.
Philanthropist Audrey Gruss's late mother, Hope, loved the same flowers my mom did. "I had a completely different reaction [to them] after her passing," she says. Gruss's most cherished moments with her mother—visits to the theater, singing and listening to music, and tending to a garden filled with jasmine and lilies—are tied to her mother wearing lily-of-the-valley scents like Miss Dior Eau de Parfum. In 2016, Gruss and Firmenich master perfumer Honorine Blanc created Hope Eau de Parfum in her mother's memory (all net profits go to charity). "Every time I smell white flowers, I am reminded of the positive moments with her," Gruss says. "Now I'm wrapped in all of those happy memories when I wear the fragrance."
I hoped for an experience like Gruss's. Over the holidays, I fought the crowds at the mall with only one item on my shopping list: Estée Lauder Private Collection Tuberose Gardenia Eau de Parfum, my mother's signature scent. I've started slowly spritzing it when I am in the mood to summon her spirit—my version of a Ouija board. So far, my white floral exposure therapy hasn't given me a flood of memories. What comes up first is still the sadness from her wake, but some happier memories are filling in the gaps, too. Now I also remember a road trip we once took: My mom was at the wheel of our little champagne-colored sedan, and I was her copilot. When we stopped for gas, she fixed her frosted pink Mary Kay lipstick in the mirror. "Wanna try, Marrrrgaux?" she purred. Perhaps that was the start of my interest in beauty—and just one of the ways she's still here with me today.
This article appears in the May 2023 issue of ELLE.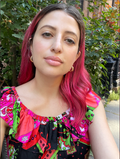 Beauty Editor
As ELLE's beauty editor, Margaux wants to try it all and do it all…and she does. She's not afraid to chop, slather, dye, swipe, inject, and more—and if it's worth your time and money, she'll rave about it here.