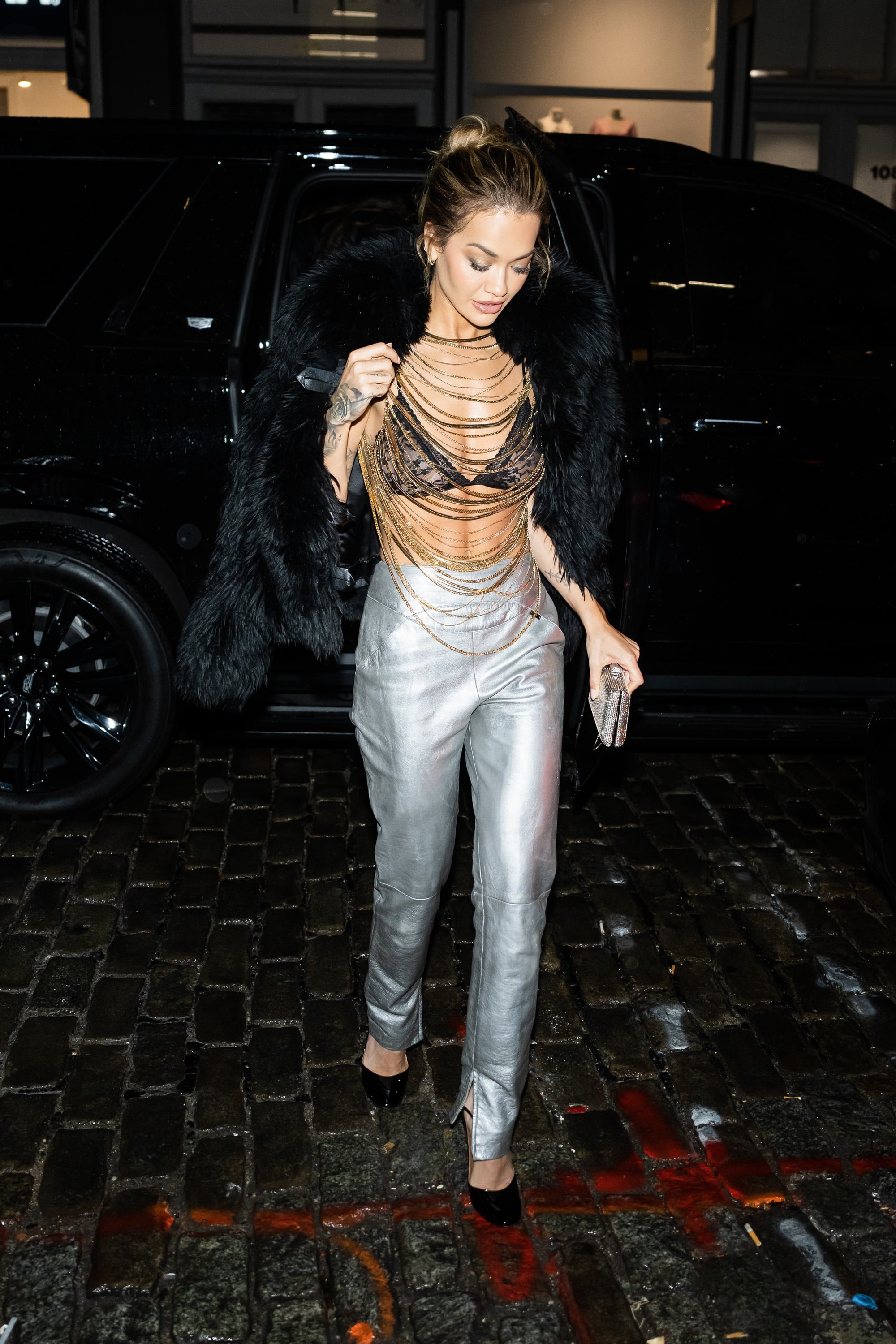 Image Source: Getty Images / Gotham
The Met Gala is tonight, and Rita Ora's attendance isn't yet confirmed — but it seems she's been serving look after look in preparation, including gym 'fits like this very cute green workout romper. But they aren't just for show: the singer has been crushing workout after workout, and we have the receipts to prove it.
On April 28, just a few days prior to the event, Ora posted a carousel of images on Instagram, including a clip of her in an NYC gym doing some reps on a reverse hyper machine. The specialized gym tool is great for strengthening your posterior chain (the muscles along the back of your body) and specifically works your back, hamstrings, and glutes in a way no other machine can. If you want to cop her move, it's a little tricky to duplicate without this piece of equipment, but glute kickbacks and hamstring curls get close.
Curious about what the rest of her strength routine looks like? A few months prior, on Feb. 22, the singer shared another peek at her workout routine on Instagram with more challenging leg and glute exercises.
The first gallery slide, seen below, shows her kneeling on a bench and falling onto an exercise ball with her ankles restrained by leg rollers. Our initial reaction was . . . Ouch? Ora can hardly contain her laughter as she executes the silly-looking move and repeatedly insists, "I can't do it!" When someone off camera encourages her by yelling, "Two more!" she dutifully obliges.
Though the newly married star aptly calls the exercise "body slams" in her caption, they're technically referred to as Nordic curls. The move targets the hamstrings by using just your body weight; the idea is to resist the falling motion, and the exercise ball gives you a safe place to land. During the "eccentric" phase of the movement (as you're falling forward), your hamstrings lengthen and activate under tension, which ultimately helps build muscle. You can curl back upward to your starting position if you'd like, but Ora opts out of this. She seemed to acknowledge how funny the move looks on Instagram Stories, writing, "Don't judge me at least I showed up for myself today Haahaha I have my own work outs ok! Lol."
That's not the only challenging leg exercise she shared in the Instagram post. Next up, Ora secures herself into a piece of Keiser workout equipment called the A300 Runner, which looks like a backward elliptical of sorts. According to the brand's website, the machine "places you in a position that simulates the acceleration phase of a sprint." You can easily change the resistance throughout your workout with thumb buttons, and it's designed to be easy on the joints. It looks a little odd, but seeing Ora power through a sprint on the machine is enough to make us want to give it a try.
Last but certainly not least on Ora's workout checklist: some pull-ups. In a still photo, the songwriter is seen either at the top of a pull-up or doing a pull-up hold, which is a great way to work your way up to doing pull-ups. She has a neutral grip, meaning her palms are facing each other, rather than forward or backward toward her chin. This variation builds forearm strength and helps avoid shoulder and wrist problems because it's a more natural positioning for the joints.
While Ora clearly loves sharing her weight-room workouts, this isn't the only way she stays fit. On March 29, she shared a "spend the day with me" TikTok in which she tried to get over her jet lag by going to Pilates (specifically, Body Love Pilates in Sydney). And in mid-February, she also posted her at-home leg and booty workout on TikTok, featuring glute bridges, lunge variations, and weighted squat pulses with a pair of dumbbells. She also used to work with fitness trainer Jono Castano, who shared a glimpse at her upper body and ab workout back in May 2021.
All this is to say, Ora knows how to get after it in the gym. We'll be here patiently waiting to see her Met Gala outfit (if she attends) or a look at her next workout. TBH, at this point, both seem equally entertaining.
— Additional reporting by Lauren Mazzo
Image Source: Getty Images / Gotham