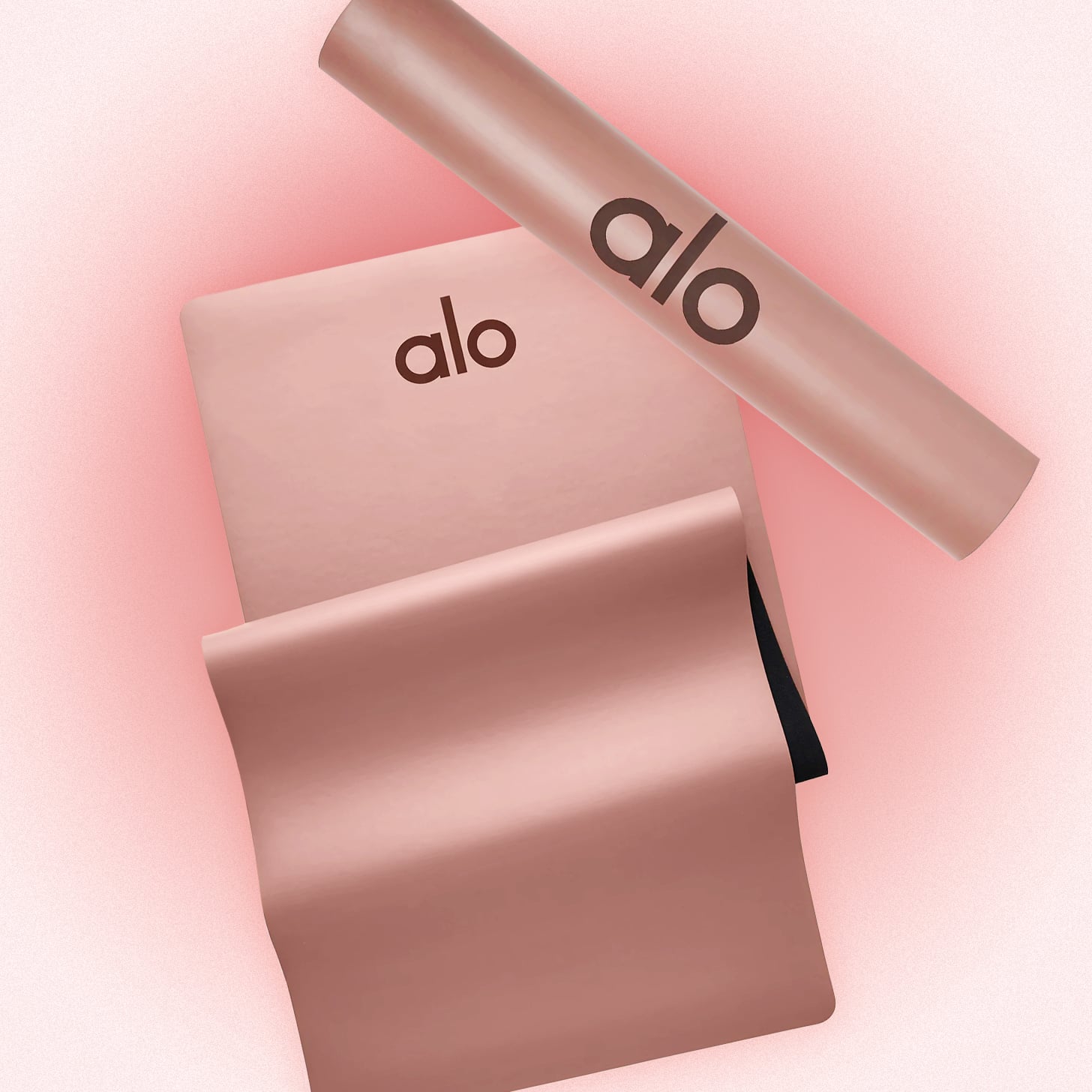 My theory is that yoga mats are a lot like skin care — one person's holy grail is another person's disaster. Personal preference matters, which is why it's often necessary to experiment with many different options to find the best yoga mats for you. But I'm lucky in that I've found my Goldilocks-just-right fit: the Alo Yoga Warrior Mat.
I don't remember exactly how the Alo Yoga Warrior Mat came into my life, or when. I received it in a PR package at least five years ago, but possibly as many as 10 years ago. But since then, it's been the only yoga mat I've used regularly.
And while you might be eyeing the $128 price tag, I estimate that my cost per use works out to less than a quarter per workout session (and that's figuring I've only had it for five years). In my eyes, that's more than worth it.
What I Like About the Alo Yoga Warrior Mat
My zeal for the yoga mat didn't start immediately. I noticed it was a high-quality mat right away: thick enough to cushion my joints in every position, but heavy and dense so I never felt unstable, and large enough so my feet and hands never had to stretch outside the bounds of the mat as I bent into lunges, squats, and warrior poses. (There's a reason it won a 2023 POPSUGAR Fitness Award, after all.)
But it wasn't until I would use other mats and find them lacking that I started to develop a true bond to my Alo Yoga Warrior Mat, which I have in black. And now, it's the only mat I'd recommend to my friends, whether they're looking for a yoga mat or an all-purpose exercise mat, for home practice or lugging back and forth to studios.
In case you're wondering, five to seven to maybe 10 years is an absurdly long lifespan for a yoga mat, which in my opinion helps justify the slightly higher price point. Many start shedding, tearing, or just plain wearing out after a year. Admittedly, in the last year or so, the edges of my Alo Yoga Warrior Mat have started to show some wear from consistent use, with the luxe-feeling matte finish wearing away at the corners to reveal the rubber. (Possibly because I don't always follow the instructions advising to only roll it up with the top side facing out.) But it's not shedding or affecting the quality of the mat enough for me to get a replacement quite yet. And it's never, ever picked up a funky, sweaty smell.
Something else I love about the mat: the edges never stay curled, after it's spent a week or more curled up in storage in a corner. This is a small but serious pet peeve of mine with other, more lightweight mats.
Plus, the high-quality matte finish of the mat, and the 100 percent rubber backing, means the mat grips the floor and other mats perfectly. I rarely experience shifting, even when I stack another mat on top for when I need even more cushioning.
What's Worth Noting About the Alo Yoga Warrior Mat
My passion for the Alo Yoga Warrior Mat knows no bounds. But as I said, yoga mats are personal, so there are things that may fall into the con category on your own shopping list.
The weight of the yoga mat is the main one. It's oversize and made of high-quality rubber, so the mat clocks in at about eight pounds. That's not unusually heavy by any means. The Manduka Pro Yoga Mat is between 7.5 and 9.5 pounds, depending on the length, while Lululemon's The Mat 5mm is just over five pounds. But if you're looking for a truly lightweight mat that's great for travel or commuting, it might feel a little heavy.
Who Is the Alo Yoga Warrior Mat Best For?
Due to the size and heft of the Alo Yoga Warrior Mat, it's best for people looking for a durable, long-lasting mat for their home yoga or exercise practice — although it would make a great mat for bringing to studios, as long as you're OK with the weight. It's suited for any type of activity, in addition to yoga.
Is the Alo Yoga Warrior Mat Worth the Splurge?
Unequivocally, yes. You also can find less-spendy mats (and much more expensive mats, for what it's worth). But in my opinion, the durability and quality of this mat more than make the $128 price tag worth it.
Additional Details
Color options: The Alo Yoga Warrior Mat comes in seven colors (although the blue is currently sold out online).
Dimensions: 6.2 ft x 2.2 ft x 5 mm
Makeup: Made with ethically sourced, premium, all-natural rubber; 100 percent formaldehyde-free, nontoxic, and PVC-free.
Care: Wipe down the mat with a microfiber cloth after each use; if you're using cleaner, spray the cloth, not the mat directly.
Where Is the Alo Yoga Warrior Mat Available?
You can buy the Alo Yoga Warrior Mat ($128) directly from Alo Yoga, as well as Nordstrom ($100-$128).
Image Sources: Alo Yoga and Photo Illustration by Aly Lim