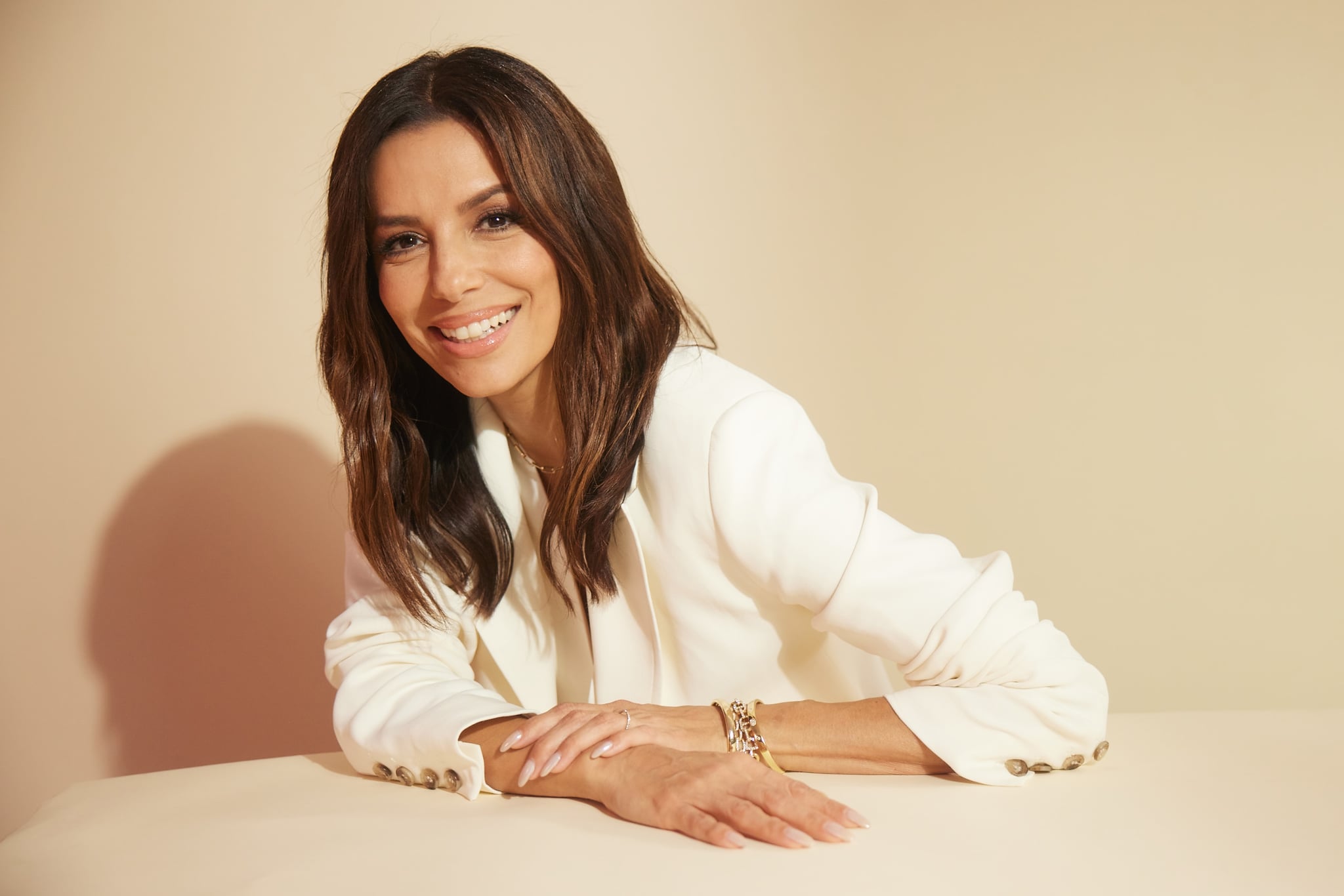 Eva Longoria says her whole life is a wellness routine. "It's not a fad or, like, a moment. Wellness is a lifestyle," she tells POPSUGAR in an exclusive interview.
The actress says she's always been an active person. "I've always been moving and I think movement is very important." She was a high school athlete and a cheerleader in college, and now, later in life, she says movement is important to her mental health. "Before it was like, 'I want abs!' and now I need it for my clarity."
Despite being constantly on the go as an entrepreneur, director, and producer, Longoria makes sure to fit in movement on the road. She starts the day with plenty of water that she uses to chug down various vitamins and supplements. And then she hits the gym. "I'm not even fully awake and I'm putting on my sports bra," she laughs. "And then once my body is moving my mind catches up."
"My only goal is getting to the gym tomorrow at 5 a.m."
In a January 2022 interview with Women's Health, Longoria shared that she has a goal of moving her body every day and uses her fitness routine — one hour a day, no matter what — to keep her on track. She likes to fold in a variety of workouts, including strength training, yoga, and kettlebell flows (doing several kettlebell movements in a row).
Right now, Longoria tells POPSUGAR that she prefers a workout that keeps her present. "I used to be a runner because I could zone out and listen to a podcast," she says. But she's left that behind for another kind of cardio: "When I need a good sweat, I love bouncing on my trampoline," she says with a big smile. She discovered the bounce-based exercise during COVID through an online class with the boutique rebounding fitness studio The Ness. "You have to have their trampoline," she encourages. "It's like the Rolls Royce of trampolines." The Ness' model (which won a 2023 POPSUGAR Fitness Award) uses bungee cords instead of springs to offer a low-impact workout.
The workout isn't a bouncing free-for-all, but rather a choreographed routine with moves like squats, step-ups, and high-knees, made easier on your joints — but harder on your muscles — thanks to the trampoline. "The technique is very important," Longoria says. "People think you bounce up and that's when you bounce off!"
Longoria says she loves trampoline workouts partially because of the mindfulness aspect. "It's a great mental workout because you can't zone out, you gotta be present. You gotta be right there on the trampoline because we're switching between the left leg then the right and now we're kicking and you're like 'I'm gonna fall off this thing.'"
Being present is also what got her into strength training. "As I'm weightlifting, I'm really thinking about that one lat muscle or whatever muscle I'm strengthening," she explains. "As we get older, just standing up from the floor without holding onto something requires core and leg strength," she laughs. "You really need that core muscle mass for mobility." She's right: your core muscles play an important role in supporting and stabilizing your spine and pelvis. If those muscles get weak, it can lead to various types of injuries and pain.
Longoria's busy schedule requires a lot of discipline. Currently shooting in Albuquerque, she goes to the gym at 5 a.m. every day. "People say 'I can't believe you wake up at 4:30 a.m. to get ready for the gym and make it to work by 6:30,'" she says. Her secret is "budgeting my sleep," meaning her whole day is built around getting a good night's rest. "I sleep well because I eat well," she explains. "All my meals are planned. I'm very dedicated to paying attention to what goes into my body."
But she's not restrictive, diet-wise: as the founder of Casa Del Sol tequila and Risa Cookware, Longoria is always sharing recipes and videos of her homemade dishes, from parmesan almond-crusted chicken to enchiladas, as well as plenty of homemade margaritas. She also spends plenty of time in the kitchen with her 4-year-old son, Santiago, who's endlessly curious about food.
Oh, and add one more thing to her schedule: philanthropy. Longoria's latest charitable project is a partnership with Kellogg's Breakfast For All initiative, which donates $1,000 (equal to 10,000 meals) to No Kid Hungry for each purchase of an Eva's Breakfast For All Bundle (which includes several breakfast items as well as something signed by Longoria).
In addition to all this and her morning workout, Longoria dedicates time to bodywork, which includes massages, acupuncture, and getting adjusted by her chiropractor three times a week. "I'm a huge self-care person because my life is taxing on my body," she says. Ultimately, maintaining her life balance revolves around movement, eating, and sleeping, which she says are deeply intertwined.
How does Longoria find the time? "It's all about building wellness into your day," she answers. "A lot of people get paralyzed by the process or are not sure where to begin," she says, giving the example of tracking down a gym. "I was in Albuquerque for one day and I found a gym, a trainer, and a chiropractor. My team was like, 'Don't you want to sit and talk about your goals?' My only goal is getting to the gym tomorrow at 5 a.m." From there it's just showing up. Or, as she puts it, "You just begin."