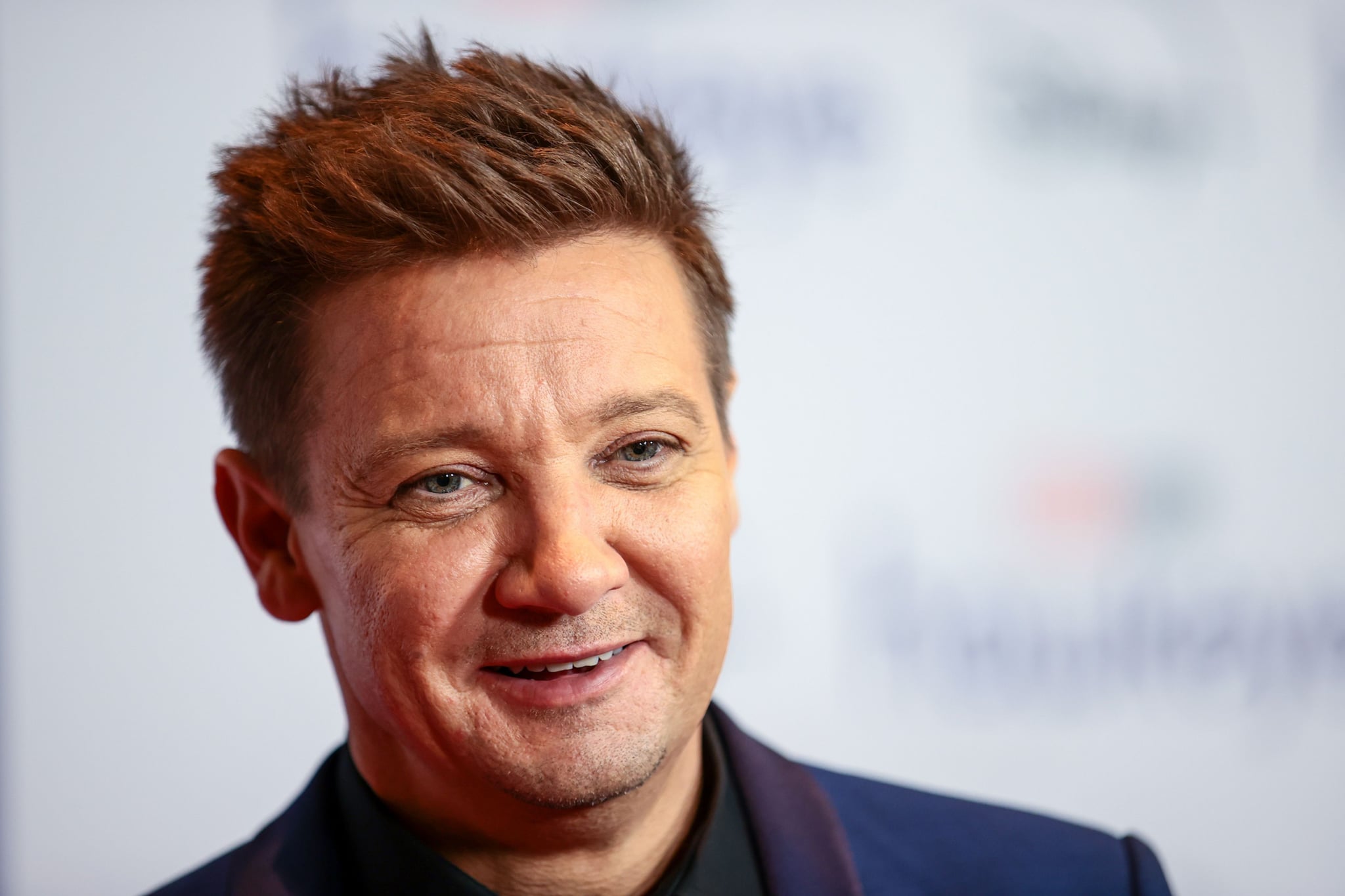 Image Source: Getty / Dimitrios Kambouris
On New Year's Day, "Avengers" star Jeremy Renner was in a horrific snowplow accident, leaving him with "blunt chest trauma and orthopedic injuries" — including more than 30 broken bones — and placing him in the intensive care unit. Since then, Renner has been on a slow but steady path to recovery. He has taken to social media regularly to update fans on his health and is staying miraculously positive in the process. On April 11, he even walked the red carpet for the "Rennervations" premiere.
Now that he's further along in the healing process, Renner is rehabbing in the gym — and he's been sharing snippets of his workouts on Instagram as proof.
In his latest post shared on April 19, Renner hit the weights for what was apparently the first time since the accident, according to People. The actor shared a video on Instagram Stories showing him doing some single-arm rows with a heavy-looking dumbbell.
He also shared photos of encouraging Post-it notes that were left all over the gym by his 10-year-old daughter, Ava Berlin Renner. "My daughter inspires me…what inspires you?" he wrote alongside photos of the hand-written messages. "She leaves me post-it notes all over to keep me going!!" He shared a video of one note on Twitter, which read "Hi beautiful" with a smiley face.
Sneaky Post-it notes by my daughter ! #inspiration pic.twitter.com/WXcSyxS8Vc

— Jeremy Renner (@JeremyRenner) April 19, 2023
In addition to strength training, Renner appears to be doing plenty of cardio. He's been walking with a cane for the last few weeks, including during his recent appearance on "Jimmy Kimmel Live," but it looks like he's training to soon leave it behind.
On March 26, Renner shared a video of himself walking on an antigravity treadmill. He shared a tweet showing the sci-fi-ish setup, writing: "I now have to find OTHER things to occupy my time so my body can recover from my will." In the clip, he's describing to another person in the frame how the treadmill is helping him walk with only 40 percent of his weight. Antigravity training, like what Renner's doing here, "assists athletes by lessening the impact or loading on lower body extremity joints and muscles while shortening the healing process," according to University of Michigan Medicine. It's a useful tool for maintaining cardiovascular fitness and strength even when you're dealing with weight-bearing restrictions due to injury.
I now have to find OTHER things to occupy my time so my body can recover from my will. #minduful #intended #recovery pic.twitter.com/TuDFSMVJHY

— Jeremy Renner (@JeremyRenner) March 26, 2023
In February, Renner also shared an Instagram Story with a video of himself pedaling on an exercise bike, captioning it, "whatever it takes," as captured by E! News, as well as an electric muscle stimulation (EMS) session, per People. EMS sends electrical impulses from a device to a designated area of the body, creating involuntary muscle contractions, and is often used in rehab settings for pain or recovery.
While his recent posts have made Renner out to be recovering as fast as a real-life superhero, he's been honest about the difficult parts, too, posting plenty of photos of rehab from his hospital bed and thanking people for their support and well wishes.
Fellow fitness devotee Chris Hemsworth has been a loud supporter, commenting "[you're] a champion mate! We love you" on one of Renner's postaccident Instagram posts. We're looking forward to seeing the next recovery workout benchmark Renner checks off — and hoping there's a fitness collab between those two Marvel stars coming soon.