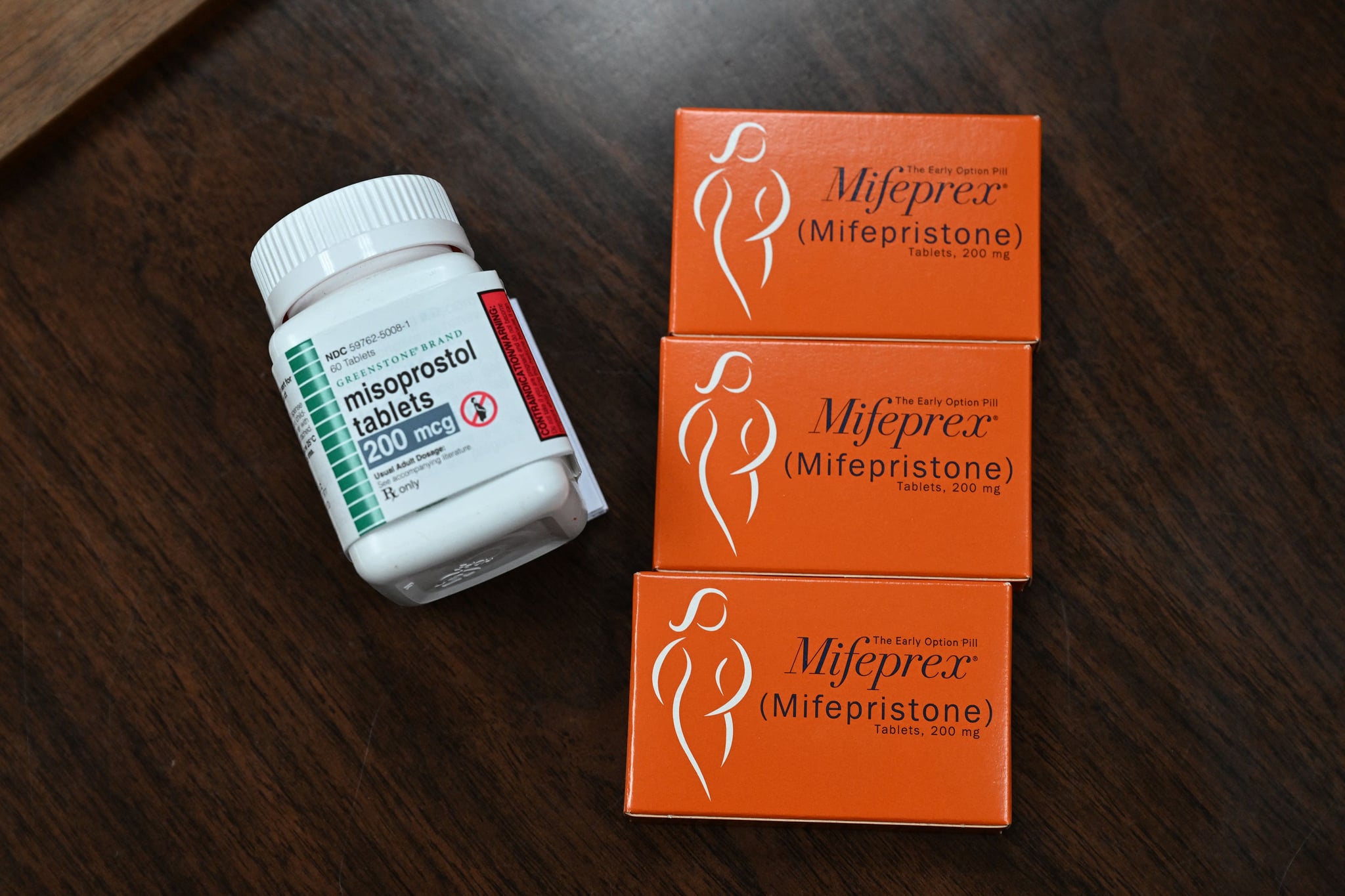 About half of all abortions are medication abortions, meaning they're done using the abortion pill, reports Guttmacher Institute. But over the past several months, the legality of this medication — which was first approved by the Food and Drug Administration 23 years ago and is overwhelming safe, having been used by about five million people for pregnancy termination, according to the FDA — has been in question.
Access to the abortion pill, which actually typically refers to two drugs, mifepristone and misoprostol, that are taken together to terminate pregnancies, has never been perfect. But since the overturn of Roe v. Wade, many states have made it even harder to access the medication. And in early April, a federal judge in Texas issued a ruling that would invalidate the Food and Drug Administration's approval of mifepristone altogether.
"This does not just affect women in Texas," President Biden said in a statement. "If it stands, it would prevent women in every state from accessing the medication, regardless of whether abortion is legal in a state."
Fortunately, a federal appeals court ruled on April 13 to keep the abortion pill mifepristone available. But they did temporarily block the abortion pill from being sent via mail and rolled back other steps to expand access to the pill, per the Washington Post.
To better understand why the abortion pill is currently at the center of such a fierce legal tug-of-war, it's essential to know how the abortion pill works. So we asked doctors to explain everything you need to know about the abortion pill — including where you can get the abortion pill, in light of all the anticipated changes to reproductive rights.
How Does the Abortion Pill Work?
The abortion pill is actually typically two doses, each containing a different drug. The first dose is mifepristone, known in the US as Mifeprex, which was approved by the FDA in 2000. The exact laws around how and when it's possible to obtain a medication abortion vary by state. But the FDA has approved mifepristone to be used through 10 weeks gestation, so 70 days or less since the first day of one's last period, although the medical community has since supports its use up to 77 days, says Colleen P. McNicholas, MD, the chief medical officer at Planned Parenthood of the St. Louis Region.
Mifepristone must be ordered, prescribed, and dispensed by a qualified healthcare provider, so patients are often required to take it in a qualified hospital, health clinic, or pharmacy. The second pill, misoprostol, is taken 24 to 48 hours after the dose of mifepristone, and can be taken in the location of your choice — like at your home.
Dr. McNicholas says mifepristone stops a pregnancy from progressing by blocking progesterone, one of the hormones that holds the pregnancy to the uterus. Misoprostol then causes the uterus to contract, resulting in cramping and bleeding after one to four hours that expels pregnancy tissue. According to Planned Parenthood's national website, a person may also feel the following side effects:
Upset stomach and vomiting
Diarrhea
Mild fever
Tiredness
Heavy bleeding with large clots
Dizziness
Nausea and slight bleeding may occur after taking mifepristone, although it's uncommon. Expelling the pregnancy tissue usually lasts four to five hours or longer, and the cramping may persist for a few days. Planned Parenthood notes that if you don't have any bleeding within 24 hours of taking misoprostol, you should call your doctor.
You'll have a followup appointment a week or two after the medication abortion. But Melissa Grant, COO of abortion and reproductive-health service provider Carafem, tells POPSUGAR that this checkup can sometimes happen virtually. After checking in about symptoms, providers may ask you to take a home pregnancy test to confirm a negative test result, for instance.
How Effective Is the Abortion Pill?
According to Planned Parenthood, if you are eight weeks pregnant or less, a medication abortion works about 94 to 98 percent of the time. For people who are between 10 to 11 weeks pregnant, it's about 87 percent effective.
If the abortion doesn't work, you may need additional medication or an in-clinic procedure.
Complications from medication abortion are also rare but could include pregnancy tissue left in the uterus, infection, allergic reaction, blood clots in your uterus, and excessive bleeding. Call your doctor if you feel sick more than 24 hours after taking misoprostol.
Where Can You Get Abortion Pills?
Historically, these pills had to be acquired from a doctor's office or a clinic, such as Planned Parenthood or Carafem. Some doctors would give mifepristone to you in their office and write a prescription for misoprostol to be picked up at a certified pharmacy, or they might have misoprostol at their disposal and send you home with it.
Now, with the January FDA ruling, you may be able to bring both of your prescriptions to your local drugstore or pharmacy chain, like CVS — as long as they're certified under the Mifepristone REMS Program. You can also stick to the office or clinic method if you feel more comfortable doing so.
But not all pharmacies, health clinics, and hospitals want to or are able to get certified to prescribe and administer abortion pills. (One reason? They may fear retaliation directed at them by anti-abortion groups, reports The New England Journal of Medicine.) While some reproductive health advocacy groups assert that given the overwhelming evidence of the safety of medication abortions, the pills should be more freely available; people should be able to order them by mail, for instance, and take both in their own homes, rather than just misoprostol.
During the pandemic, a federal judge ruled in favor of an American Civil Liberties Union lawsuit that argued that patients should be able to be prescribed abortion pills via telehealth during the pandemic. It was lauded as a victory in the fight for abortion access, and many hoped it would spur lasting legislative change that would persist beyond the pandemic.
Instead, not even two years later, Roe v. Wade was overturned and abortion access became even worse. And now, the recent federal ruling has temporarily blocked the delivery of the abortion pill via mail.
All that said, your state's laws will impact whether and how you can access a medication abortion. So if you're seeking abortion pills, Grant suggests using the National Abortion Federation to find a list of accredited providers across the country. If your state isn't listed, abortion may be illegal where you live. An organization like the National Network of Abortion Funds may be able to help you figure out your next steps.
How Much Does the Abortion Pill Cost?
The cost varies and also depends on several factors, such as the facility you go to, state law, tests you may need done before or after your medication abortion, and insurance coverage. However, Grant notes that the average cost nationwide for medication abortion through a private office is usually between $400 to $450. People who choose to purchase the pills virtually, she says, tend to pay a reduced cost.
48336783
Obstacles Remain For Medication Abortions
While drugstores that agree to certain rules — such as obtaining certification from the FDA — can provide the abortion pill, patients still need to obtain a prescription from their healthcare provider. Mifepristone isn't available for over-the-counter use.
This progress also "doesn't change the sparse landscape of abortion access post-Roe. Millions of people still live in states where abortion care is banned entirely," Kirsten Moore, director of the Expanding Medication Abortion Access Project, said in a statement.
Plus, if the April federal ruling is any indication of what's to come for abortion access, then we may be in for more dire circumstances.
— Additional reporting by Melanie Whyte and Samantha Brodsky