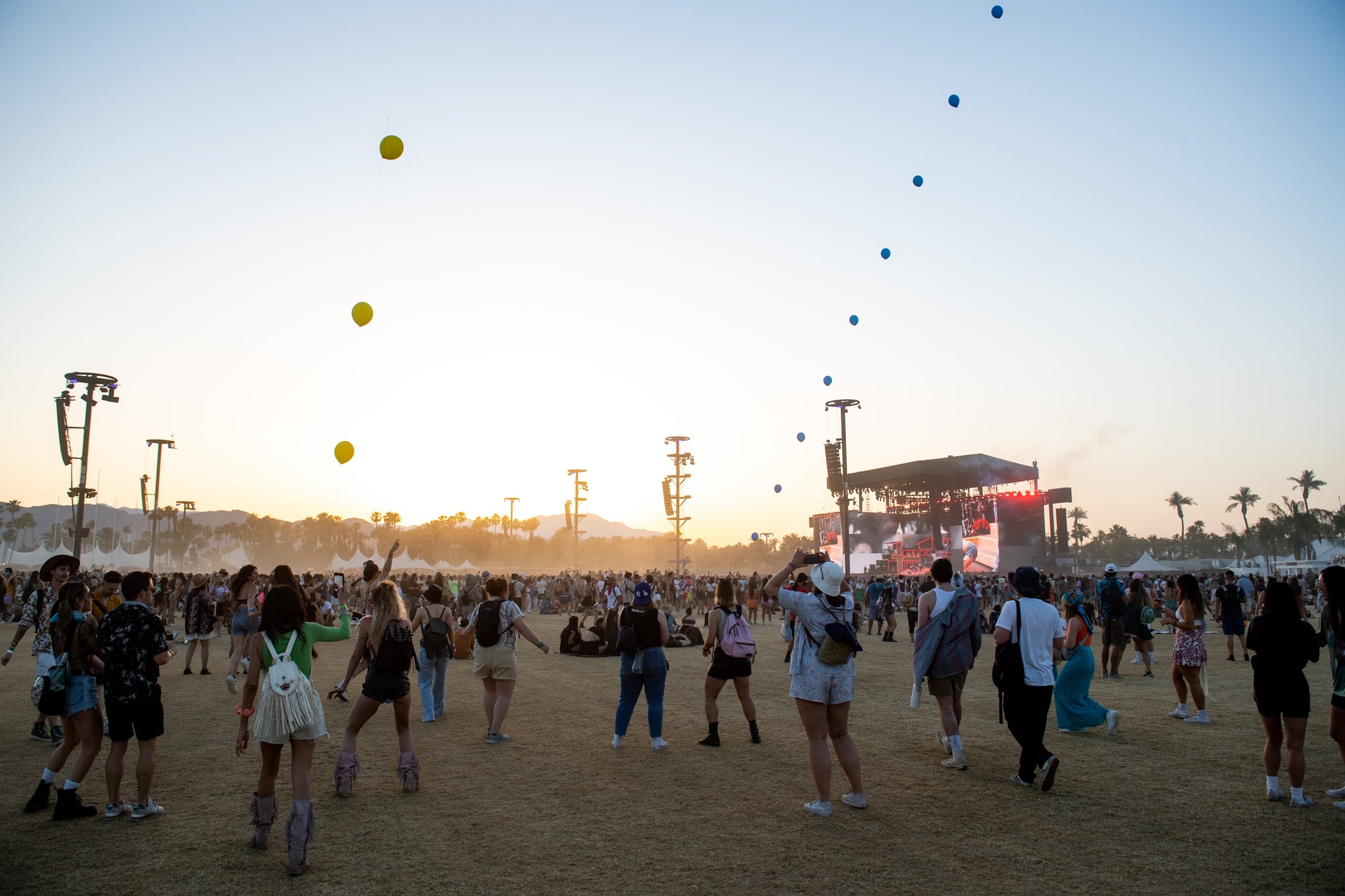 Coachella, or "Beychella" as some of us are still calling it, is rapidly approaching and if you're familiar with the annual music festival then you know it's where thousands of people and influencers gather in Indio, California to serve fun street-style looks while fangirling over their favorite artists. But more importantly it's home to lots of dust and wind — and with that comes a genuine health concern. Many Coachella-goers past have complained of something called "Coachella cough" or "festival flu".
While not a technical medical term, Coachella cough refers to the cough or series of flu-like symptoms that festivalgoers experience after being exposed to dust storms, high winds, and second-hand smoke for several days at a time. Not to mention the copious amounts of pollen projected to be in the air throughout the week, which can also contribute to the mixture of cough, congestion, sneezing, sore throat, and other flu-like symptoms known as Coachella cough or festival flu.
"Coachella cough is real," one TikToker said while recapping her 2022 Coachella experience. Another person shared a "What's in my bag" video to show what she packs in order to help protect herself from Coachella cough, including a bandana, eye drops, cough drops, hand sanitizer, and face masks — "just so we can put an extra layer and not get dirt in our lungs like I have done already," she says in the video while coughing.
If you're heading to Coachella this year, don't go unprepared. Ahead, here's everything you need to know about Coachella cough, including how to protect yourself from it and other illnesses while attending the music festival.
What Is Coachella Cough or Festival Flu?
Coachella cough is a colloquial term used to describe the cough and other flu-like symptoms many festival-goers experience during or after Coachella. It is also sometimes referred to as festival flu. Symptoms of festival flu are similar to the common cold and can also include the following, per Respiratory Therapy Zone, an educational platform for respiratory therapists and students:
Runny nose
Sore throat
Sneezing
Watery eyes
Fever
Body aches
Coachella cough typically lasts 3 to 7 days, Respiratory Therapy Zone states. But it can persist for up to 2 weeks. If your symptoms are worsening or persist beyond that, you should see a doctor.
How to Avoid Coachella Cough and Other Festival Illnesses
When it comes to Coachella cough, dust and high winds are going to be your primary assailants. While Coachella has announced face coverings are not required, they do recommend them to protect against desert dust. The American Lung Association also lists the following best practices for avoiding festival flu:
Wash your hands often and pack sanitizer in case hand washing stations are not available.
Stay hydrated. Doing so "will keep the lining of your nose and throat from drying out so that mucus remains moist and easy to clear from the nose," the American Lung Association states.
Avoid excessive caffeine and alcohol as they lead to dehydration.
Avoid smoke. Even secondhand smoke can irritate your throat and cause a cough.
Start your allergy medication even before you arrive.
It's also important to remember that COVID-19 is still prevalent. Although rates have declined, the virus continues to kill about 250 people a day, according to data from the Centers for Disease Control and Prevention (CDC). Safety measures like frequent hand washing or sanitizing and distancing yourself from large groups (when possible) should not be underestimated. If you or a friend is feeling ill and require medical assistance Coachella advises that you locate your nearest medical tent or alert festival personnel.
Remember: Coachella is supposed to be fun — and it's an insanely memorable way to kick off summer 2023. But it's important to be smart and mindful of your own health (as well as those around you), so that the only thing you're bringing back home are those good memories.