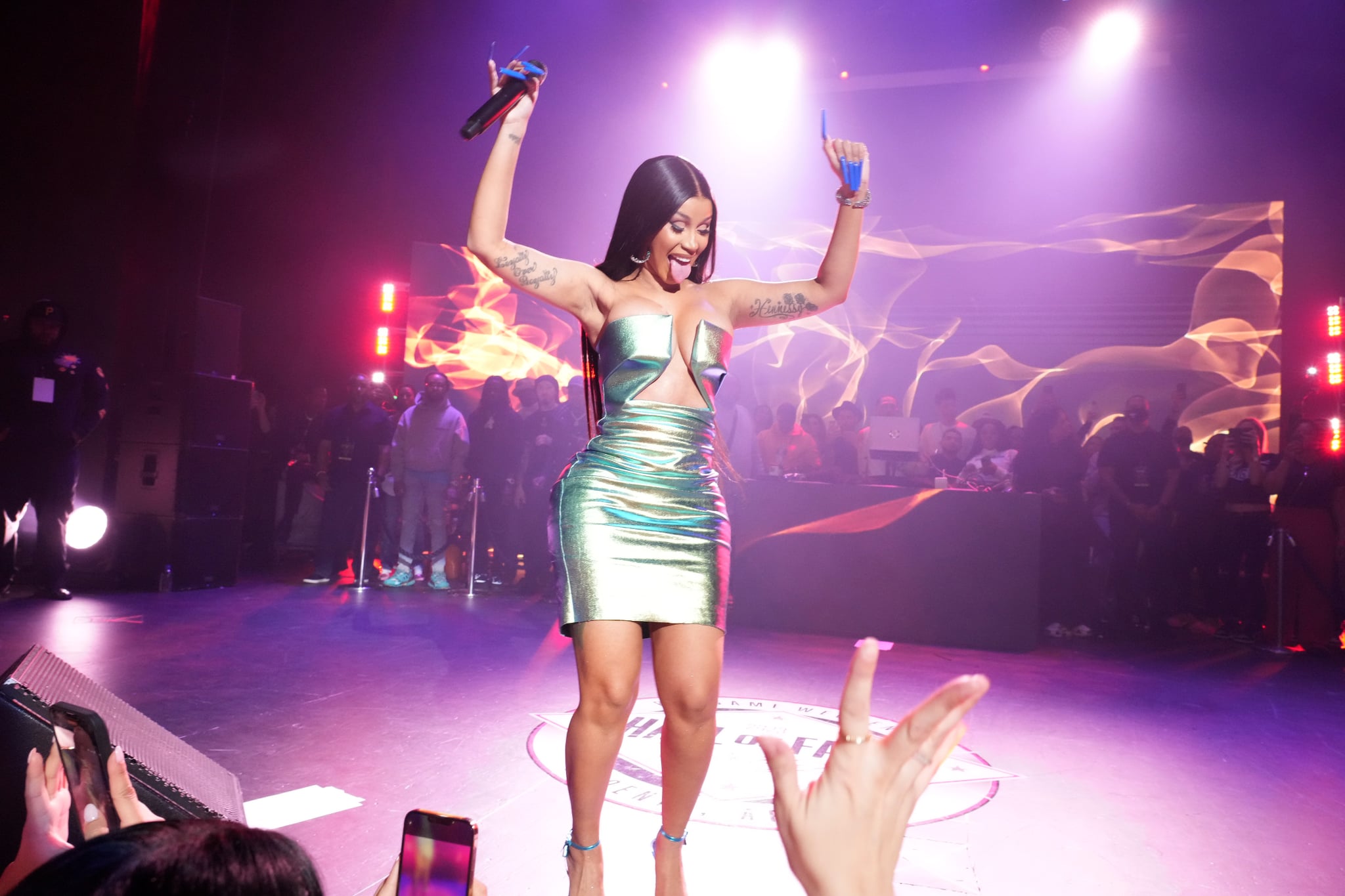 Cardi B's fans have apparently been begging her to do more TikToks, so she took to the platform to share a day in her life "as a regular person" — that is, as Belcalis (her given name) vs. as Cardi B, the superstar we know and love as a public figure. That day included plenty of relatable mom content (i.e. a Target run and feeding her kids Kulture, 4, and Wave, 1, pizza for dinner "cause sh*t, I'm tired"), as well as an impressive three-hour workout.
"I've been working out lately for two hours a day and then I stretch for an hour," she says in the TikTok posted on April 11. Cardi B goes on to show a lot of her workout, starting with some dynamic stretching, moving into some cardio with battle ropes and total-body strength work (with an emphasis on the glutes, of course), and then finishing with a thorough stretch. "I want to be able to be as flexible as I was before I had my son, but my real goal is I want to be as stretchable and flexible as I was when I was a stripper," she says. "But you can't build Rome in a day."
@iamcardib

Hey yall …..A glimse of a regular day as BELCALIS and not CARDI B!!
Narrating over her workout footage, Cardi B shares bit about the "why" behind her workouts. "A lot of people are so ignorant, like 'why are you working out, you have lipo,'" she says. The "WAP" singer has long been candid about her plastic surgery procedures, publicly talking about undergoing a breast lift, liposuction, butt lifts, and butt injections — though she had 95 percent of her butt injections removed in 2021. "But there's this thing called visceral fat and visceral fat is the fat that surrounds your organs that you cannot lipo," she continues in the TikTok. And she's right about that: visceral fat is fat found deep within your abdominal cavity and surrounds important organs, according to the Cleveland Clinic — and it cannot be removed with liposuction.
"That's why sometimes girls with lipo will have a snatched waist with a gut," Cardi B says, "and they're not working out their visceral fat, they just keep eating and eating your waist is small, but they still got a belly. That's why you gotta work it out." She's also correct that making lifestyle changes including exercise, eating healthy, getting enough sleep, and reducing stress are the only ways to decrease visceral fat. However, decreasing visceral fat is important for a lot of non-aesthetic reasons, too: Visceral fat is more dangerous to your health than subcutaneous fat (the fat just below your skin), and can contribute to serious health issues such as diabetes, heart disease, and stroke, per the Cleveland Clinic. (Also, a friendly reminder that it's normal for your stomach to stick out a bit, no matter your lifestyle habits or health status; you have a bunch of vital organs in there, including a whole setup to create new life, if you have a uterus.)
After her workout, Cardi B went to Target to buy a massage gun — and just looking at the series of exercises, we're guessing that her hamstrings and glutes are gonna need it. If you want to try her workout for yourself, see the full breakdown below.
Cardi B's Workout Routine From TikTok
Here's exactly what Cardi B showed in her TikTok workout — plus, some recommendations on how you can try it yourself. Rest as needed between moves and sets.
Image Source: Getty Images / Jeff Kravitz