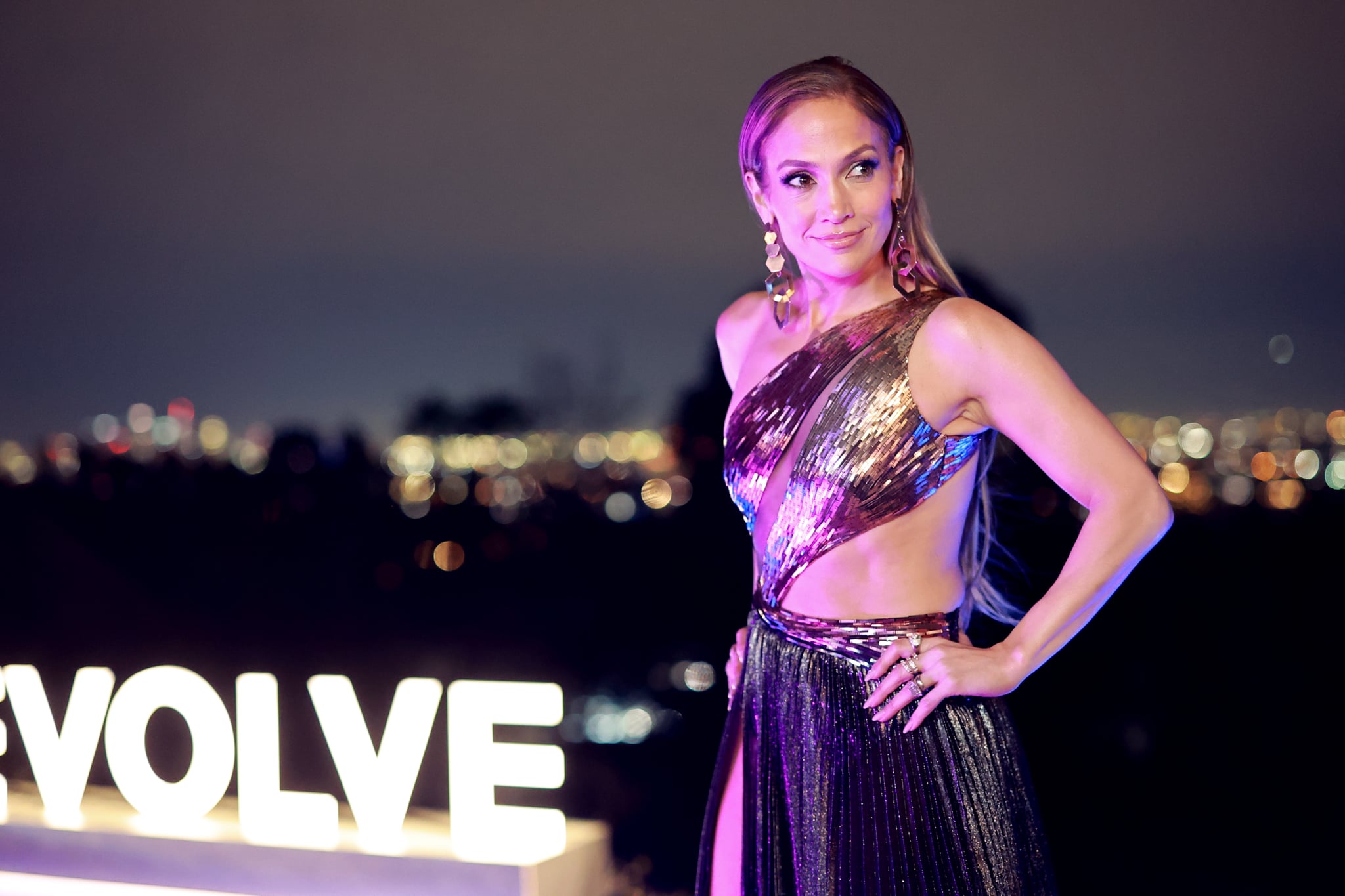 In the world of celebrity-branded products, alcoholic beverages are nothing unusual. Kendall Jenner has her 818 Tequila, George Clooney cofounded Casamigos (which later sold to Diageo for $1 billion), Dwayne Johnson launched Teremana Tequila, and John Legend created wine brand LVE. So why is Jennifer Lopez's latest venture into the spirit category raising eyebrows?
The new company, called Delola, sells ready-made tequila, vodka, and amaro spritzes. It's gluten-free and low-sugar, and above all else, easy — the drinks can be enjoyed with ice, straight out of the bottle.
But soon after the launch was announced, commenters began asking one question: why? Why was J Lo, a wellness fanatic who has been open about her personal decision to live an alcohol-free lifestyle, creating an alcohol brand?
In an interview with People, Lopez admitted that she wasn't "a huge alcohol whatever — alcohol drinker," but she also said that she does indulge in the "occasional cocktail here and there," which is one reason she created Delola: to make cocktails that tasted great and weren't too unhealthy.
Fans were also confused by Lopez's latest venture because of her marriage to Ben Affleck, who's in recovery for alcohol abuse. Of course, having a spouse who's sober doesn't mean you have to avoid alcohol yourself, and plenty of people who have partners who are in recovery do drink or work in industries related to alcohol.
But the singer's relationship, combined with her past quotes about not drinking, have led to numerous negative comments on her Instagram post announcing the launch, many of which accuse her of only launching the brand for money and for missing an opportunity to launch a line of alcohol-free drinks instead. (That category is saturated with celebs, too, including Katy Perry, who has a line of nonalcoholic apéritifs, and Blake Lively, whose nonalcoholic cocktail mixers are designed to be flavorful on their own.)
"It would have been really cool if she could show that she can still enjoy life with a nonalcoholic beverage," one Instagram commenter wrote. "Again, celebrities and Hollywood pushing a narrative that you need to consume alcohol to have fun and enjoy life."
Of course, it's possible that J Lo has begun to indulge in alcohol occasionally since she was first quoted as saying she avoids it, and that's what spurred her interest in creating a line of drinks. She also discussed the launch in her newsletter On the JLo, saying the brand's name was inspired by her nickname, Lola, which she said represents her "more playful, carefree side."
"She is the part of me that lets loose," J Lo wrote. "She doesn't come out all that often — but when she does, she goes hard . . . I realize that as I've gotten a little older, I'd like her to make more appearances." So, we may be spotting more pics of Lopez sipping a cocktail in the future, especially now that she crafted options tailored exactly to her tastes.