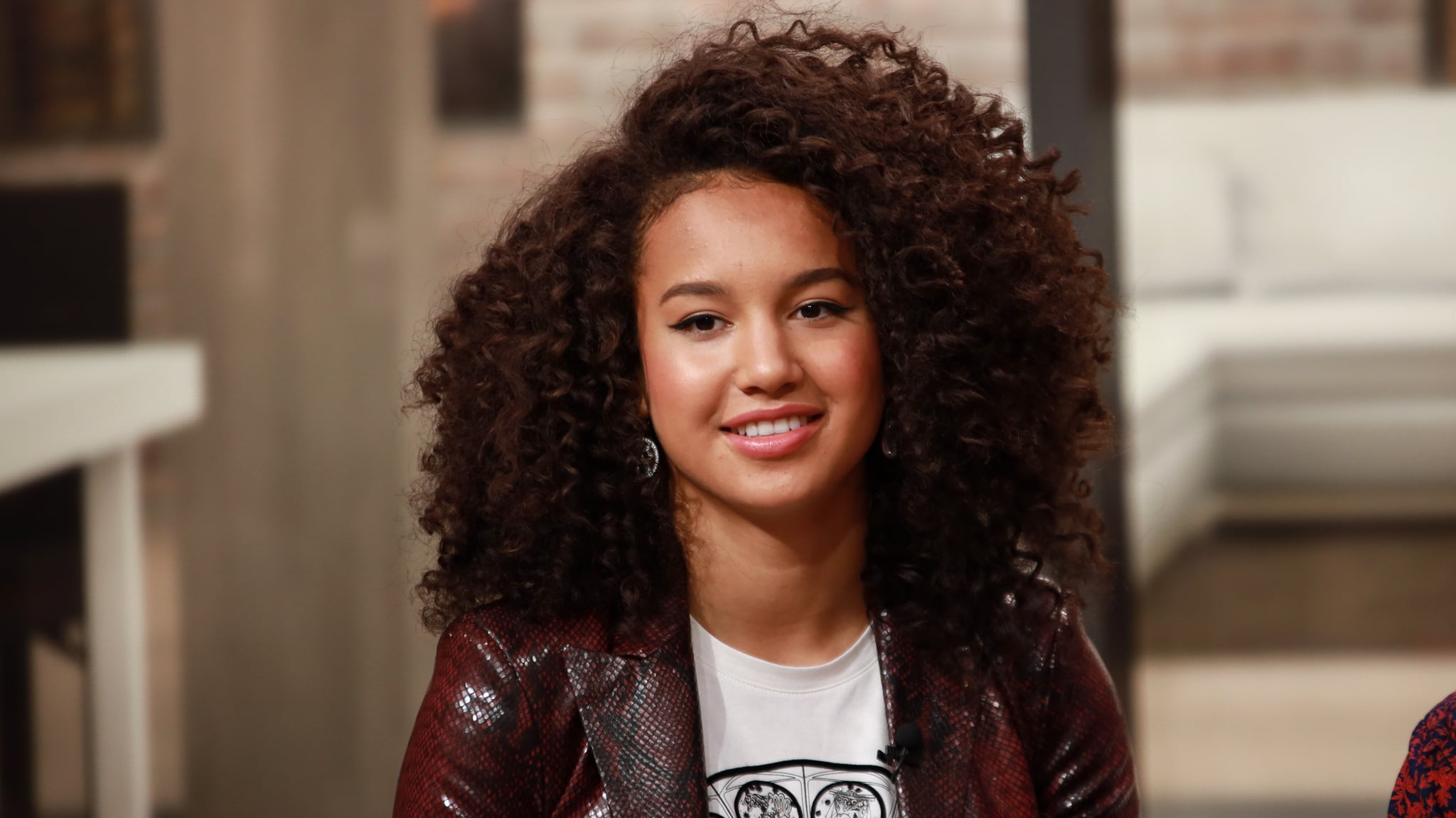 Sofia Wylie has been in the spotlight since she was a little girl, starting dance at just 5 years old. But her career has really catapulted within the last few years, as she's made appearances on shows like "So You Think You Can Dance" and starred in hit Disney series like "Andi Mack" and "High School Musical: The Musical: The Series."
Like many child stars, the actor says that the entertainment industry hasn't made it easy on her. "Being in the entertainment industry comes with phenomenal highs and deep lows. There is so much value placed on success rather than the state and protection of mental health and well-being," Wylie tells POPSUGAR in conversation about her new role on Kate Spade's Social Impact Council.
"Growing up in this industry, I've had times where I've struggled with my mental health, accepting myself, and feeling like I fit in or belong, and I think most people can relate to that," Wylie says.
The actor previously opened up to POPSUGAR about her battle with imposter syndrome, explaining that no matter the project or how eager she is to do it, there always seems to be a twinge of doubt in the back of her mind. "For a lot of my life, and with different projects I do, I'll always go into it, and I'm so excited to be there. But I'm also like, 'How did I get here?' I don't feel like I belong because all these people are so talented, or they're so beautiful, or they're so incredible, or so accomplished," she told POPSUGAR in October 2022.
She's also spoken publicly about her struggles with sensory overload. "There's this stigma that if you are suffering from mental health issues you should be embarrassed about it or try to hide it. But when I was younger, I actually would have these sensory overloads where if I went to restaurant with my family and the music was loud or people were talking, I would kind of just freak out," Wylie said during a video posted to Twitter. She never knew how to explain the condition to her friends and often wound up feeling ashamed. "But once I started talking about it, I realized that it wasn't something I should be embarrassed about. It's just the way my brain works," Wylie told her Twitter followers.
"I've had an unusual life growing up on set. But I think I'm like every other girl growing up in the social media world where people you don't even know can have opinions of you."
In joining the Social Impact Council, the "School For Good and Evil" star says that she's hopes to help other people, especially young girls, quiet their negative self-talk. "I've had an unusual life growing up on set. But I think I'm like every other girl growing up in the social media world where people you don't even know can have opinions of you," Wylie says.
In leaning on her family and learning to communicate openly about when she's feeling low, Wylie says she's been able to stop herself from succumbing to those swirling thoughts. "I know sometimes you can get lost in your own mind, so checking in with others is so important!" Wylie says.
As part of her new role on the Social Impact Council, Wylie will be joining forces with its founding members, including Taraji P. Henson, Catherine Tinsley, and Latham Thomas, to find new ways to champion mental health resources for women and girls globally. Some of the brand's partnerships for 2023 include Black Girls Smile Inc., Abahizi Rwanda, Girls Inc. of New York City, the National Council For Mental Wellbeing, and The Trevor Project.
"I want to live in a world where mental health and emotional well-being are put at the forefront of our priorities, and I think together with Kate Spade and the Social Impact Council that we have the opportunity to make a difference," Wylie tells POPSUGAR.
The actor is among the youngest on the council at just 19 years old, but she sees her age as an asset. "I really want to give real-life experiences to people that I come in contact with — I'm not an expert, I'm just someone who has had experiences that are similar to others my age," Wylie says.
She believes that authenticity is key — and in continuing to share her experiences, Wylie says she hopes others her age will realize they are not alone: "I want to share my story of all the ups and downs."