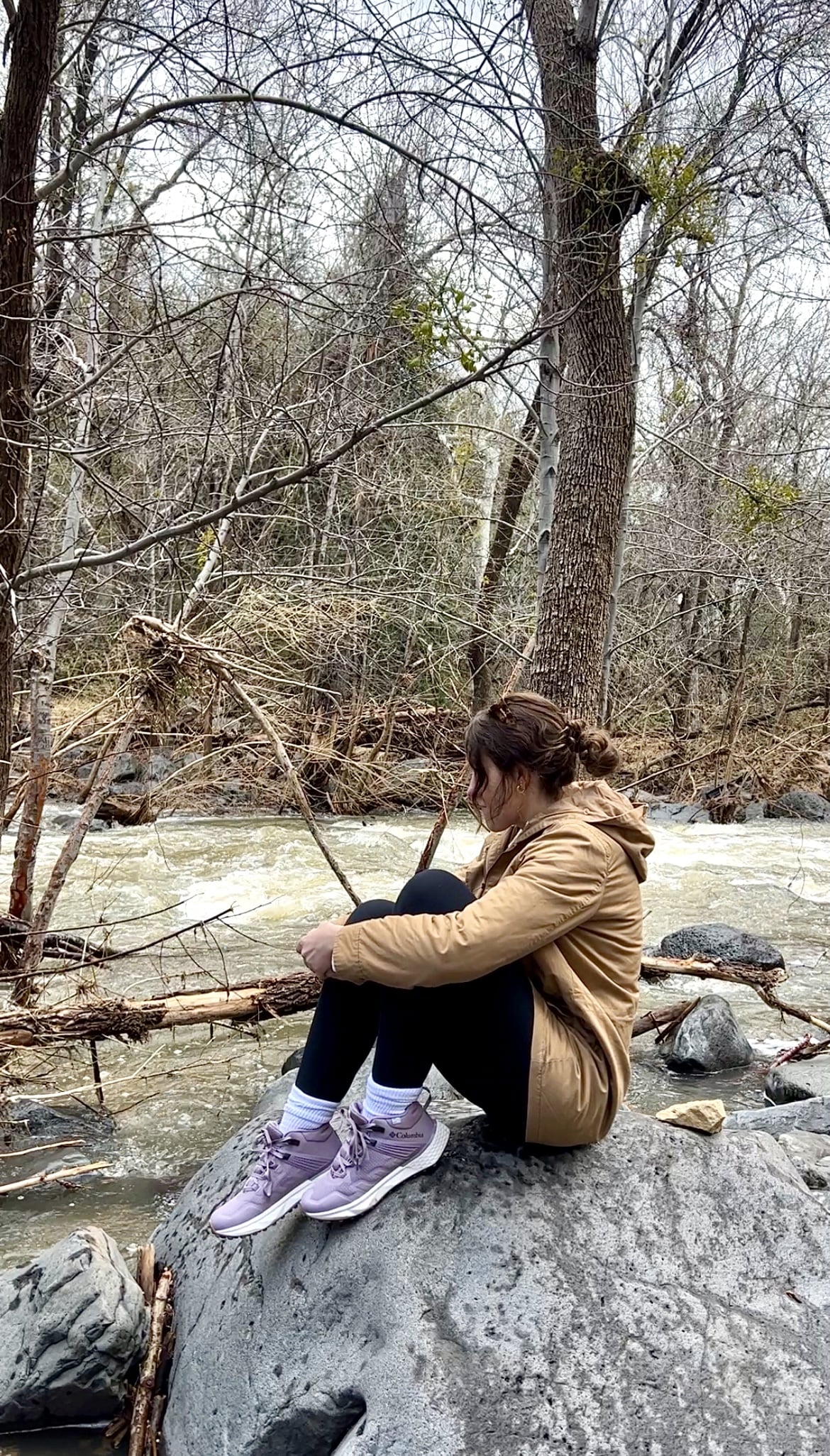 Hiking is one of my favorite activities in the world. But as someone with just as deep of an appreciation for fashion, I've long struggled with finding functional hiking attire that's both practical enough to withstand any weather conditions and stylish enough for me to feel good in. The options are either too bulky, too compressive, or just too damn expensive for me to even consider.
Fortunately, Columbia — aka the cult-favorite brand behind some of today's coolest athletic attire — is working to change the narrative of what effective outdoor gear should look and feel like, and its latest spring collection is proof of it. With temperatures warming up and more nature-lovers (hi!) eager to hit the trails, the label recently debuted a variety of new pieces ranging from durable sneakers and colorful windbreaker jackets to fitted joggers and more — all designed to make any outdoor adventure more comfortable and stylish.
Before I headed off on a mountainous trek through Sedona, the brand was kind enough to get me fitted with its newest Columbia Facet 75 Mid OutDry Hiking Shoe ($140) so that I could test out the style firsthand. Early reviews have already detailed how the athletic sneaker is one of Columbia's smoothest and most durable shoes to date, so I was eager to see how the hiking shoe held up in the desert. Despite rainy conditions, muddy terrain, and several jaunts through a running creek, the style lived up to its weatherproof claims, and I'm convinced it'll be an essential on all of my hikes moving forward. Keep reading for more product details and to see why these shoes deserve a spot in your athletic wardrobe.
What I Like About These Columbia Hiking Shoes
For me, the biggest plus of these shoes is their comfortable yet durable design. The sneakers have a construction that mirrors a classic hiking boot but boasts a relaxed feel that's more typical of a sneaker or running shoe. The style is wrapped in a waterproof mesh material that provides cushioned support to every part of the foot and ensures that your feet stay dry, regardless of the outdoor conditions.
I wore the shoes on a recent hike through Sedona's lush Oak Creek Canyon. The hiking trail required me to cross through a bubbling creek on several occasions and proved to be especially damp due to recent rainfall and snow that's been melting down from some of the state's higher regions. The hiking boots protected my feet through it all and kept them warm in the below-40-degree temperatures, which allowed me to focus my energy on more important things — aka climbing mountains.
I was also surprised that despite how damp and muddy the ground was throughout most of the hike, the shoes didn't dirty too easily. By the time I'd completed the trek and walked back to my car, I didn't even need to clean the shoes off before stepping into my vehicle; the rubber sole still looked totally pristine. I'd argue that the style is just as life-proof as it is weatherproof.
Naturally, I also love how stylish these hiking sneakers are. With their sneaker-like fit and boot-like durability, they're kind of like a hybrid shoe that combines multiple styles into one, making them a versatile addition to anyone's closet.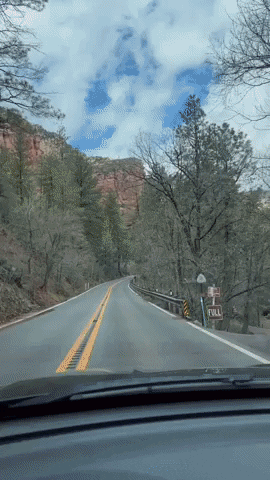 What's Worth Noting
While the style resembles more of a classic sneaker or athletic shoe, it still has the same fit as a traditional hiking boot — just with a lighter and more breathable material. As showcased in the photos, these Columbia hiking shoes have a mid-cut silhouette with a collar that reaches about halfway up the ankle. This design helps to provide more closed-in support for the foot, while also ensuring that you won't roll or twist an ankle while enjoying any high-endurance activities. As someone who prefers shoes with more of a low-rise design, I found it difficult to adapt to this style initially. All of the extra material felt constricting, and I was even concerned the shoes could irritate the skin around my ankle if I wasn't wearing leggings or calf-high socks underneath. But after a few wears, I began to get more comfortable with the style's fit. I also found that the material around the ankle loosened up a bit — not in a way that became unsupportive, but just enough so that the style felt more lived-in. If you (like me) tend to prefer shoes with a lower cut, I'd recommend wearing these a few times before writing them off for their design.
Who Are These Columbia Hiking Shoes Best For?
I'd argue that these Columbia shoes are perfect for truly anyone, regardless of your personal style, hiking preferences, or even comfort needs. The sneakers are designed for wear on the trails or any other high-endurance activities, but they're also comfortable enough to just be worn as everyday sneakers when needed, too. If you're looking to minimize the size of your closet and create more of an investment wardrobe, these versatile shoes are a great buy because they combine multiple styles into one, allowing you to embrace a "less is more" approach with your clothes.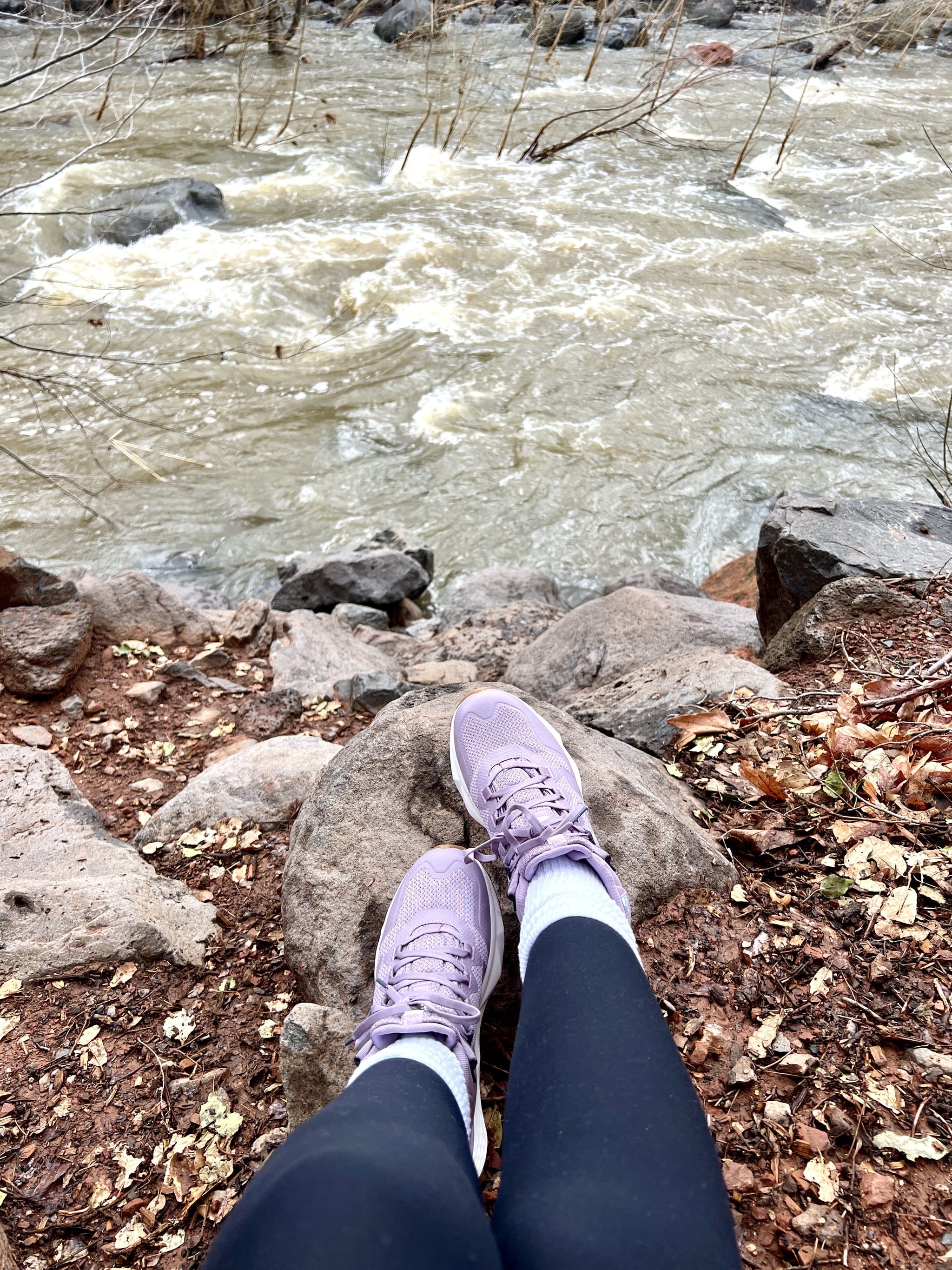 Where Are These Columbia Hiking Shoes Available?
These athletic shoes are available to shop at Columbia, Amazon ($140), Backcountry ($140), and Zappos ($140).
Additional Details
Columbia's newest hiking boots are available to shop in US women's sizes 5-12.
The shoes come in several different colorways, including a Shale Mauve/Graphite combination (my preferred choice), a Steam and Frosted Purple style, and a light beige variation.
Unlike other Columbia sneakers, these shoes are fitted with a breathable OutDry material that's weatherproof and designed to hold up in any outdoor conditions — rain or shine.
All Columbia shoes are designed with different purposes in mind, and this particular style is made for trail use thanks to its cushioned support; its Adapt Trax outsole, which helps to give the shoes an added grip support on rough or sleek surfaces; and its durable mesh composition, which better protects the foot.
Rating:

Image Source: POPSUGAR Photography / Kyley Warren