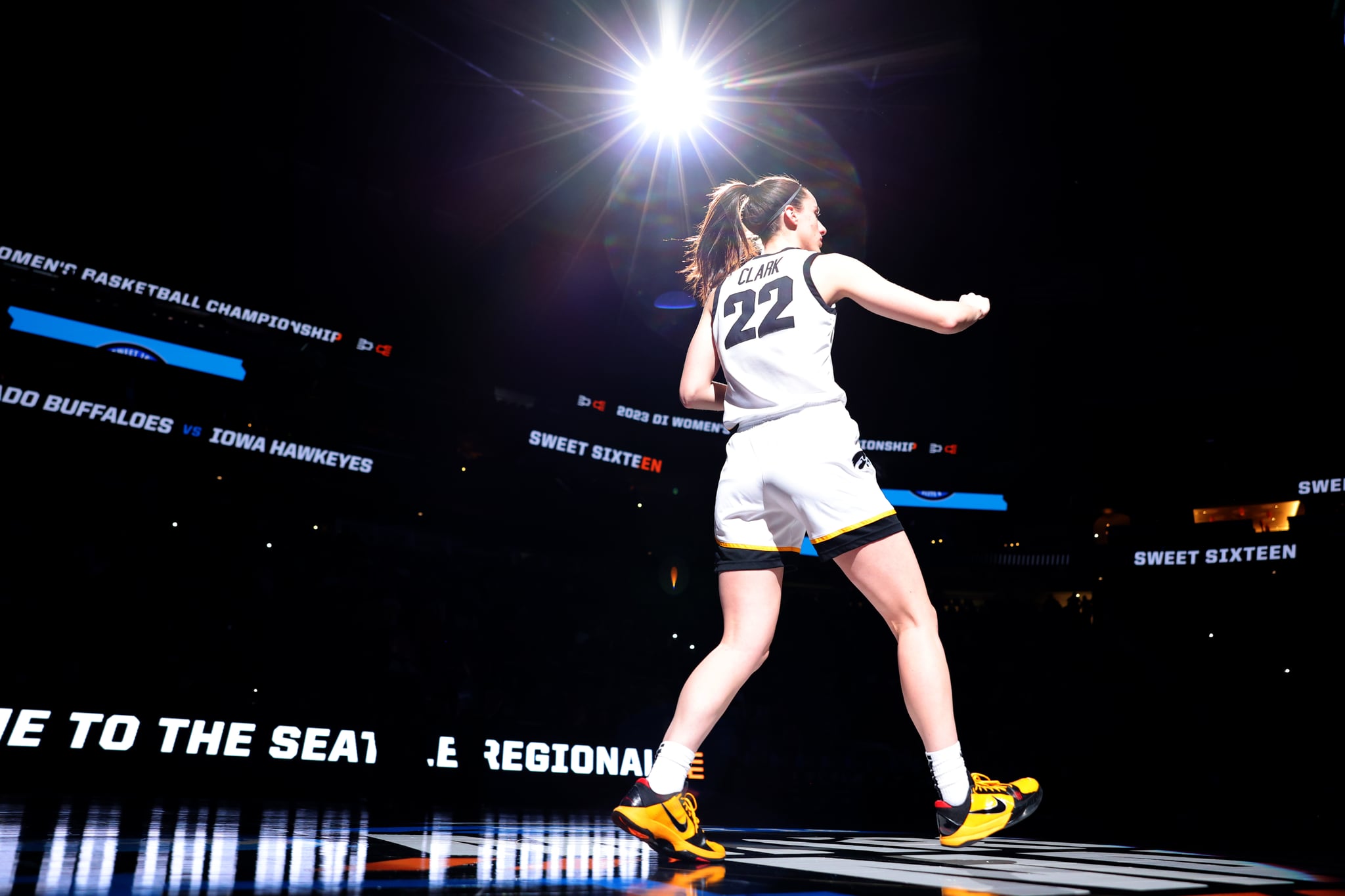 Fact: women's sports receive less recognition and pay than their men counterparts. Some might say men's sports have higher-quality coverage and commentary, larger production values, and more fans. As a lover of the game, it's frustrating to see fewer camera angles and instant replays during women's basketball games in comparison to men's — no wonder people think it's a slower and less exciting game. Although there are many more disparities between men and women collegiate basketball players, the tide seems to be changing, in part thanks to Caitlin Clark, a standout player from this year's women's NCAA March Madness tournament.
"Because Clark's such a strong competitor and represents Iowa basketball, she's helping the parity in women's basketball."
With over 10 awards under her belt, Caitlin Clark, born in West Des Moines, is a junior at the University of Iowa and the leading point guard for the Iowa Hawkeyes. The superstar athlete has 11 career triple-doubles (per-game statistic where a player racks up double digits in three categories: points, assists, rebounds, steals, or blocks) and is the second player in Big Ten women's basketball history to have more than 2,000 points, 550 assists, 520 rebounds, 110 steals, and 50 blocks in a career.
In March Madness alone, Clark has averaged 30 points, 5.8 rebounds, and 11 assists per game. And if that isn't impressive enough, Clark's performance against Louisville on March 26 finished with 41 points, 10 rebounds, and 12 assists — the first 30-point triple-double in an NCAA tournament game, men's or women's, according to ESPN. "She is spectacular," says Iowa Coach Lisa Bluder, who after 38 years of coaching finally gets to take a team to the Final Four. "I don't know how else to describe what she does on the basketball court," she said after the Louisville game, according to Sports Illustrated. "A 40-point triple-double against Louisville to go to the Final Four? Are you kidding? I mean, it's mind-boggling."
With the help of Clark, Molly Davis, and fellow teammates, Iowa heads to the NCAA tournament on March 31 for the second time in program history, and the first time in 30 years. "[Clark] is such a dynamic player that can fill the stat sheet," says Ari Chambers, women's sports expert, host, and founder of HighlightHER, who refers to Clark as a "walking triple-double."
"She loves to make the people around her better, and as a hometown kid — she knew Iowa was on the up and up thanks to players like Megan Gustafson that came before her — she wanted to maintain that legacy," Chambers tells POPSUGAR. And with an average of 26.6 points, seven assists and six rebounds as a freshman; 27 points, eight assists, and eight rebounds as a sophomore, she's done just that. "She has a way of pulling up from wherever on the court, and all of us as an audience have full confidence in it going in," Chambers says. "That's something that we rarely see, add in her perfect balance of being a great teammate, great leader, and her flashiness — Clark hits home for so many."
Why the Hype, Representation, and Awareness Matters
Clark, the winner of the 2023 Naismith National Player Of The Year award, has gotten the stamp of approval from plenty of other sports stars. After her sixth three-pointer in the 97-83 win over Louisville, Clark hit the infamous John Cena "you can't see me" gimmick, waving her hand in front of her face to show how unstoppable she truly is. "Even if they could see you…they couldn't guard you!" the WWE star tweeted in response. "Congrats on the historic performance @CaitlinClark22 and to @IowaWB on advancing to the Final Four!"
Los Angeles Lakers LeBron James tweeted that Clark is "so COLD!", while Warriors legend Steph Curry told ESPN, "No shot is a bad shot when you can shoot it as well as she can." And long-time American sports commentator Dick Vitale tweeted that Clark gave us "one of the greatest performances I have ever seen." When you have big sports names, with so much influence, backing a woman athlete, it could completely change the trajectory of women's sports.
One of the greatest performances I have ever seen tonight by @CaitlinClark22 of @IowaWBB with a 41 point triple double in @NcaamarchmadnessWBB As @RebeccaLobo said Jeff Walz a terrific Coach of @LouisvilleWBB tried every coaching tactic to contain Caitlin but she was unreal .

— Dick Vitale (@DickieV) March 27, 2023
As an Iowa native, Clark has unlocked a whole new meaning to hometown heroes; one that Chambers believes could create a franchise of its own. "Because Clark's such a strong competitor and represents Iowa basketball, she's helping the parity in women's basketball," says Chambers. "Clark proves that as a player, you don't have to go to these conventionally known powerhouse programs." No, you can stay right at home and make a difference. "Clark is helping to create the fandom for a full spectrum of programs to have their own hometown hero," she says.
How to Move Women's Sports Forward
With Clarks' success, along with the success of many other collegiate women athletes, women's sports will achieve true parity once the barriers that keep them out fall. Chambers is eager to see the stigma against people "not liking" women's sports vanish. "I think we are too reliant on the narrative that there isn't a great interest in women's sports," Chambers tells POPSUGAR. Perhaps we've been conditioned at a young age to believe that women aren't as good of athletes — further internalizing the lie that women's sports are not as entertaining or worthwhile. "Louisville and Iowa had 2.5 million viewers — more than any NBA game on ESPN this whole season. Why? Because the media made it available," Chambers says. "When it's easily viewable, people will watch."
"But like basketball player Kelsey Plum said: don't support the game just to support women's basketball, watch the game because it's a good product."
And it's not just Clarks' unstoppable performance this year: the 2022 NCAA women's basketball championship between South Carolina and UConn drew 4.85 million viewers, becoming the most-watched women's title game since 2004 — it was also the first year the women's tournament was allowed to use the March Madness name and branding. On Super Bowl Sunday this year, 1.5 million viewers tuned into the South Carolina vs LSU game, the biggest audience for regular-season women's basketball since 2010. And big networks are listening: ESPN will negotiate a contract next summer with the NCAA, with plans to sell women's basketball by itself (at present women's championship is sold with other college sports championships.) Women's collegiate sports are entering a new era, and Clark is one of the athletes (purposefully or not) leading the charge.
Aside from the media, fans have an important role in moving women's sports forward. Chambers encourages all basketball fans to bring a friend to the game to continue to raise awareness. Follow social media accounts like @highlightHER, @JustWomensSports, and @ESPNW. Post and repost short clips of enthusiastic footage, real-time updates, and game-time shots directly to social media accounts as a way for basketball newbies to dip their toes into the sport, while simultaneously diluting some of the misconceptions they might have toward women basketball players. Request to see games at your local sports bar (if it's not already on, that is) and make plans around viewing important women's games the same way you would with men's.
But most importantly, Chambers encourages all fans, new or lifelong, to not let the momentum and chatter stop at Clark. "Aliyah Boston, Zia Cooke, Angel Reese, Flau'Jae Johnson, you have so many people within the Final Four alone that warrant this type of attention — let's continue to speak these names in the conversation," she says. "But like basketball player Kelsey Plum said: don't support the game just to support women's basketball, watch the game because it's a good product."
Image Source: Getty Images / Tyler Schank