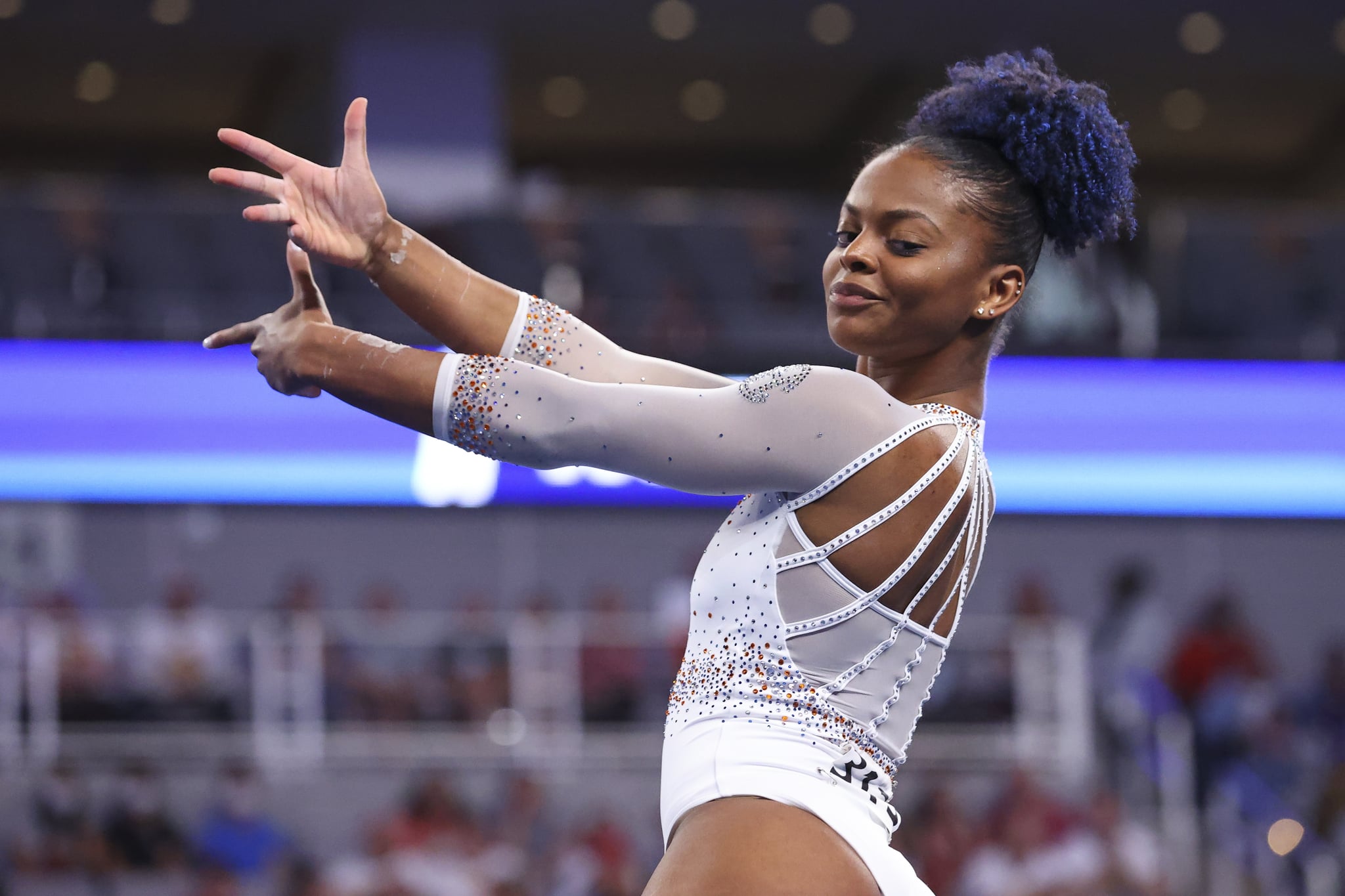 University of Florida gymnast Trinity Thomas is having a year. Fresh off the heels of her conference all-around title win at the SEC Championship — where she snagged perfect 10.0 scores on both bars and floor, no less — Thomas was named SEC Gymnast of the Year for the third straight season. Casual, we know.
As for that perfect score on floor? Let's just say the internet is just as obsessed as the four judges that awarded Thomas the unanimous 10.0. "Blown away," one user wrote on Instagram. "I can watch her same routine over n over." Others chimed in, commenting, "The fluidity of her movements, just, yessss 😍😍🔥🔥🔥" and "Beauty… power… talent 🔥🔥🔥❤️." TikTok similarly lit up with praise for Thomas's showstopping performance, calling her the "best in the nation," and writing: "I think I've watched this about 10 Xs straight now. Her routine was flawless!"
The routine — which one user dubbed the "perfect blend of artistry and dynamic power" — was choreographed by Jeremy James Miranda to highlight her previous UF performances from freshman year through her super senior year. Thomas flipped through the air, sticking her double-layout pass, combination front-layout pass, and leaps with precision and authority.
Watch both of her perfect-10 performances at the SEC Championship — bars and floor — below.
It wasn't just a lucky result at the SEC Championship either. The collegiate gymnast has nabbed a whopping 27 perfect scores in total during her career at Florida — six of which she's earned this season alone. Thomas started the year strong, claiming three events (and a perfect beam score) at the team's season-opening quad meet. Now, she sits in striking distance to the all-time record with Kentucky's Jenny Hansen and UCLA's Jamie Dantzscher leading the pack with 28 perfect 10s each.
"This is exactly what we've been working for," Thomas told a local news outlet following her conference all-around win. "The best part is we're not done yet."
And while the 2023 season marks Thomas's last of her career at UF (she was already awarded a fifth season of eligibility due to the COVID-19 pandemic), her résumé is only expected to grow. The 21-year-old gymnast is not only in the running as a finalist for the AAI Award given to the country's top senior, but will also defend her floor, bars, and all-around titles at the upcoming NCAA Gymnastics Championships starting April 13 — where she just might crack that perfect score record, too.
Image Source: Getty / C. Morgan Engel