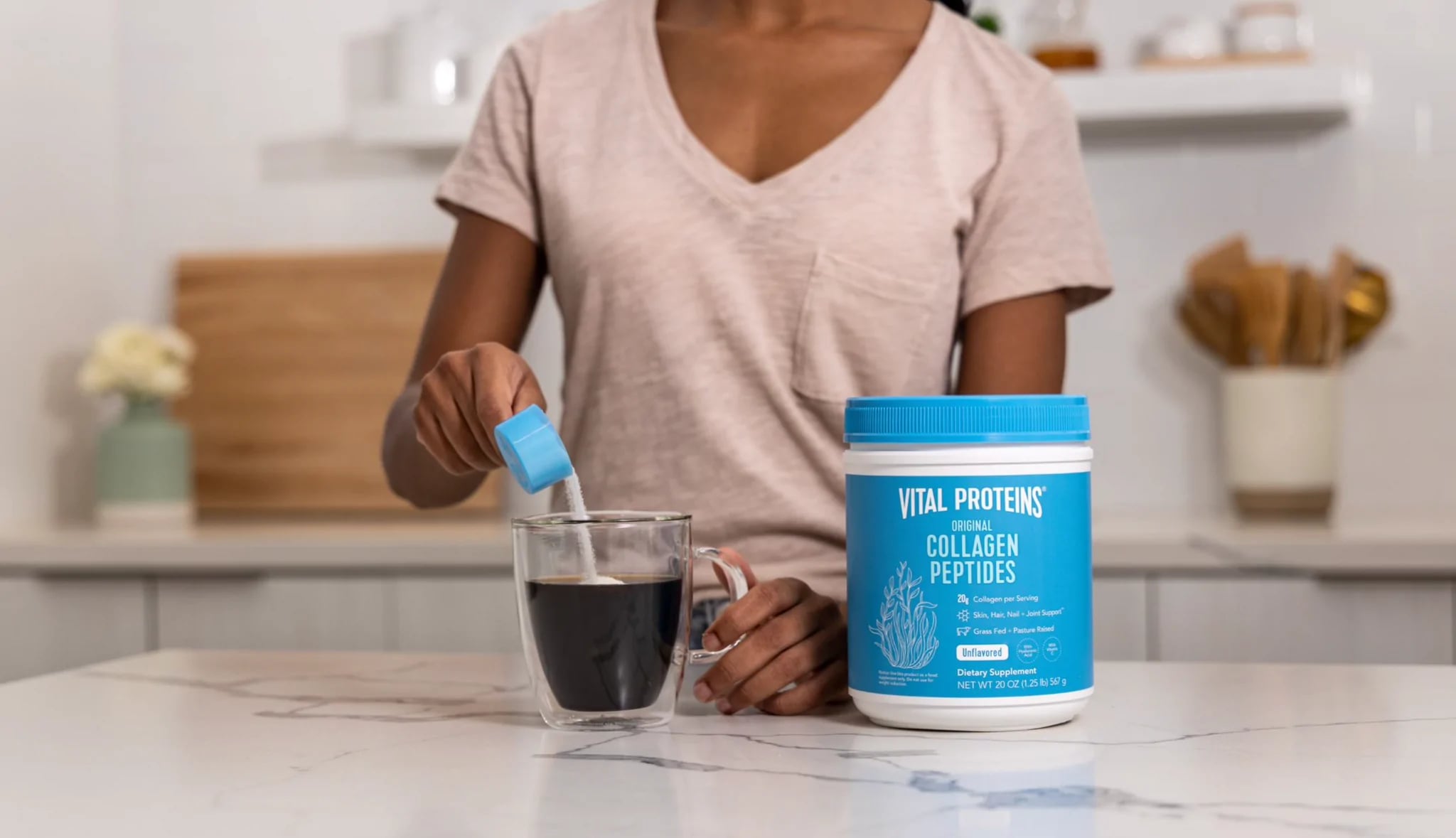 Powdered collagen and collagen shots (and waters) have exploded in popularity over the last few years. You've probably heard all about how collagen supplements can help promote hair growth, improve joint health, and prevent skin from aging. Admittedly, I'm a convert. I use the Vital Proteins Unflavored Collagen Peptides ($20, originally $25), which are on sale today, almost daily. I love the collagen powder for its ability to add a hearty dose of protein to anything I'm eating or drinking — it transforms a zero-calorie coffee or low-protein veggie soup into a satiating, protein-packed meal.
Each two-scoop serving is just 70 calories and has 18 grams of protein and 20 grams of collagen peptides. Depending on how much protein I need, I add one or two scoops to coffee, soups, pasta sauces, oatmeal, or smoothies. Although it claims it can be mixed into hot and cold liquids, I find it blends easier in warm temps, which is why I add it to hot veggie soup or warmed pasta sauce.
Not only are collagen peptides packed with protein, but they're also flavorless. I can add it to pretty much anything and can't taste it. I'll sometimes add a scoop to a cup of hot herbal tea, and it doesn't interfere with the subtle flavor of the tea.
Vital Proteins Unflavored Collagen Peptides also come in stick packs ($30, originally $37), so I love taking a few with me when I travel. That way, if the breakfast situation isn't ideal, I at least know I can add some satiating protein to my morning coffee. If you're looking to add a little more protein to your diet but don't want to be saddled with extra chemical-filled protein bars or bottled shakes, try a scoop or two of collagen peptides.
There's no better time to stock up on the Vital Proteins Collagen Peptides Powder than right now, since it's on sale. You can also shop the other Vital Proteins supplements at discounted price, like the Matcha Collagen Peptides Powder Supplement ($38, originally $47), Marine Collagen Peptides Powder Supplement ($29, originally $39), or the Vital Performance Protein Powder ($24, originally $30).