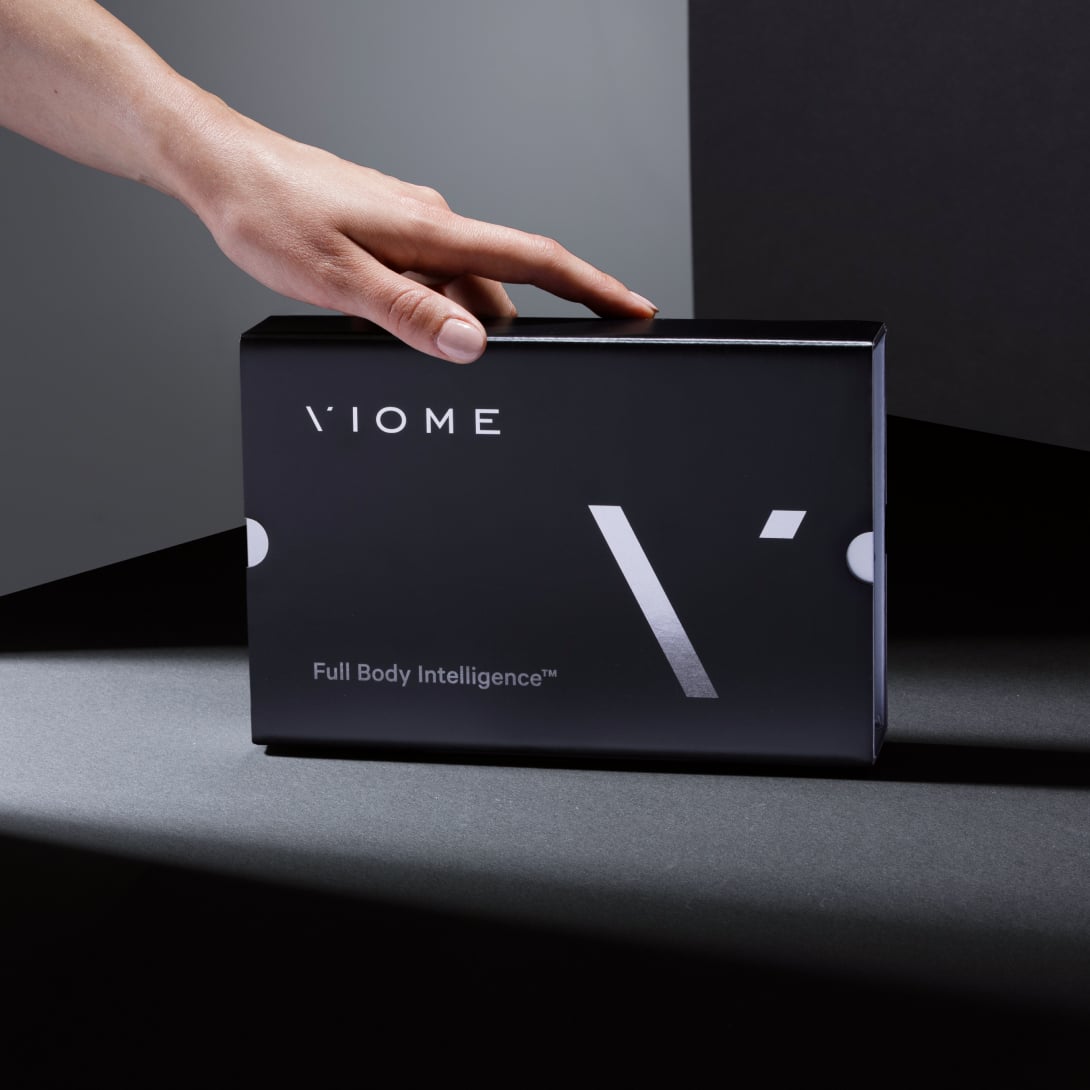 As someone with aggressive bloating and intense allergies that come and go on a whim, I'm a sucker for an at-home health test. My friends in the medical field — and soon-ish-to-be MD husband — aren't so sold, and I get it. At-home healthcare tests aren't a substitute for medical advice, usually aren't FDA approved, and oftentimes don't have a lot of evidence to support their accuracy. Plus, there's a chance I'd botch the sample collection process and somehow render them useless. Nonetheless, when Viome asked if I wanted to try its Full Body Intelligence Test ($349, originally $399), I was all in.
Viome utilizes artificial intelligence and RNA sequencing to collect information from saliva, blood, and stool samples to tell you about your health. Viome's Full Body Intelligence Test is the company's most "advanced, holistic test to date." Its other offerings include the Health Intelligence Test ($229, originally $329) to analyze your cellular health and the Gut Intelligence Test ($149, originally $249) to look at your gut microbiome. Of all, the Full Body test is the most comprehensive, combining those two tests and an oral microbiome assessment.
Ahead, learn more about my experience taking the test, my results, and what I learned from the experience.
What I Like About This Test
What I like about this test is that it's a convenient option for those looking for personalized food and supplement recommendations without having to book a doctor's appointment. As much as I value the luxury of having health insurance, I've found it challenging to access all of the health tests I want without booking a zillion appointments. Not to mention, I find the lack of price transparency straight-up scary, which is precisely why I find solace in a health kit with a one-time fee of $349.
Also worth noting: the results are comprehensive. You get three types of information, starting with "health scores" in key areas, such as gut health, brain health, and heart health. The second is a "functional score" for a closer look at biological functions such as inflammatory activity and protein fermentation, and the third is pathway activities. This section describes biochemical reactions that produce beneficial or harmful molecules like LDL cholesterol pathways and cortisol pathways. All of this is to say that it gets pretty science-y — but Viome does its best to break it down for you.
As for my experience with the test? Honestly, my scores surprised me. Because of my bloating and allergies, I expected a low rating in "gut health" and "immune system health." But to my surprise, I got an "average" score in these categories. My lowest score, the only one dubbed "not optimal," was in the "heart and metabolic health" category. Apparently, bacteria in my gut microbiome "show increased signs of harmful metabolites known to negatively impact heart health." Viome also warned that my LDL cholesterol and TMA pathway activities are "not optimal," which do a disservice to my cardiovascular system as well.
Here's a look at my scores: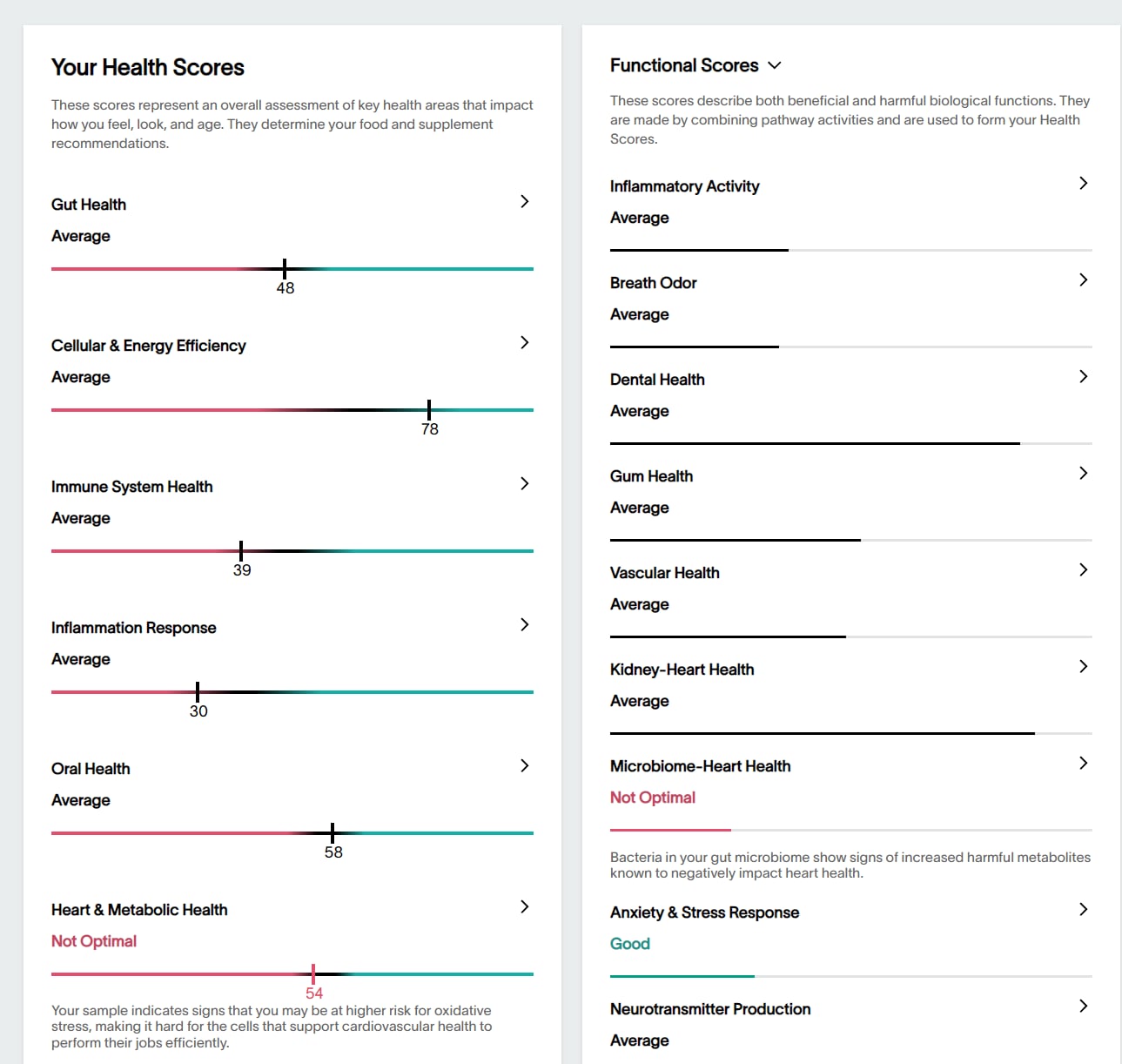 Your results also include a "nutrition" section categorized by "superfoods" you should prioritize, along with foods to enjoy, minimize, and avoid. What I like about this section is that you can click on each food for more information about why it might be good or bad for you personally. For example, Viome deems barley a superfood for me because it contains beta-glucan, which may help bring my LDL cholesterol to a normal range.
Alternatively, it recommended I avoid tomatoes (which sucks, because I eat them often) — and why I should skip them shocked me. Per Viome, my microbiome contains tomato brown rugose fruit virus (!), which is known to infect tomatoes and peppers. The company notes that plant viruses in the microbiome are associated with immune stimulation, so it recommends I avoid them entirely for 30 days before reintroducing them into my diet.
Here's a peek into what my results looked like: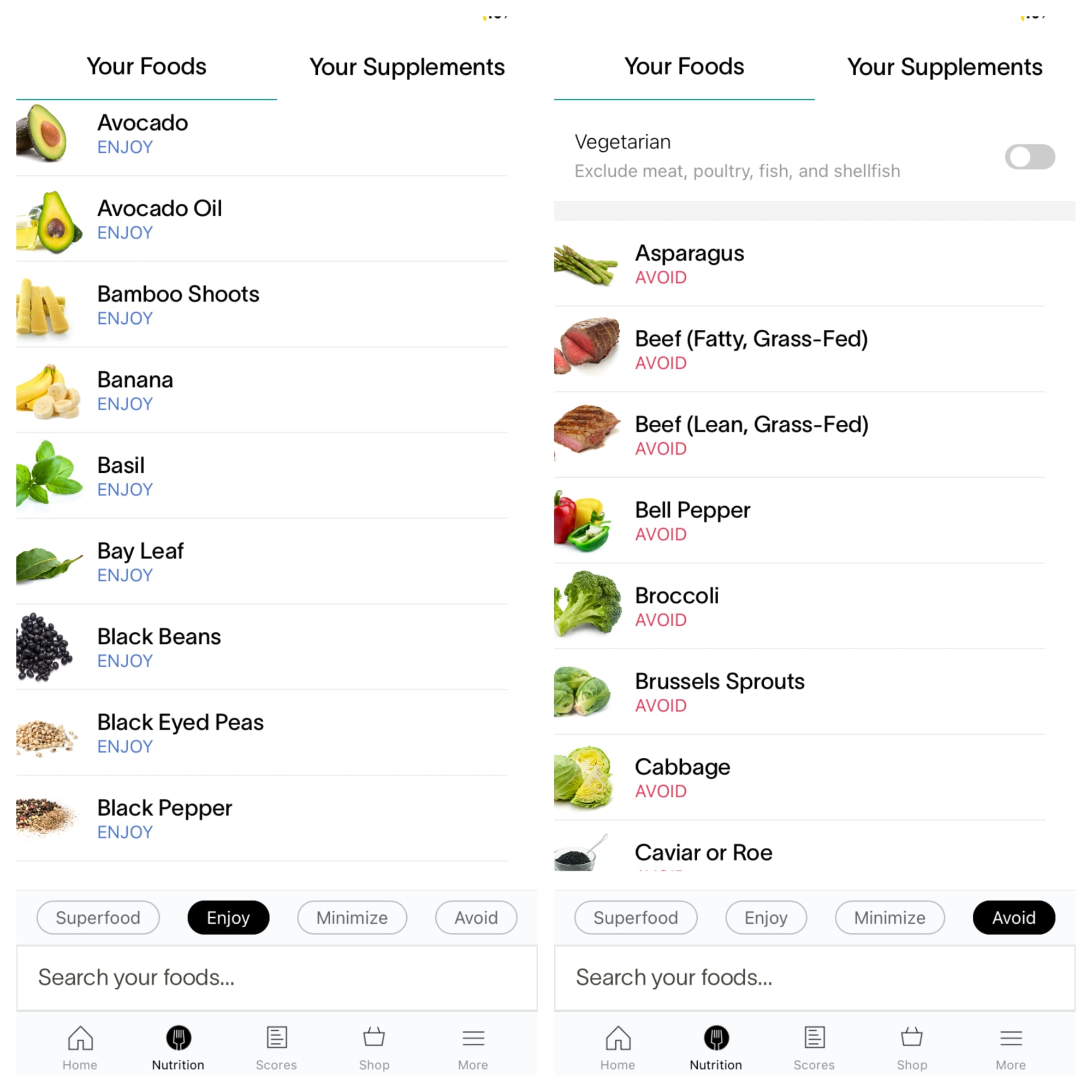 What's Worth Noting About This Test
One major thing worth noting about the Viome test is that the process requires patience and some legwork. The first order of business is registering your test via Viome's free app. (This will ensure your results sync to your account.) Then comes the sample-gathering process, which is no joke, people. You have to gather saliva, blood (via a finger prick), and stool (yup). Your box will come with three kits containing all of the necessary materials, as well as instructions outlining the steps of the sample retrieval process. As you might guess, this process isn't glamorous, nor for the faint of heart.
Something I didn't anticipate was a lengthy 11-part questionnaire about my medical history, oral hygiene, skin health, digestive health, sleep habits, and a lot more. According to Viome, the purpose of it is to help its AI engine "determine overall patterns that help to further personalize your results and recommendations." This was the most annoying part of the process, in my opinion. It took me around 30 minutes to get through all of the questions, which was a few too many for my impatient self, but it's seemingly necessary for the team to provide recommendations.
My final note: Viome will try to sell you its supplements. This isn't necessarily a bad thing (though you should definitely consult your doctor before taking them). For context, Viome recommended 51 supplements total: 37 nutrients and 14 probiotics and prebiotics. The sheer amount of recs was a bit overwhelming, but I really appreciated being able to tap on each nutrient, probiotic, or prebiotic to learn why it was recommending it and what it may do to improve my health.
The benefit of purchasing your nutrient recommendations through the brand is that they create custom daily supplement packs (comprising eight capsules each) and prebiotic and probiotic sticks that take the hassle out of ordering each supplement separately. Personally, my strategy has been to implement its food recommendations first to see whether or not I feel a difference overall. (Plus, I know it's highly unlikely I'll commit to taking eight capsules per day.)
Here's a look at my supplement recommendations, plus what the nutrient descriptions look like.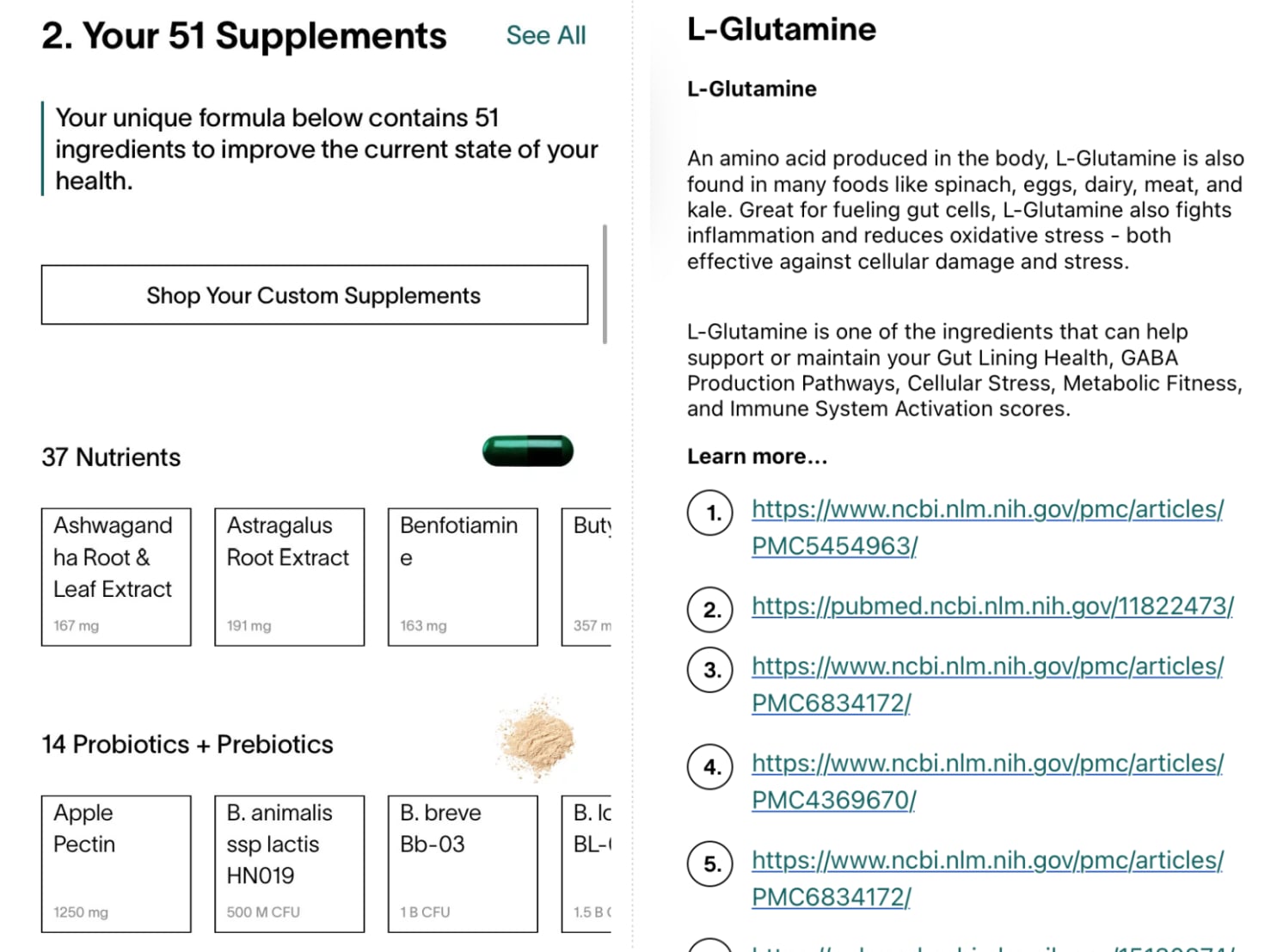 Who Is This Test Best For?
This Viome Full Body Intelligence Test is best for those seeking actionable insight about improving their health by reconsidering their food choices. It's also great for getting supplement recommendations that are unique to you — and, most importantly, why they may help. I've found the results helpful in guiding the next steps of my wellness journey to hopefully control my bloating and allergies by making more informed choices with food and supplements.
Additional Details
After mailing in your test samples, you'll receive results within two to three weeks.
Fasting is required before collecting your blood and saliva samples.
The brand recommends retesting after four to six months of implementing its recommendations.
Where Is This Health Test Available?
The Viome Full Body Intelligence Test is available to purchase on the brand's website at viome.com.
Rating:

Image Source: Viome