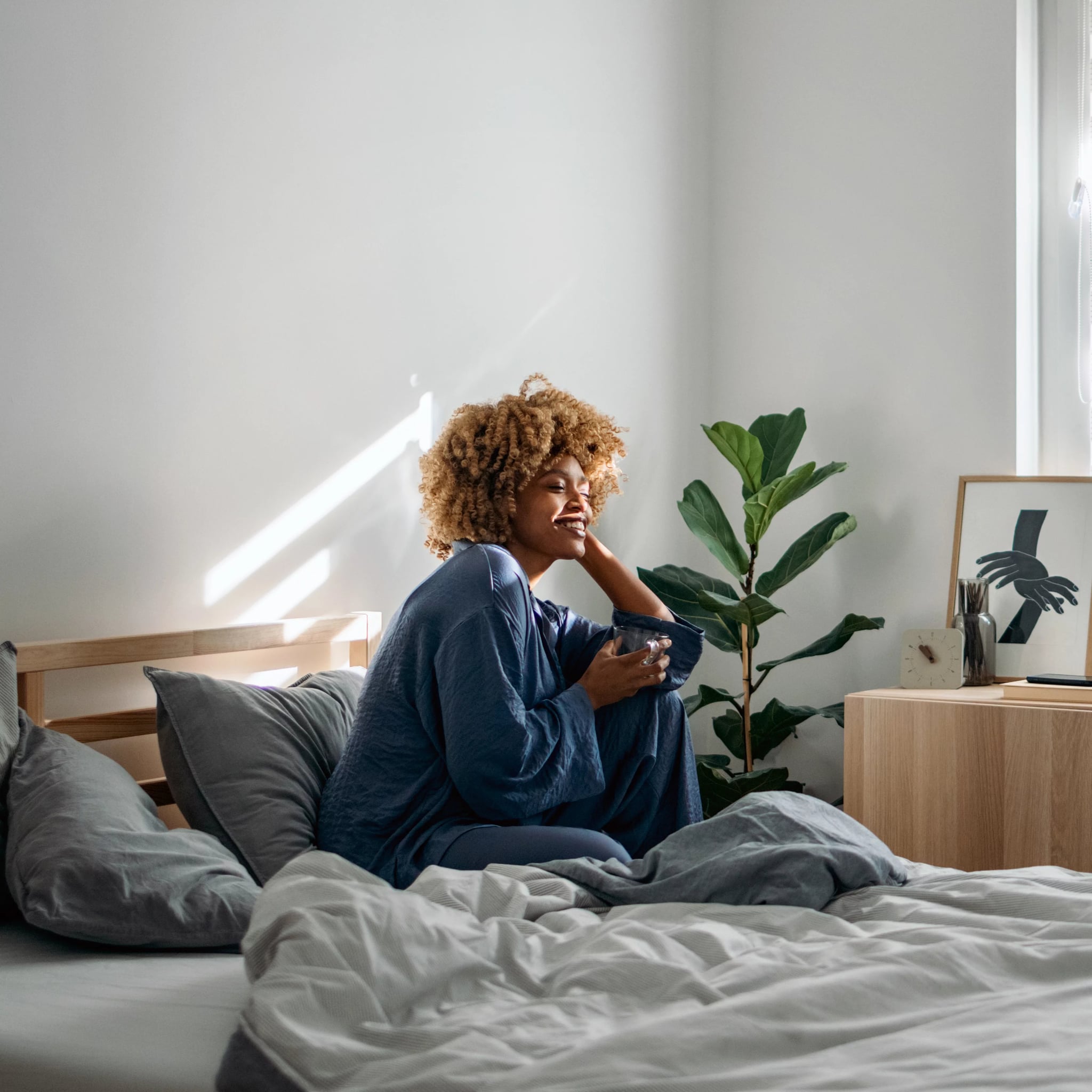 For years, I've slept in the same collection of black Soffe shorts and dingy college T-shirts that were likely shot out of a cannon at a basketball game or handed to me at a university-sponsored event. But a few years ago, my friend Shontell gifted me my first pajama set. I hadn't worn matching sleepwear since I was in elementary school. But when I put on that silky black button-up top and matching bottoms, I felt like a whole new person.
When I looked in the mirror, I felt infinitely more put together, like a woman whose tax bracket grew five sizes that night. I immediately shed the lingering essence of my past self, a college student who prided herself on collecting free tees. I was now a grown woman who invests in her sleepwear as much as she does her 401(k).
In all seriousness, pajama sets changed the game for me. Putting a little more effort into what I wore to bed trickled into other aspects of my nighttime routine. Suddenly, I had more time for evening skin care. I started buying satin bonnets to preserve my curls instead of the scratchy bandanas I used to wear. And water on the nightstand table became an absolute must, because hydration is important. I even started doing occasional bedtime meditations to create a more soothing sleep environment.
When I put on those pajamas, something clicked inside my brain. They made me feel pampered, and I realized that I deserve to feel pampered. That freed me up to take the time to care for myself in other ways.
The matching-PJ effect extended into the mornings. Something about waking up in a matching set — rather than the kind of clothing you can't tell if it belongs in the dirty or clean pile — makes you feel like you actually have something important to do. I wasn't just a disheveled-looking 20-something who could lollygag around the house. Instead, I was someone with a plan and a purpose.
Experts believe there's actually some science behind the sleepwear you choose. Mattress Online teamed up with clinical psychologist Matilda Moffett, PsyD, and determined that satin- or silky-pajama wearers were aspirational and ambitious. Flannel- or button-up-pajama wearers valued health and hygiene and had strong organizational skills. And oversize-T-shirt wearers were shown to be free spirited and confident. I can't say for sure whether these stereotypes rubbed off on me or if it was just a placebo effect, but whatever the case may be, I'm grateful.
I've since purchased a plethora of pajama sets: button-ups, tank tops, long-sleeved, short-sleeved, jersey knit, satin, floral, patterned . . . this list could go on for a while.
But no matter the fabric or style, they always seem to give me the self-care push I need to approach bedtime with a little bit of luxury, the kind that pours into my needs, whether mental, physical, or emotional. Before changing out my sleepwear, I never knew pajamas could do all of that — and if you haven't experienced the beauty of a pajama set, I highly encourage you to give one a try.
Image Source: Getty Images / miniseries