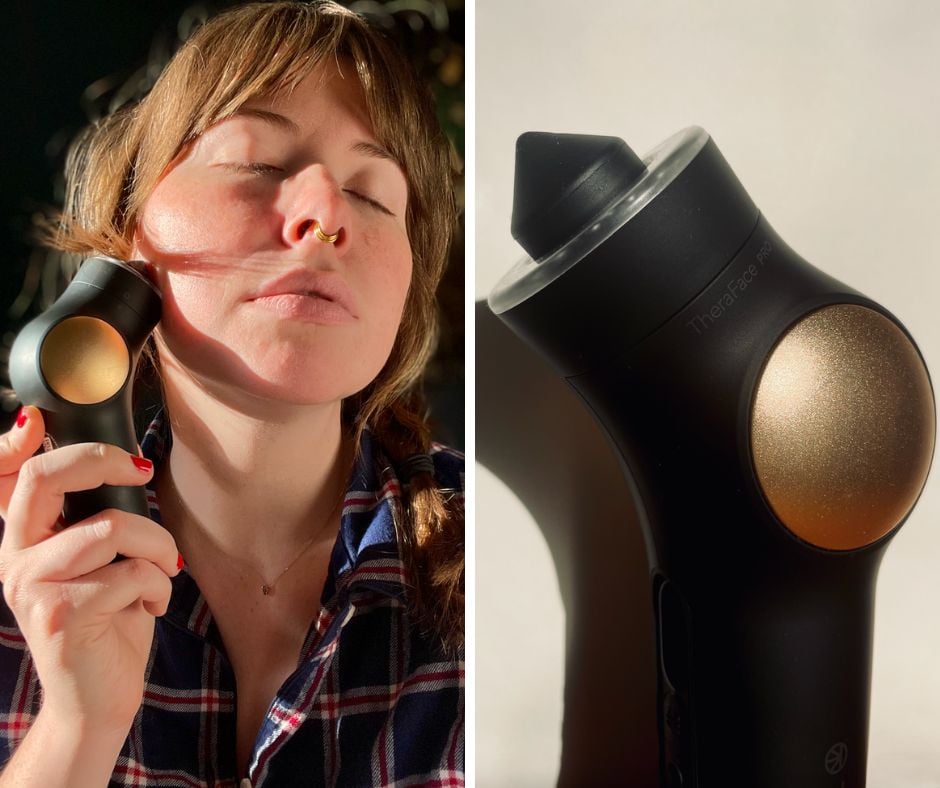 The 30-step skin-care routine is exhausting to even think about, especially when a lot of it is rooted in beauty standards and not actual wellness. While yes, skin is the largest organ and should be taken care of, lately I've wanted to take a step back and consider my facial health in a holistic sense. I finally started to incorporate SPF into my morning routine along with a big glass of water. But my favorite tool has been the TheraFace Pro ($399).
As a longtime fan of Therabody, I may or may not have broken its rule: don't use the Theragun on the face. Suffering from jaw tightness and tension headaches, I was desperate to take advantage of the percussive massage. So when I heard about the TheraFace Pro, designed just for the face, I couldn't wait to try it out.
I mean, how could I not be excited when supermodel Karlie Kloss herself told a small group of us journalists that she used it for New York Fashion Week? According to Kloss, her fellow models were practically ripping it from her hands before strutting down the runway themselves. With that disclaimer out of the way, ahead, I break down the many benefits of the tool, a few of the cons, and the ever-important question: are the add-on accessories really worth it?

How Does TheraFace Pro Help With Mental Health?
OK, maybe it's a stretch to call it mental health, but TheraFace Pro helps me in a myriad of ways. Using the tool requires you to slow down. Call it meditation or simply catching your breath, I'm "forced" to slowly move the tool across my neck, across my cheeks and over my temples. It's therapeutic to focus on something other than my to-do list.
In addition to that, my self-esteem lifted immensely with the knowledge I was tackling acne, antiaging, and tightening my skin. The LED-light ring has three settings: the red and red plus infrared light focus on wrinkle reducing, while the blue light works on acne. I like that you could use the ring light while giving yourself a face massage because the percussive attachments fit snugly in the center.
It also comes with a microcurrent ring and conductive gel. The ring is supposed to tighten your skin for a more "youthful glow." I was obsessed with seeing how my cheekbones were emphasized after being run over a few times with the tool. Buccal fat surgery, move over! The only con is that to continue using the microcurrent ring, it must be used with conductive gel, which means buying more of it when the sample size runs out. While TheraBody recommends buying its product, it's safe to use any microcurrent conductive gel.
How Does TheraFace Pro Help With Facial Health?
Besides the aesthetic benefits, the face massage alone is a game-changer. With three percussive attachments, I could pivot between the flat, cone, and micropoint. I frequently use the cone to really dig into my tension points, which really helps with my TMJ (temporomandibular joint dysfunction) caused by clenching my teeth throughout the day and night. After about six weeks of regular use, my usual "clicking" of my jaw joint started to dissipate, and now I no longer have difficulty chewing.
In terms of taking care of my skin, the cleansing ring works similarly to the Clarisonic I had when I was younger. The bristles work with any cleanser to gently exfoliate, removing makeup and any bacteria I gathered from a long subway ride. And while I mentioned the microcurrent beforehand, I will say that it also improves muscle tone like a little workout for your face and neck, which left a satisfying sensation.
Hot and Cold Rings: Are They Worth It?
The Hot and Cold Rings ($99) don't come with the TheraFace Pro but are worth it if you're interested in temperature-based face therapy. I was honestly shocked with how quickly they warmed up or got cold, respectively. The hot rings are incredibly soothing to use with my go-to serum because it increases absorption, but I'll admit that the cold rings are my favorite — especially because you can use it alongside the percussive attachments. Also, there's something so satisfying about directly reducing any inflammation my face was experiencing. TMI, but I used this after crying to help with the puffiness, and it worked better than any frozen face mask.
However, don't use the Hot Ring if you have melasma or hyperpigmentation, especially if it is exacerbated by mild warmth, per TheraBody.
Image Source: POPSUGAR Photography / Melanie Whyte