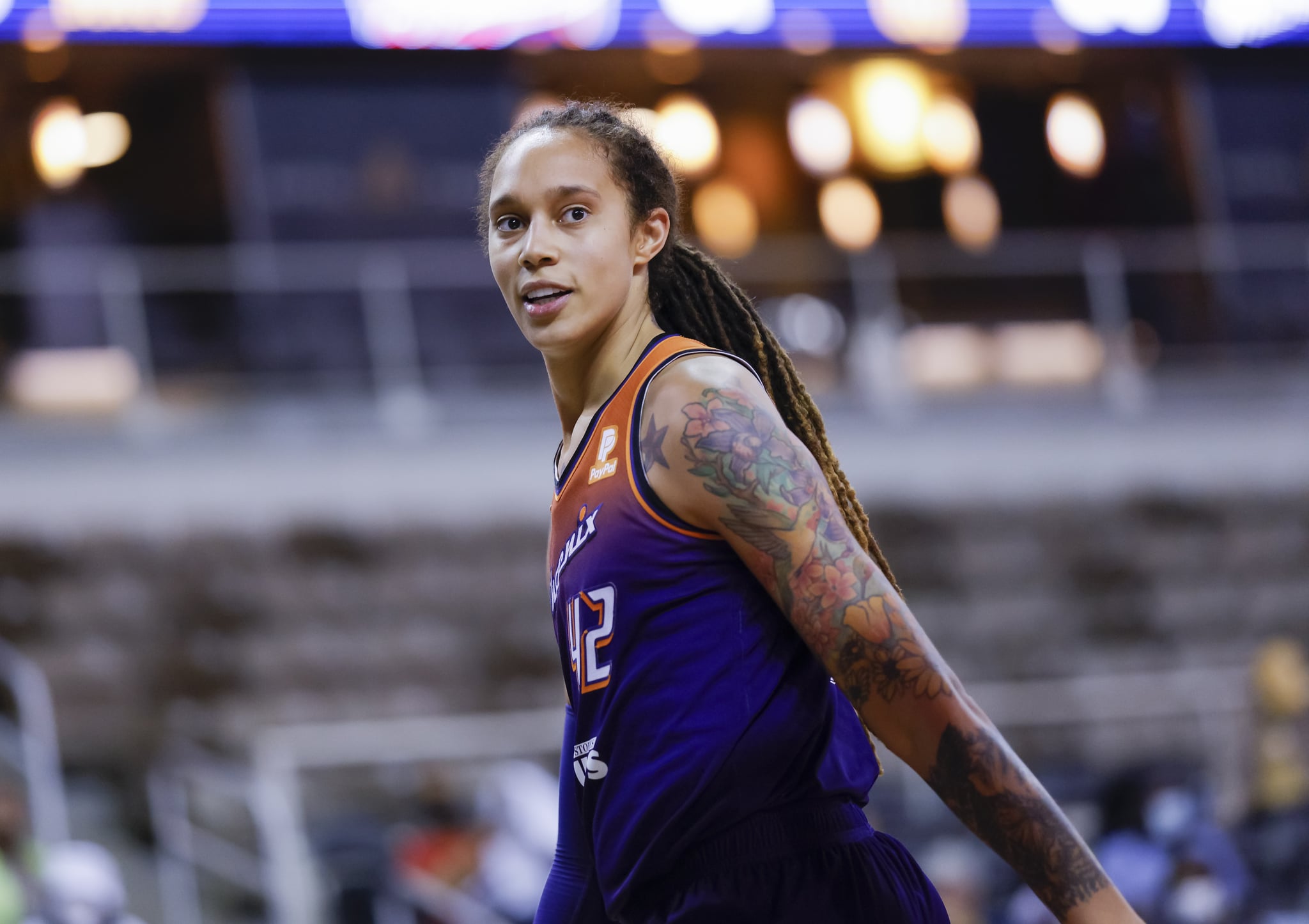 Brittney Griner is home.
Hearing the news that the WNBA star would be released from Russia, where she has been detained for several months after being sentenced to nine years for drug smuggling, brought tears of joy and happiness. My elation came not only from hearing this singular news, but it was reflective of Griner's journey up until this point, and that of all Black women in America.
In the government's negotiation of Griner's release was the idea that a Black woman was advocated for, that her full humanity was seen. It was an act that said a Black woman's life was valued and worth saving, and the president of the United States himself would support efforts in bringing her home.
This was a first in my lifetime.
While others debate Griner's worth, Black women are here to rejoice in this moment.
But after the elation came the frustration: seeing the public debate around Griner's release was maddening. On the one hand, there was the joy with which other Black women and I were celebrating her freedom. On the other, there were the strong negative opinions about the swap of Griner for Russian arms dealer Viktor Bout. This criticism was largely doled out by men on social media who were suddenly taking on the position of foreign-policy experts. But many of those comments were based in an inherent disrespect for Black women.
Because, you see, I know how stories like Griner's typically end. I have come to intimately know the experiences of Black women historically, in the news today, and in my own life. What I know to be true is that when it comes to Black women, no one is coming to save us. As Black women, we are almost always left to fight and fend for ourselves.
Evidence of this is everywhere: it's in how Black girls and women go missing or are killed every day, and yet these stories never make it into the headlines; it's in the alarming Black maternal mortality rates, the highest for any group of women in America; it's in the adultification of Black girls in schools; and it's in the countless Black women who experience misogynoir in the workplace. And when we have the courage to call out racism, we are subjected to even more harassment; we are over-policed when it comes to our hair, clothing, tone, time, and the way we speak, constantly reduced to the "angry Black woman" trope that seeks to justify why we are not worthy of empathy or humanity.
That the arrest of Griner, a Black queer woman who achieved success as a college and professional basketball player, was not immediately given more space in the media earlier this year was also a reminder of Black women's existence in this country.
But in the end, the reality of Griner's triumphant release was made possible by the unwavering efforts and labor of other Black women. For the last 294 days, Black women — led by Griner's wife, Cherelle Griner, and the Win With Black Women collective — have fiercely advocated for her. They have continually applied pressure on political figures, media outlets, and other organizations and have refused to let her name disappear from the zeitgeist. These same Black women have also brought attention to the pay inequities that Black women athletes face, which is the reason why Griner had to go play basketball in Russia in the first place.
Unfortunately, as I expected, many people had criticisms to offer up, questioning if Griner even deserved to come home. Pundits and social media commenters expressed opinions about whether it was the right geopolitical decision, or if such a trade should have been negotiated at all on Griner's behalf. It was painful, yet unsurprising, to see how many people were angry that a Black woman was freed. Yes, angry that a Black woman was fought for. These "whataboutism" sentiments speak to the inherent disdain that this country has for Black women, how we are viewed as valueless commodities.
My question is: aren't Black women deserving of the considerations afforded to others — especially, after our country's dark history, those of protection and freedom?
While others debate Griner's worth, Black women are here to rejoice in this moment. And the celebration will not be a quiet one. This historic victory represents the sovereignty of Black womanhood. In this moment in time, we feel valued and cared for, and we know it's in no small part because Black women have always shown up to support and advocate for others in this country, even when such advocacy has not been reciprocated.
Griner's release was a step in repaying a debt that the scores of Black women, my ancestors, have paid to this country with their lives.
Black women deserve to celebrate Griner's homecoming, and the joy we feel should not have to be justified, argued for, debated on, or held to the double standard of race. And when the celebration is over, Black women will do what we have always done: continue fighting the good fight until all Black women are free to be their authentic selves in schools, workplaces, and society as a whole.
Griner is free. Can you envision a world where all Black women are free — and where our freedom isn't up for debate?
Image Source: Getty Images / Michael Hickey