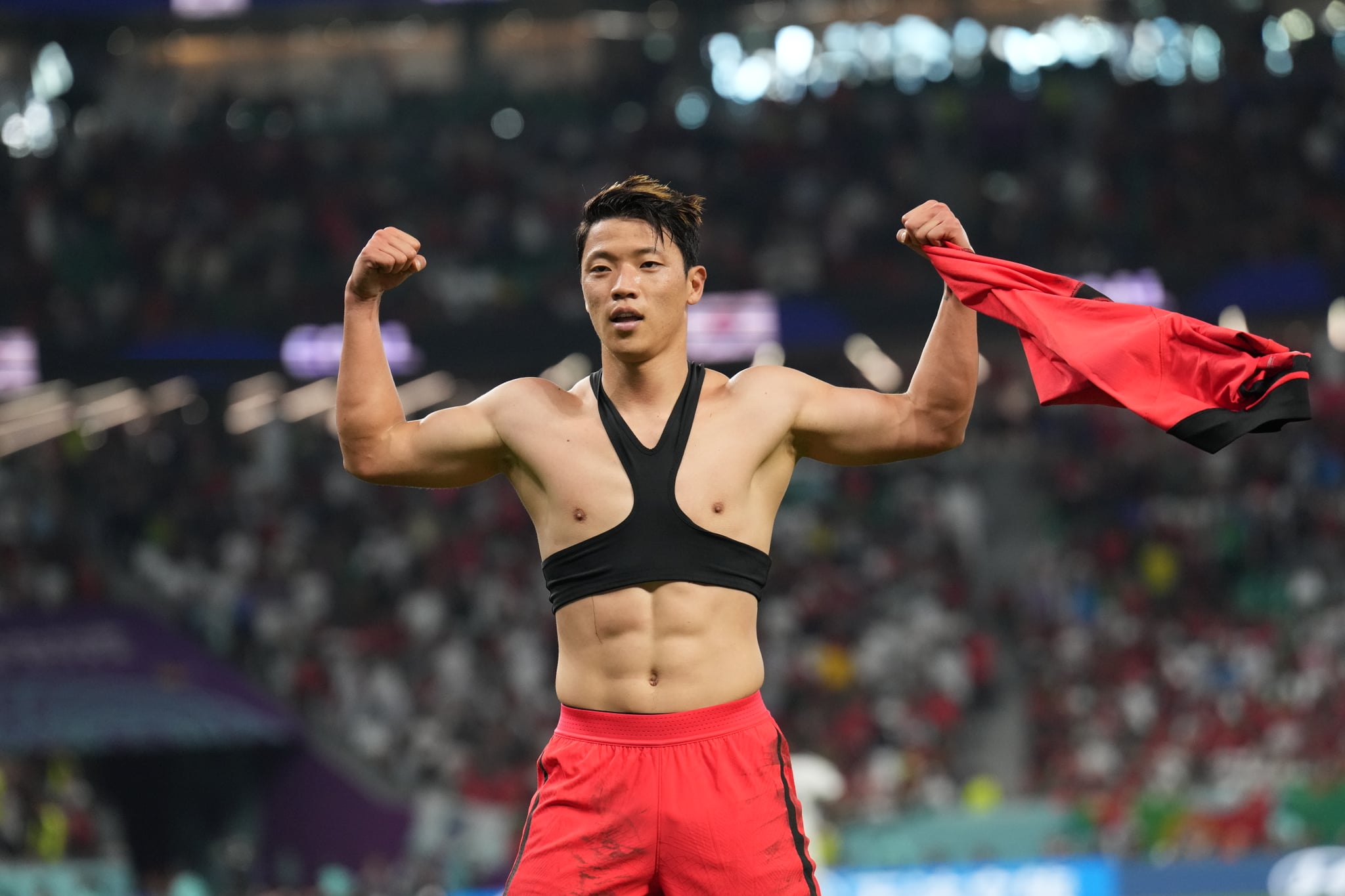 If you've been watching the 2022 men's World Cup for the last few weeks, you may have noticed some players wearing an unusual accessory under their shirts. When players remove their jerseys at the end of the game or while celebrating a goal (à la South Korea's Hwang Hee-chan, above, after scoring against Portugal on Dec. 2), some are wearing what looks like a sports bra underneath. Men's soccer players have been wearing these sports-bra-like harnesses for the last few years, as it turns out, but with more eyes on the sport during the World Cup, many viewers are getting their first look at them and are (understandably) a bit confused. So what actually is the "sports bra" under their jerseys?
It's not there for pec support or to prevent chafing (although, hey, maybe it helps?). The "sports bras" worn by men's soccer players are actually GPS tracker vests. Each vest has a tracker in the back that provides a ton of data for coaches, trainers, and players to learn from. According to Catapult Sports, which sells them, GPS vests can measure how much and how hard the players are working, including things like "total distance, top speed, number of sprints, sprint distance, power, load, [and] intensity."
In other words, after a tough game or practice, the coaching staff can immediately find out how much effort their players exerted and tailor subsequent training sessions accordingly or tweak their recommendations for recovery. It can also provide interesting nuggets of info for fans, such as the fact that Polish striker Robert Lewandowski recorded the highest average distance walked during the group stage of the World Cup, just edging out Argentina's Lionel Messi, according to FIFA data via The Athletic. Meanwhile, US left back Antonee Robinson reached the fourth-highest top speed in the group stage at 35.4 kilometers per hour (nearly 22 miles per hour).
These might just be fun facts to most of us, but they're also useful pieces of information for a coaching staff. This data can help coaches get their players back into good condition for their next match or craft a better plan to secure victory — and the sports-bra-like GPS vests are what provide the insights.
That all makes sense, but why go with a vest instead of a wrist tracker like a fitness watch? According to Catapult Sports, it's for accuracy and safety. "The vest holds the pod in the optimal position for tracking so it can reach the GPS satellites," the brand explains. "This makes sure the data is as accurate and reliable as possible." That placement is also "proven" to be the safest location for athletes playing highly physical sports like soccer, basketball, and football, the brand adds.
Plus, if the soccer players' GPS trackers didn't look like sports bras, they wouldn't be able to go full Brandi Chastain after a big win. What are all those data points without an iconic goal celebration, right?