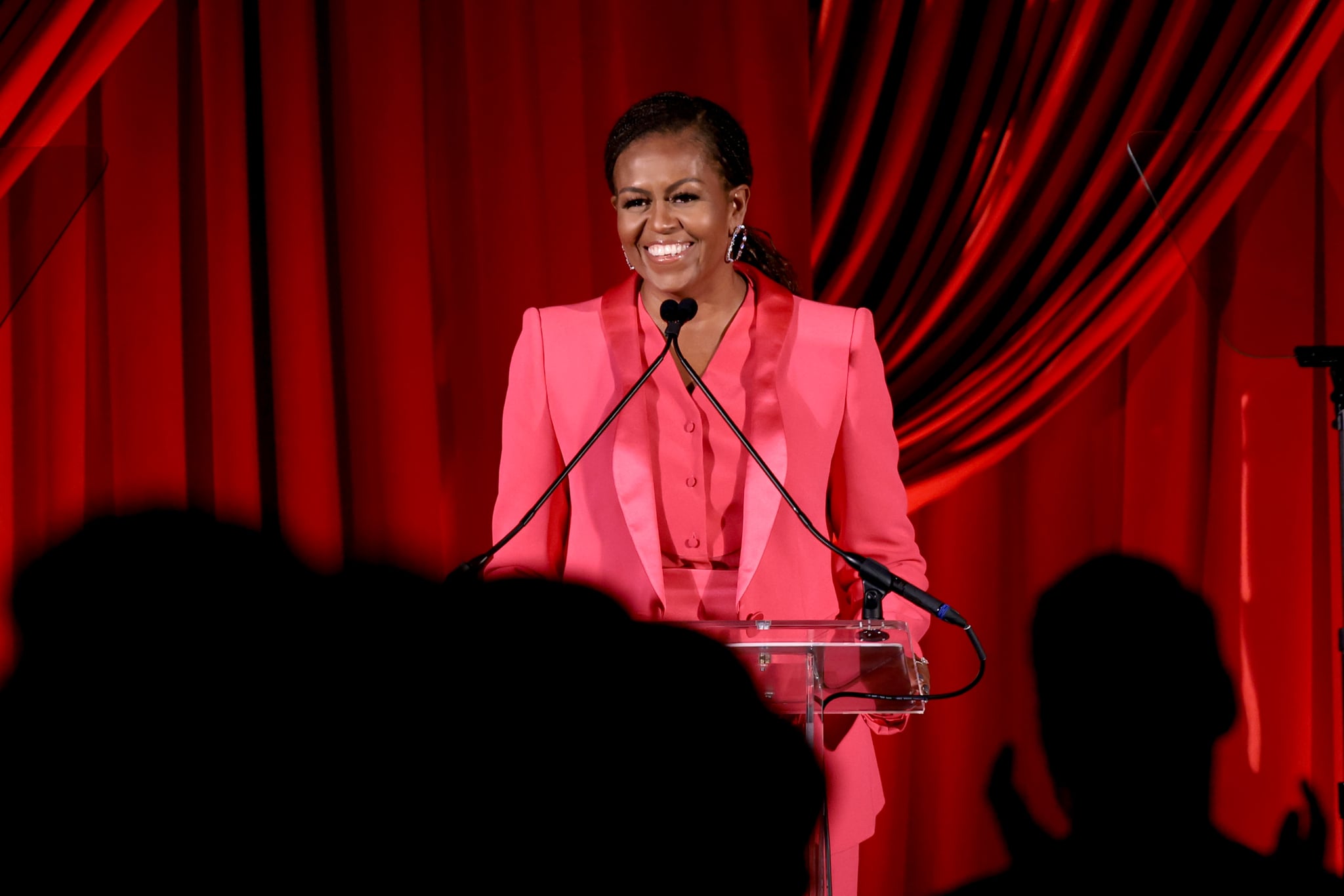 Michelle Obama wants to open up the discussion around menopause. The former first lady spoke about her experience and how it's affected her fitness journey in an interview with People, published on Nov. 10. "I'm going through it, and I know all of my friends are going through it. And the information is sparse," she said.
"You wind up balancing between staying fit enough and being kind enough on your body to stay in the game."
While Obama said she hasn't dealt with major mood swings or changes to her hair or skin, her workouts have certainly changed, and she shared that she's now focused more on flexibility as opposed to cardio. "Some of it is menopause, some of it is aging," she said. "I find that I cannot push myself as hard as I used to. That doesn't work out for me. That when I tear a muscle or pull something and then I'm out. The recovery time is not the same." She added, "You wind up balancing between staying fit enough and being kind enough on your body to stay in the game."
Obama previously led fitness boot camps for a group of girlfriends during her time at the White House, which is how she became known as the "Drillmaster" among her friends. Those women still remain a part of her support system, although now their workouts are more varied and Obama doesn't always lead them. She's had to put her competitive nature aside as well.
"All of my friends are healthier because we do it better when we're doing it together," she said. She continued, "I find that when we get together and we're moving and we're laughing, then we spend a little time talking about what we're going through. 'What's a hot flash?' We have girlfriends around the table who are OBGYNs, who have real information. All of that keeps us lifted up."
The author also got candid about experiencing weight gain due to menopause. Though she never used to weigh herself prior, she now finds that she's more conscious of the scale. "I'm not trying to stick to numbers, but when you're in menopause, you have this slow creep that you just don't realize," she said. "We're all in menopause with stretchy [waist] bands and our athleisure wear on, and you look up and you can't fit the outfits you had last year. I have to be more mindful, not obsessive, but more mindful."
Back in 2020, Obama opened up about treating her hot flashes with hormone-replacement therapy. Reflecting on the treatment, the former first lady said she's still figuring out the best care for herself. "Before there were studies that said that hormones were bad," she said. "That's all we heard. Now we're finding out research is showing that those studies weren't fully complete and that there are benefits to hormone replacement therapy."
While Obama admits she's had to change the way she sees herself in the wellness space, she feels blessed for her overall health, noting that "my skin still feels healthy. My hair is still in my head." Symptoms of menopause can vary among women, but according to the Mayo Clinic, thinning hair and dry skin, weight gain and slowed metabolism, hot flashes, night sweats, and mood changes are some of the telltale signs your body is experiencing the transition. "I am still physically active, and my goal now, instead of having 'Michelle Obama arms,' I just want to keep moving,'" she said.