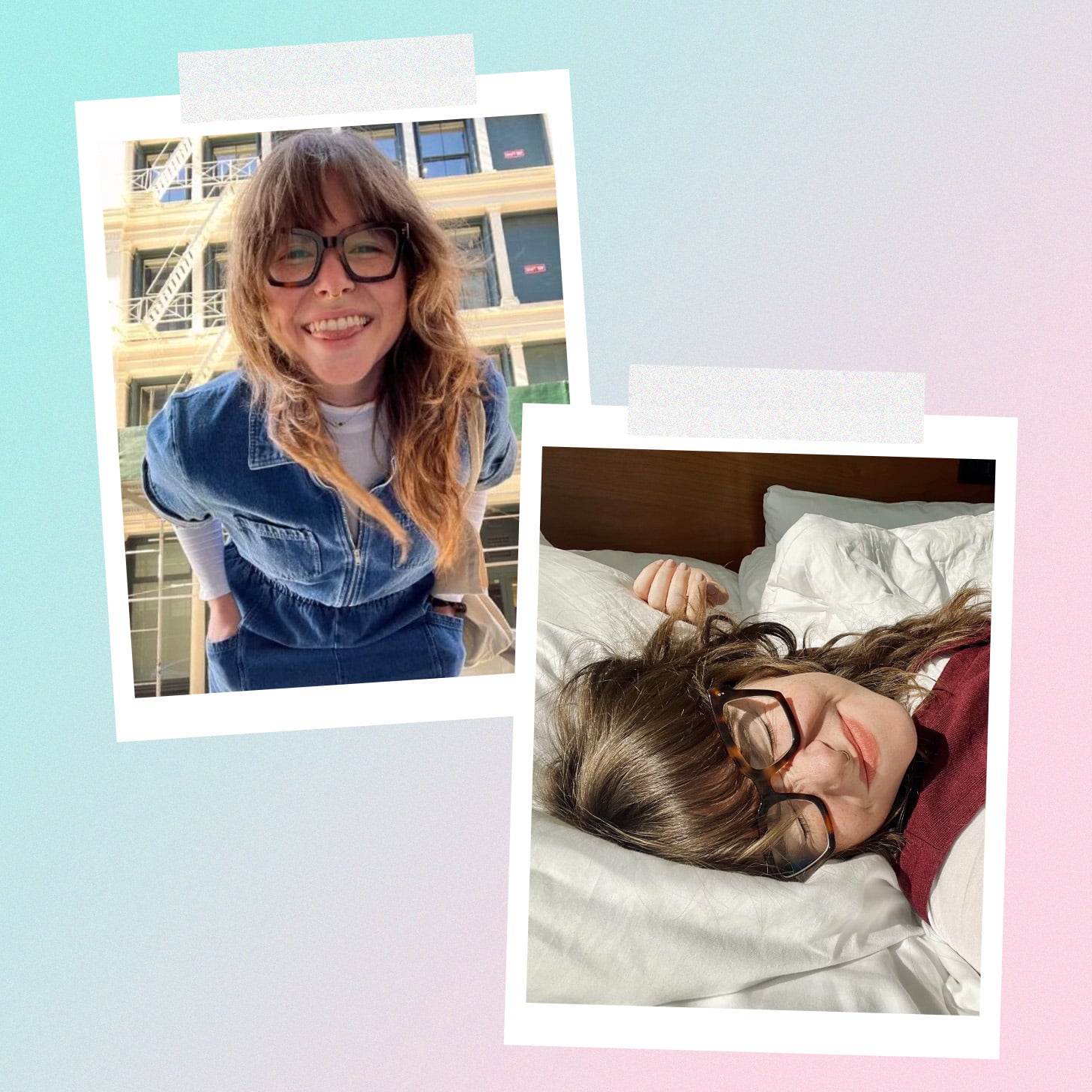 Image Source: POPSUGAR Photography / Melanie Whyte and Photo Illustration: Keila Gonzalez
Have you heard of "dopamine dressing"? Videos tagged with the phrase have a collective 64 million views on TikTok, and the practice is simple: throw together an outfit with the intention of lifting your mood. Even better? You can take advantage regardless of whether you're into fashion. I loved the idea that the daily act of getting dressed (especially after a pandemic in sweats) could potentially boost my mood and creativity. Not to mention, mood is an important predictor of health and longevity, studies say. So I decided to try it out.
From Monday through Friday, I asked my teenage self: is this the vibe? And I listened to her with my whole heart.
The clothes we wear are a reflection of our personality and often one way we express ourselves. But can an outfit actually influence your mood? Apparently, yes. Studies show that outfit choice has the power to generate different emotions. In the case of dopamine dressing, it's all about increasing what's commonly known as your "happy hormone."
"Dopamine motivates us to find a positive outcome from the current situation, whether that is finding a way to end pain or finding a way to increase pleasure," says Carolyn Mair, PhD, behavioral psychologist, business consultant, and author of "The Psychology of Fashion."
"Although dopamine dressing is often described as wearing clothes that boost our mood, it could more accurately be described as the desire to achieve a positive outcome based on what we choose to wear," she says. "Therefore, it's more about the wearer's desires, beliefs, and expectations than the item of clothing." So, really, it's not about the outfit; it's about the intention behind the outfit.
To see if the science checked out, I tried it as an experiment. Every day of the work week, I dressed with the intention of upping my dopamine. My process? Well, I think TikTok user @TheDirtyThirties says it best: "My entire vibe, my hair, my makeup, my earrings, my outfit, all of it, is determined by 15-year-old me. And that is how I'm healing my inner child. I am asking 15-year-old me before I leave the house: 'Do I look f*cking cool?' And if that b*tch says yes, oh it's on!" So from Monday through Friday, I asked my teenage self: is this the vibe? And I listened to her with my whole heart.
I was curious to see if dopamine dressing would truly help me with my mental health, especially as someone who struggles with body dysmorphia disorder — a mental health condition that causes me to obsess over "perceived flaws" in my appearance. While I understood that dopamine dressing couldn't fix all of my insecurities, my hope was that it would at the very least allow me to see getting dressed in a different light. Here's how it went.
My Dopamine-Dressing Diary
Monday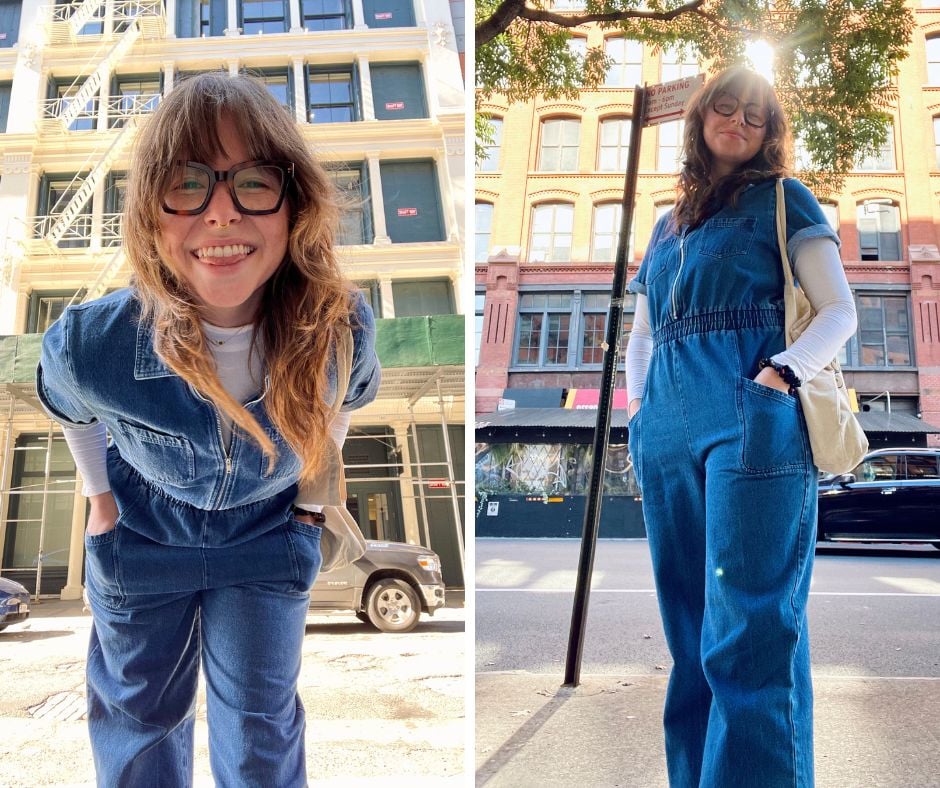 Image Source: POPSUGAR Photography / Melanie Whyte
The Look: I kicked off the week with a loose-fitting denim coverall with a funky puffer jacket from SoulGoods (both thrifted). It was definitely a crossover of mechanic meets "Top Gun" pilot — but in a sexy way. Not to brag, but a constructor worker did yell at me while I was wearing this outfit, so I take that as a win. It wasn't a catcall — I ignored the stop sign he was holding — but attention is still attention!
The Feels: I was excited to wear my outfit out of my apartment and had the chance to show it off at a (very exciting) dentist appointment. I'm not usually interested in chatting with new people while running errands, but when I walked into the lobby, another patient complimented my outfit, and it started a conversation. She was a mom of two who was rocking an adorable purple cardigan with crocheted butterflies. She told me it made her feel close to her late grandmother who loved butterflies, and it was also one of the only things she felt good in after giving birth six weeks prior (a fellow dopamine dresser in the wild!). Not to mention, I got some street cred from my dentist who had everyone come into the room — while his hands were in my mouth — to show off my jacket. (I wish I made this up.) I walked home smiling with my freshly cleaned teeth.
Tuesday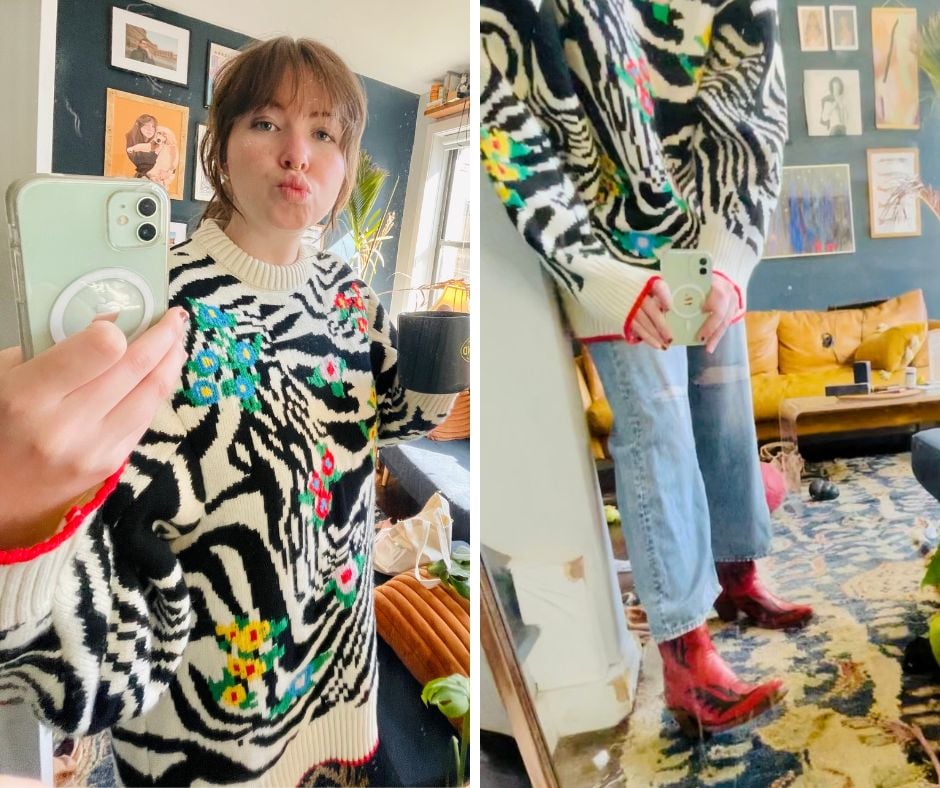 Image Source: POPSUGAR Photography / Melanie Whyte
The Look: I woke up wanting to feel cozy, so I threw on a massive sweater over some baggy jeans with red cowboy boots. I thought the chaotic energy could help me wake up, and it did. Before work started, I took a lap around my block and felt some fresh air before opening emails.
The Feels: How often do you get the chance to pair a zebra print floral with cowboy boots? I felt bold and powerful, which helped me take up space. What we wear says something about us that's interpreted by those we interact with, Dr. Mair says. "When we choose clothes that make us feel good about ourselves, the impression we give to others is elevated and reciprocated in our interactions." Let's just say, these boots were made for walking — and that's just what I did.
Wednesday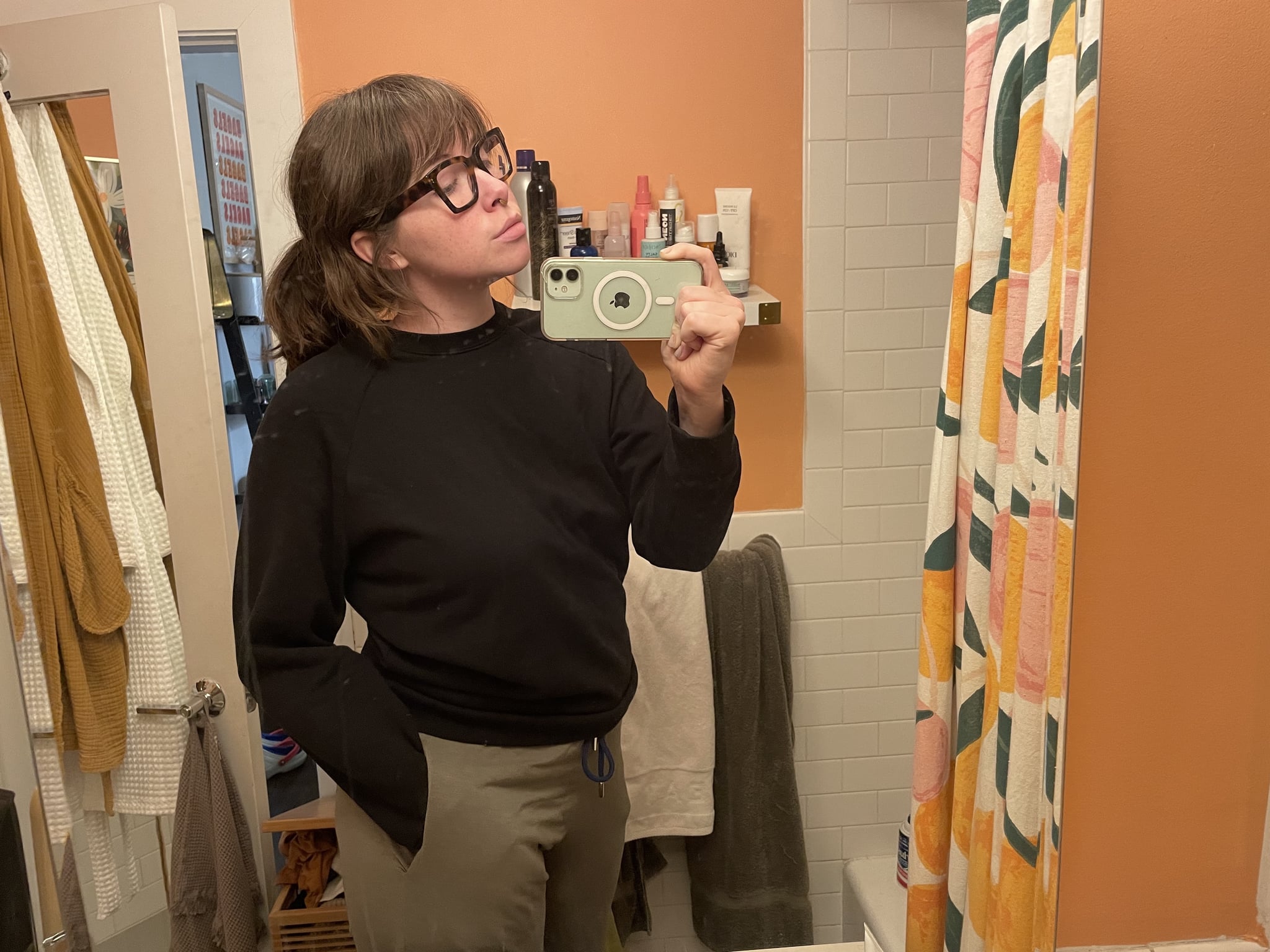 Image Source: POPSUGAR Photography / Melanie Whyte
The Look: Midweek, I kept the cozy train going. I wanted to see what dopamine dressing could look like if I embraced sweatpants. The idea: make it street style. I threw on a black french-terry sweater from Mott & Bow and paired it with a pair of olive-green joggers. The white tennis shoes really completed the vibes.
The Feels: It felt strange to embrace sweats while doing this experiment. Like many who started working remotely during the pandemic, I've been working from home for a couple of years now. It's so easy to want to stay in PJs, which often means skipping basic hygiene rituals like showering or brushing my teeth. While it's embarrassing to admit, it's just easier to hit the snooze button and roll out of bed right before work. Turns out, I don't have to wear a ball gown every day to reap the benefits of dopamine dressing. Being purposeful about my outfit selection was enough to feel put-together and didn't require any frills.
Thursday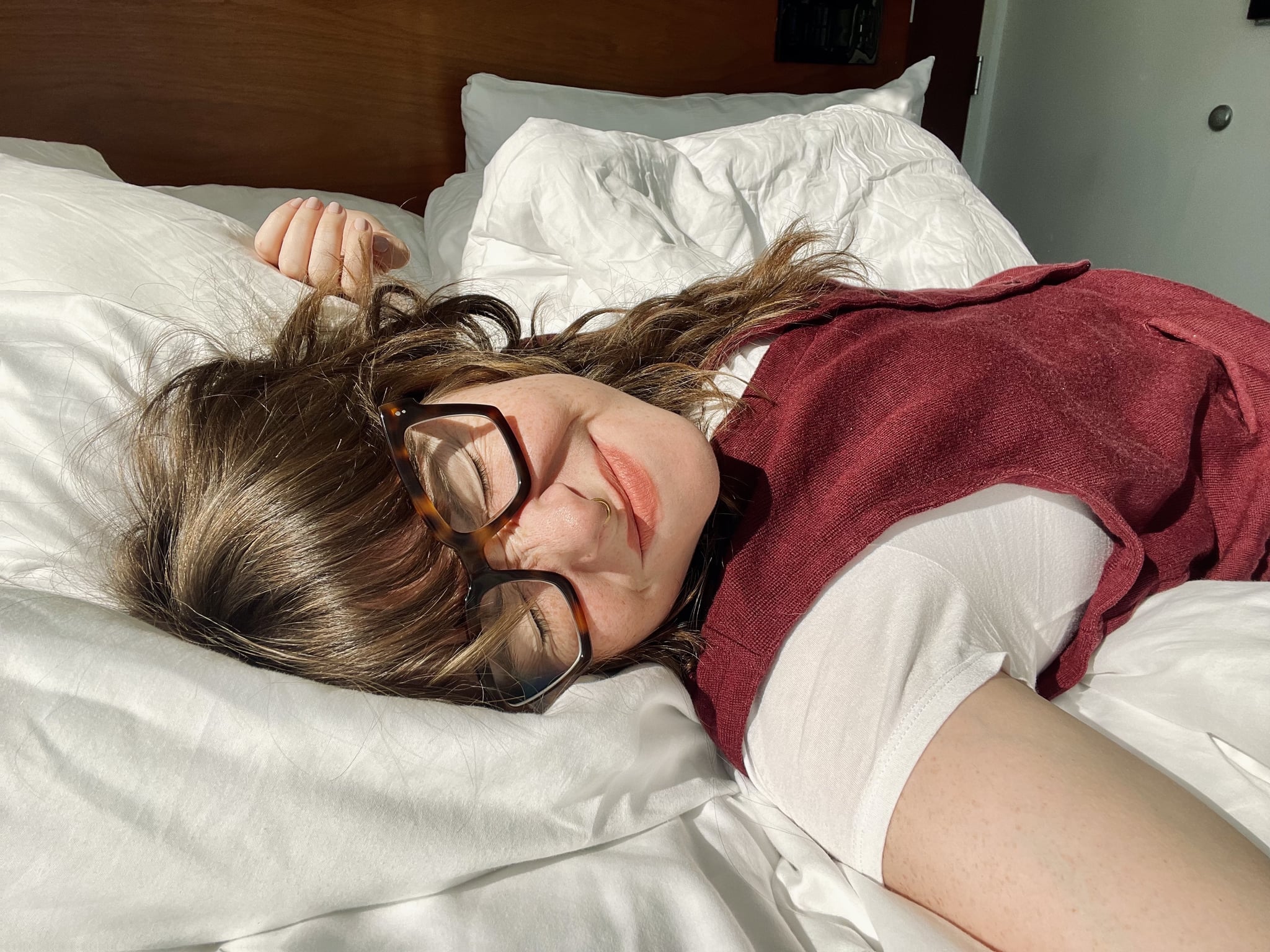 Image Source: POPSUGAR Photography / Melanie Whyte
The Look: After the success of Wednesday's sweatpants look, I didn't feel like going all out and opted for basics instead. My go-to white tees lately have been from Mott & Bow. And while there's something so cool-girl about a classic white-tee moment, I threw on a maroon vest for a more grandma-chic look that fit my vibe better.
The Feels: Close to the end of the week, I noticed that I was feeling better than I normally would during a BDD flair-up. I admit that dopamine dressing isn't making me feel better about how I look but more about how I feel about myself in the clothes. I'm giving myself permission to layer when I'm subconscious about my stomach, for example. Dr. Mair says it's unlikely that dopamine dressing alone could make long-term changes in mood or mental health, but it might contribute to an improvement in the short term — and I'm starting to see that in my own experience, too.
Friday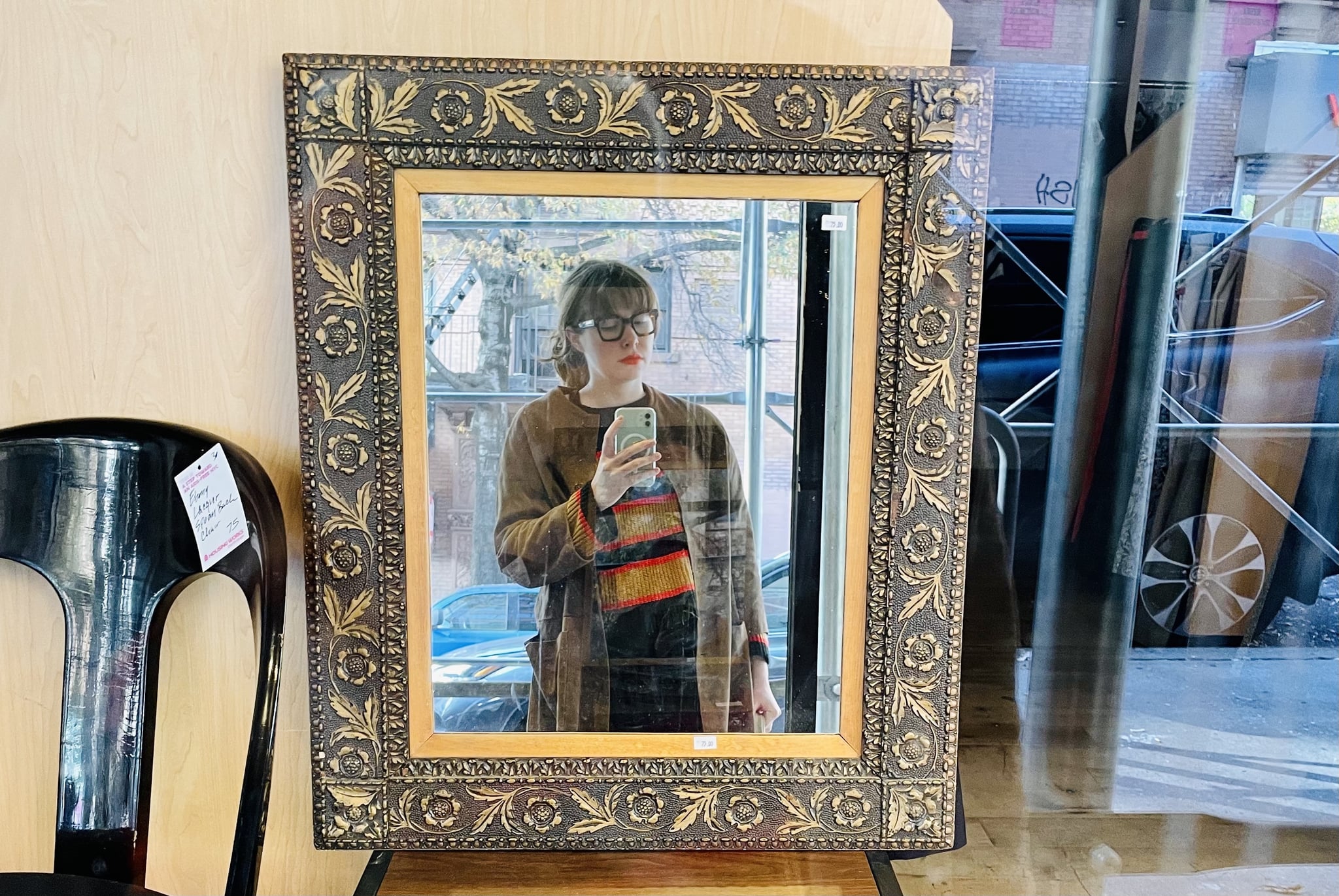 Image Source: POPSUGAR Photography / Melanie Whyte
The Look: I decided to take Nasty Gal's ribbed black midi for a spin and threw on a knit sweater with stripes of black, red orange, and dark mustard. I matched my lipstick to the reddish stripes and pulled on tall black boots. My hair went into a ponytail because I barely had the emotional energy to shower, let alone wash my hair.
The Feels: If I'm being honest, I did not wake up in a good mood. It was one of those "Oh god, I really look like that?" kind of days (IYKYK). So part of me wanted to call in sick, stay in PJs, and give up on the experiment. But I prevailed by making sure my outfit was a good mix of comfortable and cute. Then I marched myself to a new coffee shop where I gleefully people-watched in a safe corner. There's always going to be good and bad days, but starting it by being intentional about how I want to express myself actually did help. Of course, it didn't cure my mood entirely, but I had a productive workday and finished the week strong in an outfit that also made me feel strong.
My Takeaway on Dopamine Dressing
My favorite part about dopamine dressing was giving myself an excuse to get out of the house. With the excuse of wearing newly curated outfits, I'd want to take them out for a spin — even if it was just to a coffee shop. It's also helped me strike up conversations with strangers, like the mother at my dentist appointment.
Ultimately, dopamine dressing, for me, meant wearing what felt good and not necessarily what was "trendy" — and according to Dr. Mair, I'm onto something. "Dopamine dressing is really about dressing in a way that makes you feel good, and if that's comfort first, then that's dopamine dressing for you," she says. "Comfort relates to both physical and psychological experience. When we feel comfortable, we are more relaxed, at ease with ourselves and others, and this makes conversation and interactions more fluid and engaged. This boosts our confidence and comfort further."
I'm not expecting to make an appearance on any street style accounts in the near future, but I did find myself strutting down NYC sidewalks knowing that 15-year-old me would say, "That b*tch looks f*cking cool."