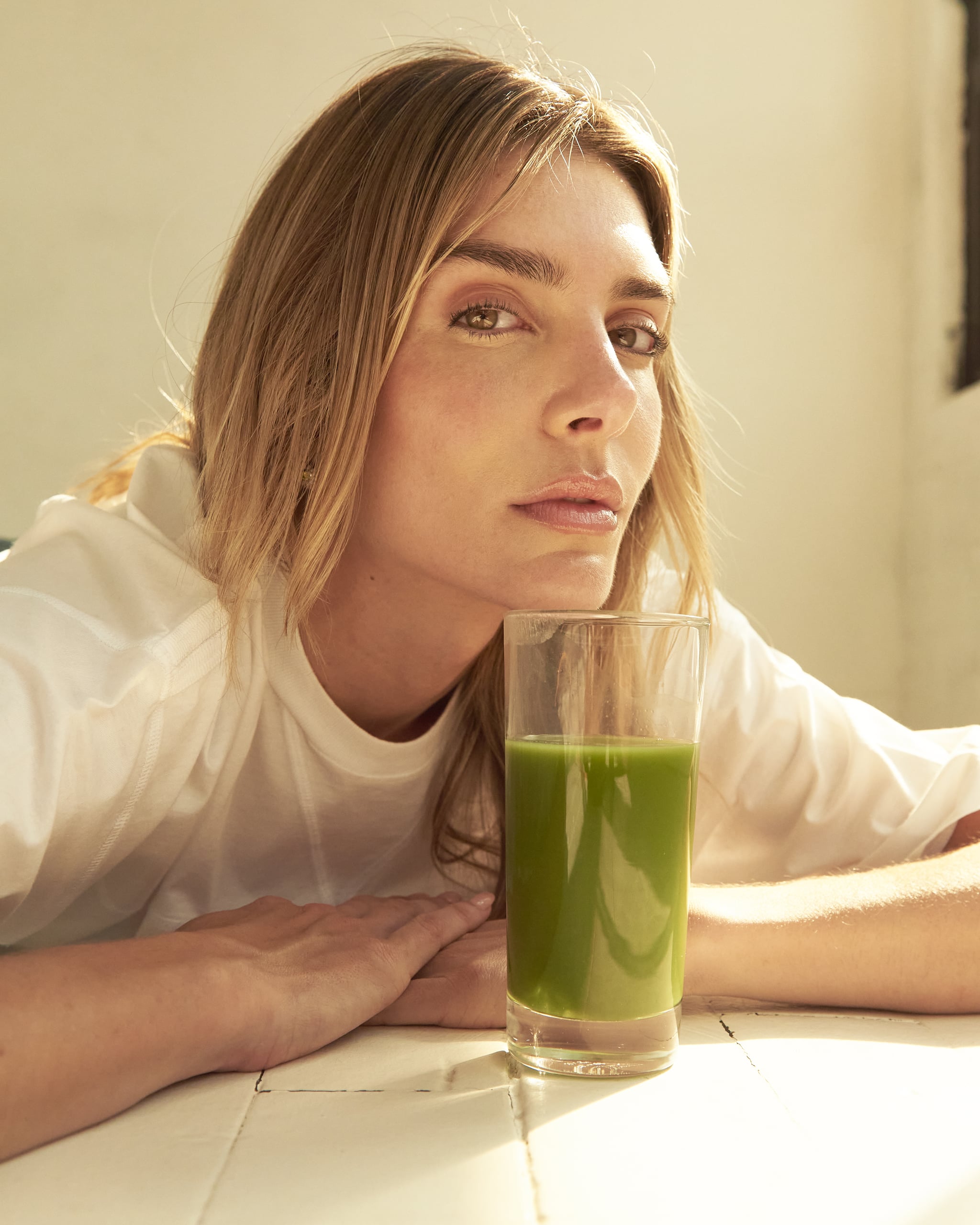 Valentina Ferrer has reached great heights since growing up on a farm on top of a mountain in Córdoba, Carlos Paz, Argentina. She has dominated catwalks in cities like New York and Milan, won the title of Miss Argentina in 2014, and even colaunched her wellness company, Kapowder. Not to mention, she's also a mother to her son, Rio, and romantic partner to Grammy Award-winning artist J Balvin. But even though she wears many hats, the Latina beauty is fully aware of her superpower: being a woman. "I love to see women growing. Whenever I have a chance to help [other women], I love to help because women are incredible. You can't stop a woman — they can do everything," she tells POPSUGAR.
Ferrer is one of five siblings and recalls being surrounded by many animals during her childhood back at the farm. She was also constantly around her mother's brothers and sisters, who also formed part of their neighborhood. "We joke because we'd open the window and say something like, 'I need sugar,'" she says. Although she enjoyed living in the mountains and countryside with her family, Ferrer's interests in wellness pushed her to move to Buenos Aires to study physical education and pursue modeling on the side.
But modeling didn't actually become a real career move for her until a trip to Miami she took with friends, where the director of Wilhelmina Modeling Agency scouted her and asked her to join. "He asked me why I wasn't a model, and so I started modeling," she shares. "I didn't start modeling really young, but I feel like that was good because of my thoughts on modeling. You know, when you're into modeling, you need to be very objective, so when you're more mature, it's easier to understand that it's not about how you look but what they need. When you realize that, it's an easier life."
Fast forward, and the Latina beauty is thriving both personally and professionally. She continues to model, most recently making appearances at the Naeem Khan show during New York Fashion Week and the Boss runway at Milan Fashion Week. On the business front, she and her business partner launched Kapowder in early 2021, an all-natural dietary-supplement company offering a range of supplements that concentrate on improving skin and gut health, energy levels, immunity, and other well-being concerns. "For me, a business is a passion that you have and you see an opportunity in between your passion and [the means] to do it."
The former Miss Universe contestant admits she loves going to the supermarket and reading the labels found on the back of products. "I love to cook, and I love food," she explains. But when she was diagnosed with celiac disease, an immune reaction to eating gluten, she realized she couldn't find a powdered product on the market that provided all-natural benefits and as a result was inspired to launch Kapowder.
"Something important I want to show [through Kapowder] is how you can have a healthy lifestyle. It's not about diet. It's about feeling good inside and having energy."
"Something important I want to show [through Kapowder] is how you can have a healthy lifestyle. It's not about diet. It's about feeling good inside and having energy," she says. One of her favorite supplements to take every morning is Saviour ($38), a biotin formula that works to protect and enhance the hair, skin, and nails' natural glow. It's no wonder she has a lit-from-within radiance! Ferrer mentions she sometimes takes it in the afternoon whenever her stomach feels heavy or if she's eaten too much. "It helps me not to get gastritis." The mom of one adds that she also took the droplets during her pregnancy since they're all-natural, so nursing mothers and moms-to-be can feel confident in taking the droplets, too.
On days when she's traveling, she turns to Enlighten ($36), electrolytes powered by ingestible hyaluronic acid that help rehydrate the skin from the inside out. Per the instructions, the powder should be mixed into a liquid of choice, but she confesses that she likes to eat a spoonful alone. "It's just so good!" she shares. For days when she feels tired and needs an extra boost of energy, Ferrer reaches for Vitality ($32), a matcha-infused multivitamin blend she takes in the morning mixed with almond milk.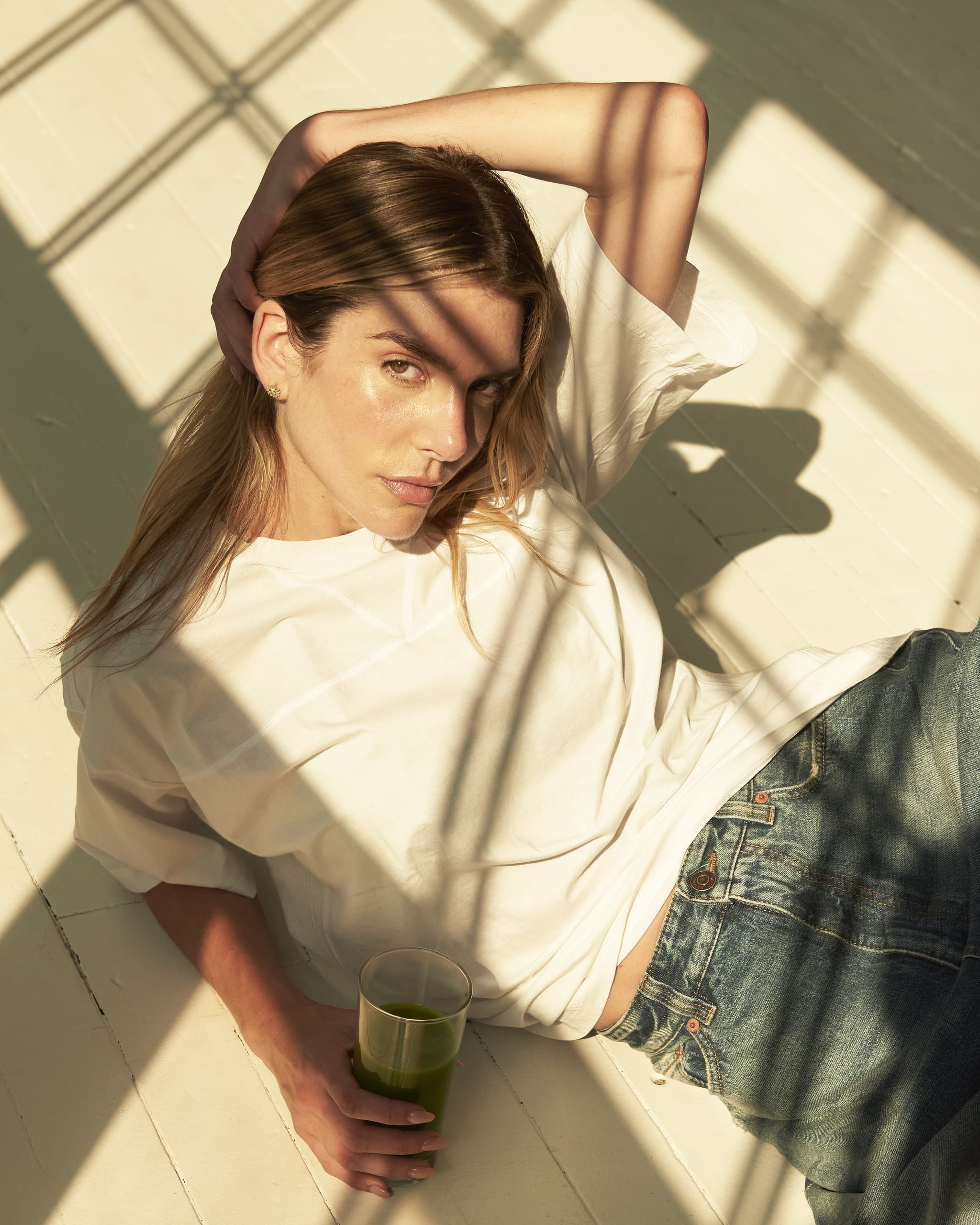 With an overabundance of vitamins and supplements out in the market, it's easy for one to become confused as to what to take, but the model-turned-businesswoman suggests reading your body and determining what it needs. Once you've aligned your body and mind, you can choose what to take that day. "Kapowder isn't about being on a diet, it's about reading your body and seeing what it needs — not everyone needs the same things," she explains. The model further notes she wants Kapowder to be something for people to enjoy and make part of their daily routines rather than feeling like they should be taking vitamin pills in order to be healthy.
So, what's a day in the life for the multihyphenate? Ferrer explains there's no exact schedule, but every day involves shuffling three main things: her modeling career, Kapowder, and her son, Rio, before winding down with her boyfriend at the end of the day, perhaps with a movie. She admits being highly organized when it comes to work duties, but as a mom to her son, she likes to keep it chill, allowing him to explore and have fun, even if "he looks like a mess," she says.
Ferrer tells POPSUGAR that every morning, she likes to wake up early so she can enjoy some time to herself, followed by breakfast and then exercise. Maintaining an active lifestyle has always been at Ferrer's core — so much so, it's what she's dedicated her life to through her studies and personal lifestyle. She shares that there are days in which she and her partner, J Balvin, go to the gym together and others in which she does Pilates or cardio and weights alone.
And speaking of her boyfriend, whom she met through mutual friends "many years ago," Ferrer says while she admires and supports her partner, she also has a clear vision of her identity and dreams of her own to achieve. "I'm Valentina Ferrer. I work so hard and do my own things. I'm not sitting on the side waiting or doing nothing," she shares while also mentioning that part of what's allowed the couple to maintain their own identities as individuals and professionals is that they work in two entirely different industries.
Like many women entrepreneurs who divide themselves between their careers, passions, and families, Ferrer understands and can relate to the hardships of juggling multiple facets of life. "I want to show that we can do it," she exclaims, referring to women. Furthermore, she's completely aware of the mentality Latina women often exemplify, especially the older generations, when it comes to caring for themselves.
For those reasons, she's determined to exemplify the importance of nourishing one's self and helping provide the means for women to better care for themselves. "I'm in the wellness industry. It's what I love, it's my passion. I want to focus on that and grow," she shares. "I want to be a voice for women."
As for her woman crush, Ferrer is inspired by Venezuelan entrepreneur and philanthropist Carmen Busquets. "When I met Carmen Busquets, I said, 'When I grow up, I want to be like her.' She's incredible!"
Image Source: Anthony Tudisco