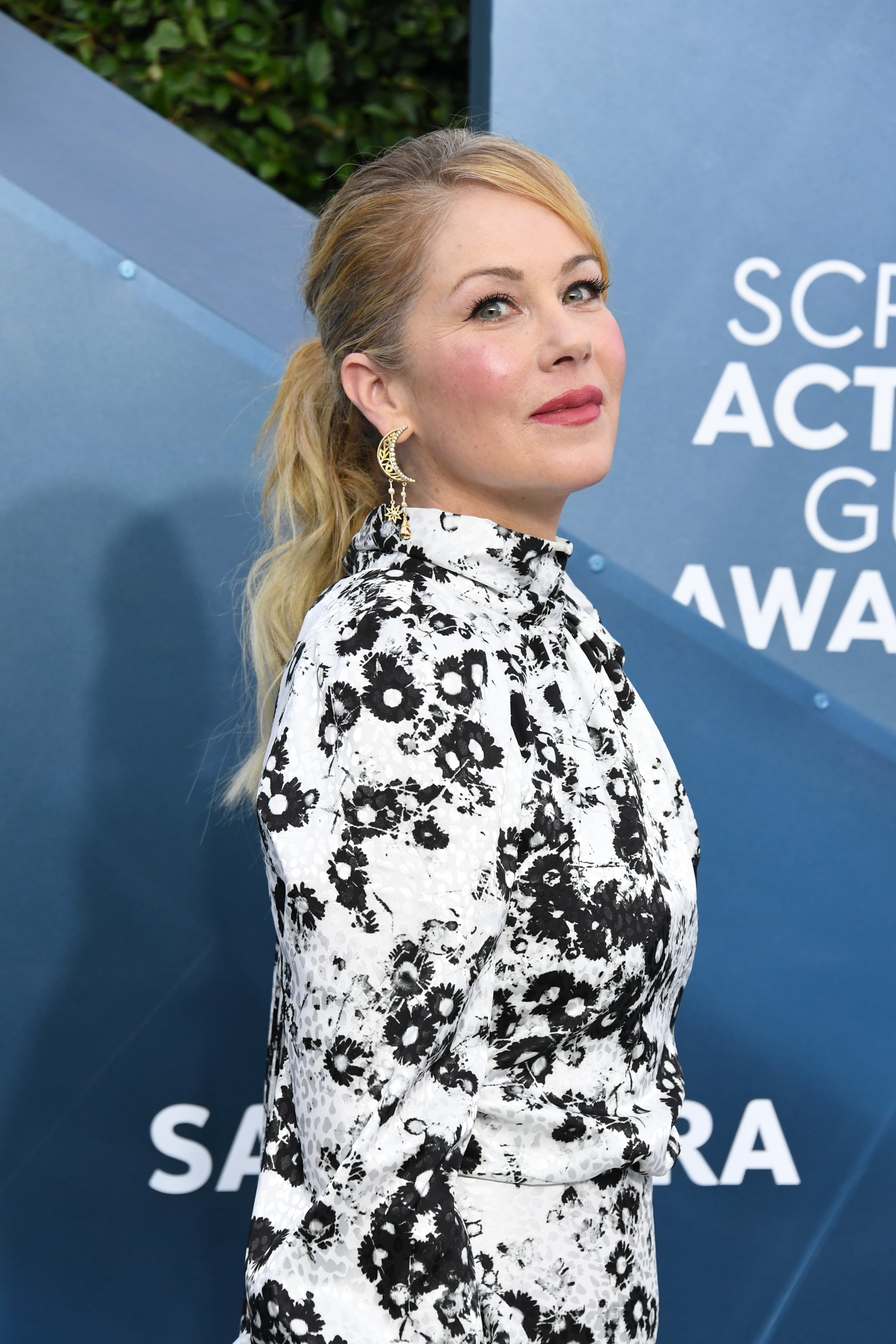 Image Source: Getty / Jon Kopaloff
"Dead to Me" star Christina Applegate turned to her fans on Twitter to ask for some accessory advice: which cane should she choose for a fancy occasion? The Emmy Award-winning star shared her multiple sclerosis diagnosis back in August 2021, and on Thursday, she posted a photo of five "fancy" canes to choose for a "very important ceremony coming up."
With the upcoming event being "my first time out since diagnosed with MS," the 50-year-old wanted something special to commemorate the moment. The mobility-aid company Neo Walk sent her a variety of handmade acrylic walking sticks with unique designs to choose from — including a crowd favorite with pearl beads dangling off the handle.
One Twitter user suggested Applegate try activator poles, which promote balance and improve mobility: "They have a hand rest which is really nice to have. Not pretty but good quality." While the actor appreciated the suggestion, she replied, "The activator is what I use daily. Love mine. But these events I wanted fancy I guess. My activator has stickers that say FUMS [F*ck you MS] so wasn't sure if that was appropriate haha."
Applegate has been honest about the challenges that have come with her journey since diagnosis. On her last birthday, she tweeted, "Yup. I turned 50 today. And I have MS. It's been a hard one." She continued, "May we find that strength to lift our heads up. Mine currently is on my pillow. But I try."
I have a very important ceremony coming up. This will be my first time out since diagnosed with MS. Walking sticks are now part of my new normal. Thank you @neowalksticks for these beauties. Stay tuned to see which ones make the cut for a week of stuff. pic.twitter.com/O543p1G4vS

— christina applegate (@1capplegate) October 27, 2022
Her former "The Sweetest Thing" costar Selma Blair showed solidarity in the comments, writing, "Loving you always. Always here. As are our kids. Beating us up with love." Blair has been in the spotlight recently for being open about her own experience with MS in her documentary "Introducing, Selma Blair," which Applegate has promoted on her Twitter as well.
We're curious which cane Applegate will choose for this mysterious upcoming ceremony. Either way, she says, "Walking sticks are now part of my new normal." And talking about it publicly normalizes the use of mobility aids to many who use them daily. Also, who doesn't love a fashion moment: "Stay tuned to see which ones make the cut for a week of stuff."