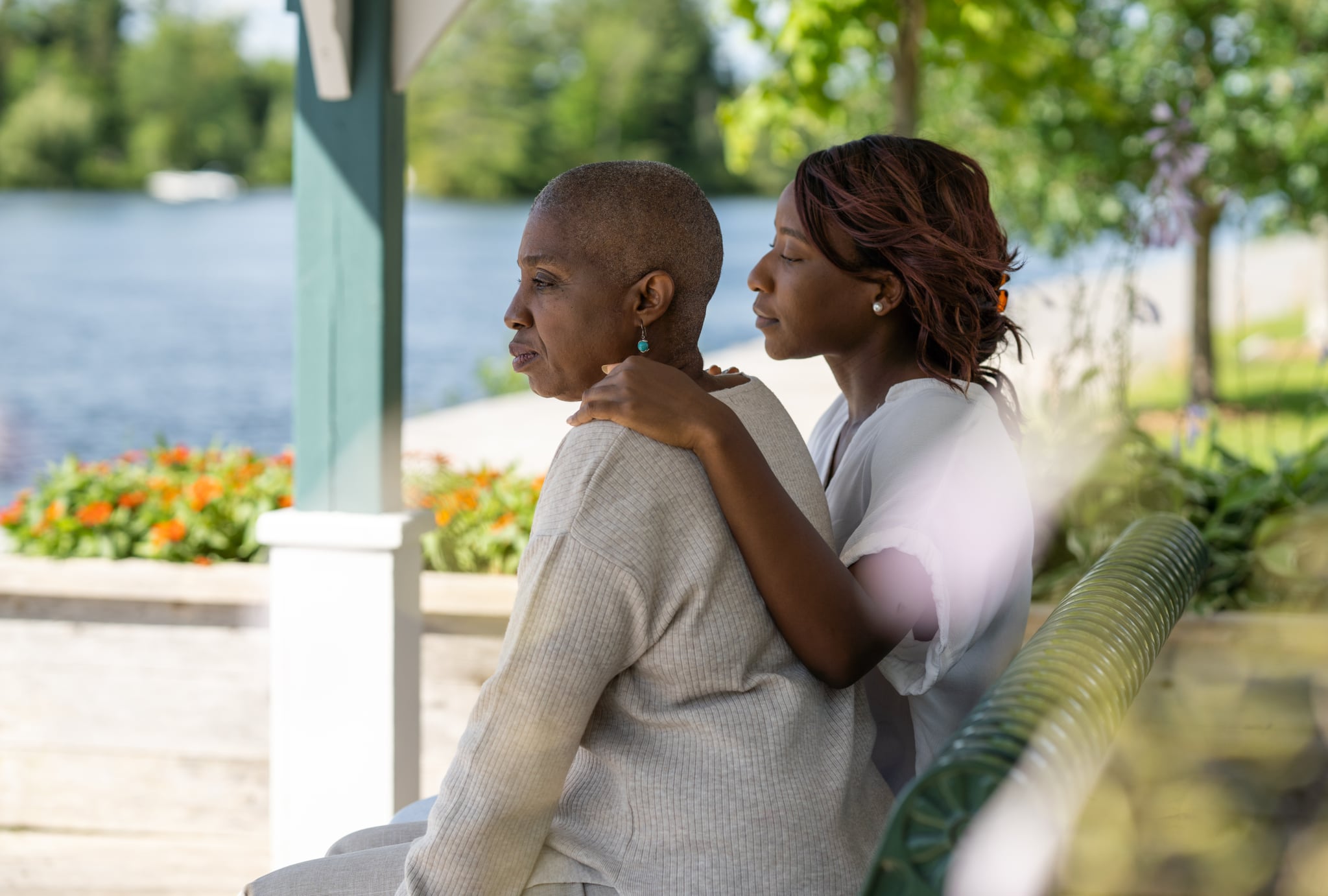 After tracking almost 34,000 people who identify as women for over a decade, researchers found that those who use hair-straightening chemicals are at an increased risk of uterine cancer compared with those who do not use the chemicals. During that time, 378 cases of uterine cancer were diagnosed. Specifically, those who used the products at least four times in the previous year were more than twice as likely to develop uterine cancer.
"This doubling rate is concerning," Alexandra White, PhD, head of the NIEHS Environment and Cancer Epidemiology group and lead author on the new study, said in a statement. "However, it is important to put this information into context — uterine cancer is a relatively rare type of cancer." However, uterine cancer is the most common cancer of the female reproductive systems, and recent studies show that it's been rising in the US — particularly among Black women.
According to the study, 60 percent of the participants who reported using hair-straightening chemicals self-identified as Black women. "Because Black women use hair straightening or relaxer products more frequently and tend to initiate use at earlier ages than other races and ethnicities, these findings may be even more relevant for them," Che-Jung Chang, PhD, an author on the new study and a research fellow in the NIEHS Epidemiology Branch, said in a statement.
In a previous article for POPSUGAR on the resurgence of relaxer in 2022, Nateisha Scott wrote, "The medical implications of relaxer are part of the clarity needed around the miseducation and misinformation that has been issued in the Black community for decades." In the same article, hairstylist Tiffany Mack told POPSUGAR, "I feel relaxers are having a comeback because natural hair can be intimidating. It isn't low-maintenance, and we're living in times where women are juggling a lot more than ever and they don't need their hair to be another job." It's also worth highlighting the stigma that is still associated with wearing natural hair. Black people have been ostracized and penalized at school and in the workplace for wearing their natural hair, leading to legislation like the CROWN Act, whereas straightened hair has been considered more acceptable. In an ideal world, everyone would wear their hair in a way that best serves them, their health, and their lifestyle — whether that's natural or relaxed.
But unfortunately, this study emphasizes the health risks associated with hair relaxers. Chemical relaxers in their early days utilized lye, a toxic metal hydroxide, to permanently straighten hair. While the study didn't include information on specific brands or ingredients in the products used, the paper did mention several chemicals commonly found in straighteners — parabens, bisphenol A, metals, and formaldehyde — which could be contributing to the increased uterine-cancer risk due to increased absorption through the scalp. The researchers found no associations with uterine cancer for other hair products that the women reported using, including hair dyes, bleach, highlights, or perms.
"To our knowledge this is the first epidemiologic study that examined the relationship between straightener use and uterine cancer," White said. "More research is needed to confirm these findings in different populations, to determine if hair products contribute to health disparities in uterine cancer, and to identify the specific chemicals that may be increasing the risk of cancers in women."
The same research team found in a previous study that people who use permanent hair dye and chemical hair straighteners have a higher risk of developing breast cancer than those who don't use these products. After the results of the study were released, coauthor Dale Sandler, PhD, chief of the NIEHS Epidemiology Branch, was asked if women should stop dyeing or straightening their hair. "We are exposed to many things that could potentially contribute to breast cancer, and it is unlikely that any single factor explains a woman's risk," Dr. Sandler responded in a statement. "While it is too early to make a firm recommendation, avoiding these chemicals might be one more thing women can do to reduce their risk of breast cancer."