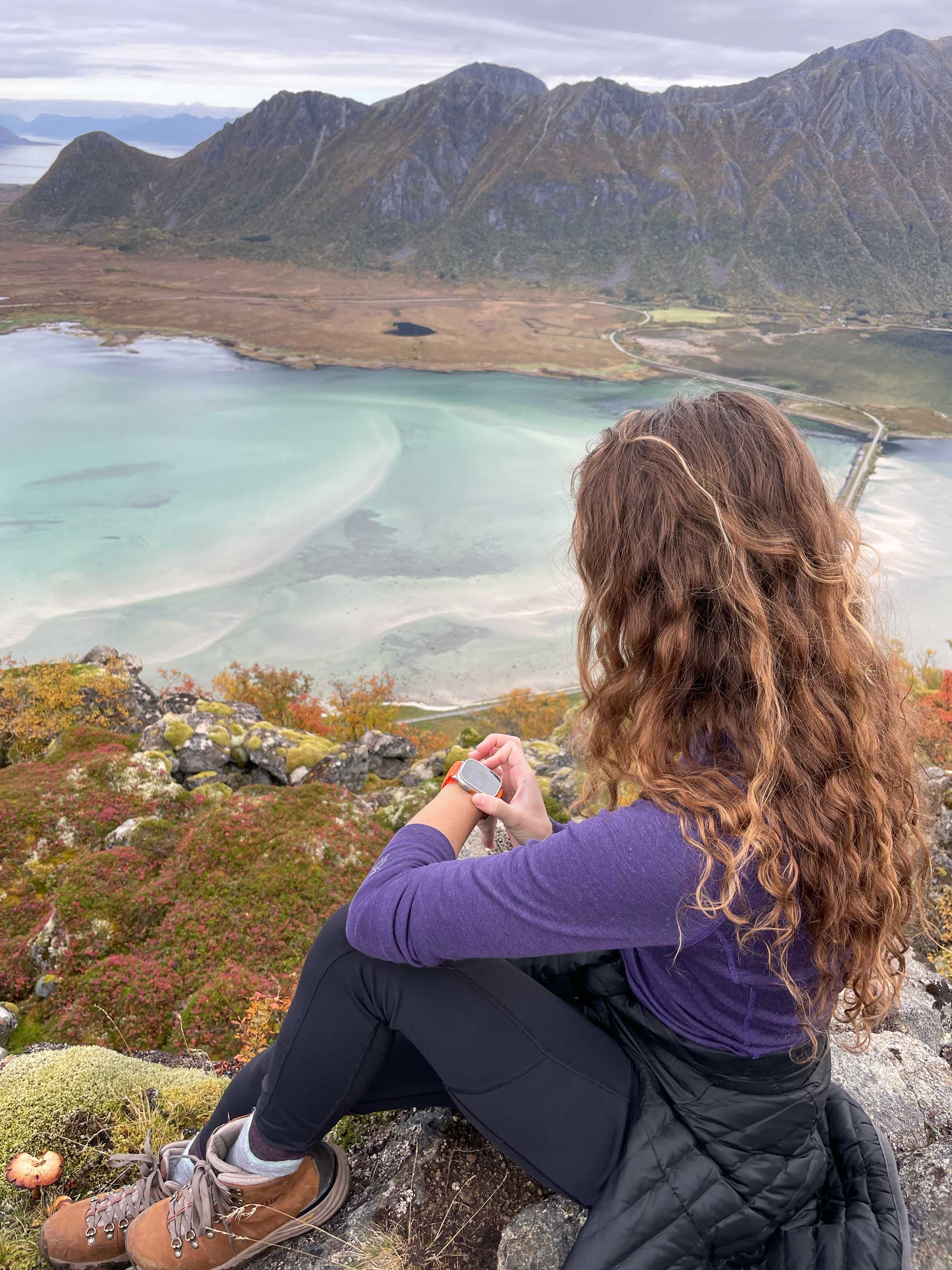 When Apple first reached out to me about testing its new Apple Watch Ultra ($799), my honest first thought was: I'm not cool enough for this. In case you haven't heard, this new iteration of the Apple Watch isn't just another piece of genius Apple tech — it's made for people who live rugged and intrepid lives: outdoor adventurers, endurance athletes, recreational divers, and extreme water-sports aficionados. And while I consider myself a bit of an adventurer, in reality, I don't spend that much time out of cell service, several feet deep in the ocean, or miles into a backcountry run.
If I was going to test a piece of tech designed for only the most intense athletes, it seems there'd be no better place to do so than one of the most intense landscapes on Earth.
But I was gifted with a wonderful coincidence: the review period coincided perfectly with a trip I'd planned to visit the Lofoten Islands in northern Norway. Located about two degrees north of the Arctic Circle, this archipelago is described as "perhaps the most rugged and honest nature in the world," per the Lofoten tourism website. "The distinctive combination of the mighty sea meeting razor-sharp mountains gives Lofoten a natural repertoire that the rest of the world can only dream of" — and serves as the perfect setting in which to try the Apple Watch Ultra. If I was going to test a piece of tech designed for only the most intense athletes, it seems there'd be no better place to do so than one of the most intense landscapes on Earth.
I put the Apple Watch Ultra's new features to the test in a sauna and cold plunge into the Norwegian Sea, during windy seaside hikes, surfing a few hours in the Arctic, and more — and I can attest that this thing is made for getting out there. It delivers on durability, water resistance, and impressive GPS tracking, and it offers survival tools that anyone who ventures off the beaten path will welcome with open arms. If anything, the fact that the Apple Watch Ultra is so well suited to join you for any outdoor activity is also its biggest drawback: with such impressive tech and useful safety features, it's harder than ever to want to unplug, even in the moments that can be all the more magical for it.
But if you want a device that'll take care of you while you're off the grid and also excel at all the things the Apple Watch is known and loved for, like tracking your every step and heartbeat to texting right from your wrist, it's hard to deny the Apple Watch Ultra's awesomeness. Here's my take.
What I Like About the Apple Watch Ultra
The Apple Watch Ultra is admittedly a tad less sleek than the original Series, but it certainly looks like it belongs in the wild. Made of aerospace-grade titanium, the Ultra has a raised edge around the screen to help protect it from impact. As a result, I never worried about scratching or denting it while scrambling up a rocky trail or accidentally dropping it on the kitchen floor — and sure enough, it doesn't yet show any signs of wear.
In addition to the screen, the Watch's side button and digital crown (the iconic hybrid dial/button) are raised to extend out from the Watch surface. This wasn't for aesthetic reasons but rather to make the controls more accessible even while wearing gloves. I was able to use both buttons while wearing fleece gloves on a hike and also neoprene surfing mittens (and I could even do some basic things on the touchscreen while wearing the latter).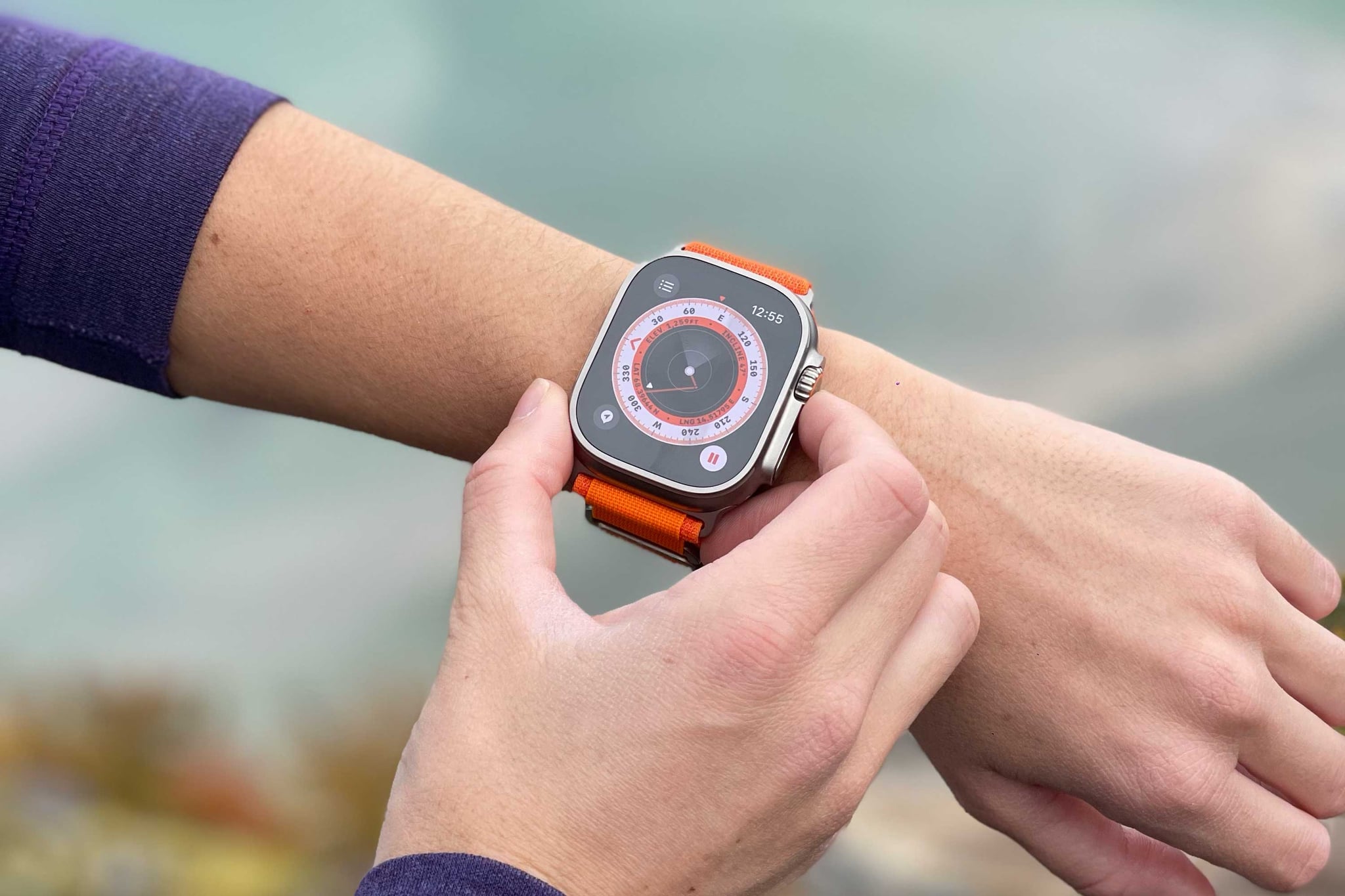 The new customizable "action button" on the left side of the screen makes controlling the Watch even more personalized. I could set it, for example, to start a workout, mark a waypoint, act as a stopwatch, or turn on the flashlight, which came in handy while chasing the Northern Lights. Admittedly, my favorite use for the action button, though, was to pause workouts. It's done by squeezing the two side buttons simultaneously (think of the screenshot command on an iPhone). I'm always stopping a run, hike, or workout to take a picture, grab another set of dumbbells, pick a different playlist, or grab a water bottle, and this way of pausing proved to be so much more convenient than having to swipe and press the small pause button on the screen — something I find increasingly difficult when my hands are shaking from exertion or I'm wearing gloves, for example.
Speaking of workouts: the Waypoint and Backtrack features (available not only on the Ultra but also with the WatchOS 9 software update) are game-changers for hiking. Before a hike, I programmed the exact coordinates of a notable photo spot, and with the Compass app open, the Watch directed me to the exact point. While in the Compass app, I also turned on the Backtrack feature so that I could make sure we followed the correct path back after we reached the peak; it left a little GPS trail of exactly where we walked, so we could retrace our steps on the way down. (Note: if I were far away from familiar places or in an area without WiFi, the Watch would start tracking my path using Backtrack automatically.) I found this feature to be hugely helpful for staying on the trail, especially in places where it wasn't well marked or there were a lot of forks. You could also use the Waypoint feature to drop GPS pins on your home, where you parked, or where you set up camp. Then, if you're ever lost, you can use the Watch to guide to back.
Apple touts the Ultra as being resistant to the elements, including a large range of temperatures. The regular Apple Watch Series is designed to work in ambient temperatures between 32° and 95°F, according to Apple, but the Ultra has a range from -4° to 130°F. That's huge for anyone who wears the Watch for snow sports, to train in the heat, or even for everyday tasks that venture into extreme climates, such as into oven-like subway stations or outside in the cold while shoveling the driveway. I put the Ultra's temperature capabilities to the test — and then some — in true Scandinavian fashion: with a sauna session and cold plunge into the sea. The Watch was just fine in a 155°F sauna and equally so when I immediately threw myself into the 48°F sea. I knew the temperature of the sea thanks to the new Depth app, which automatically turned on when I submerged the watch in water — a godsend when I could barely breathe in the icy water, let alone tap around on the Watch to see the water temp. (For the record, Apple does not recommend wearing any Apple Watch in a sauna or steam room above 130°F, but I did it for science.)
The Watch also held up perfectly well through an Arctic surf session, too. When I paddled out, it automatically turned on the water lock (so I wouldn't make any butt dials midwave), and using the new Ocean band, it felt perfectly secure, even over the double layer on my wrist of a six millimeter wetsuit and gloves. The Ultra is meant to withstand "high-velocity" water sports, too, such as windsurfing or water skiing — activities Apple does not recommend you do while wearing the Series 8 or SE models. And though I, personally, am not a scuba diver (yet!), I'm also psyched about the idea of using the Ultra as a full-fledged dive computer; it is water resistant up to 100 meters deep and can be used for recreational diving down to 40 meters.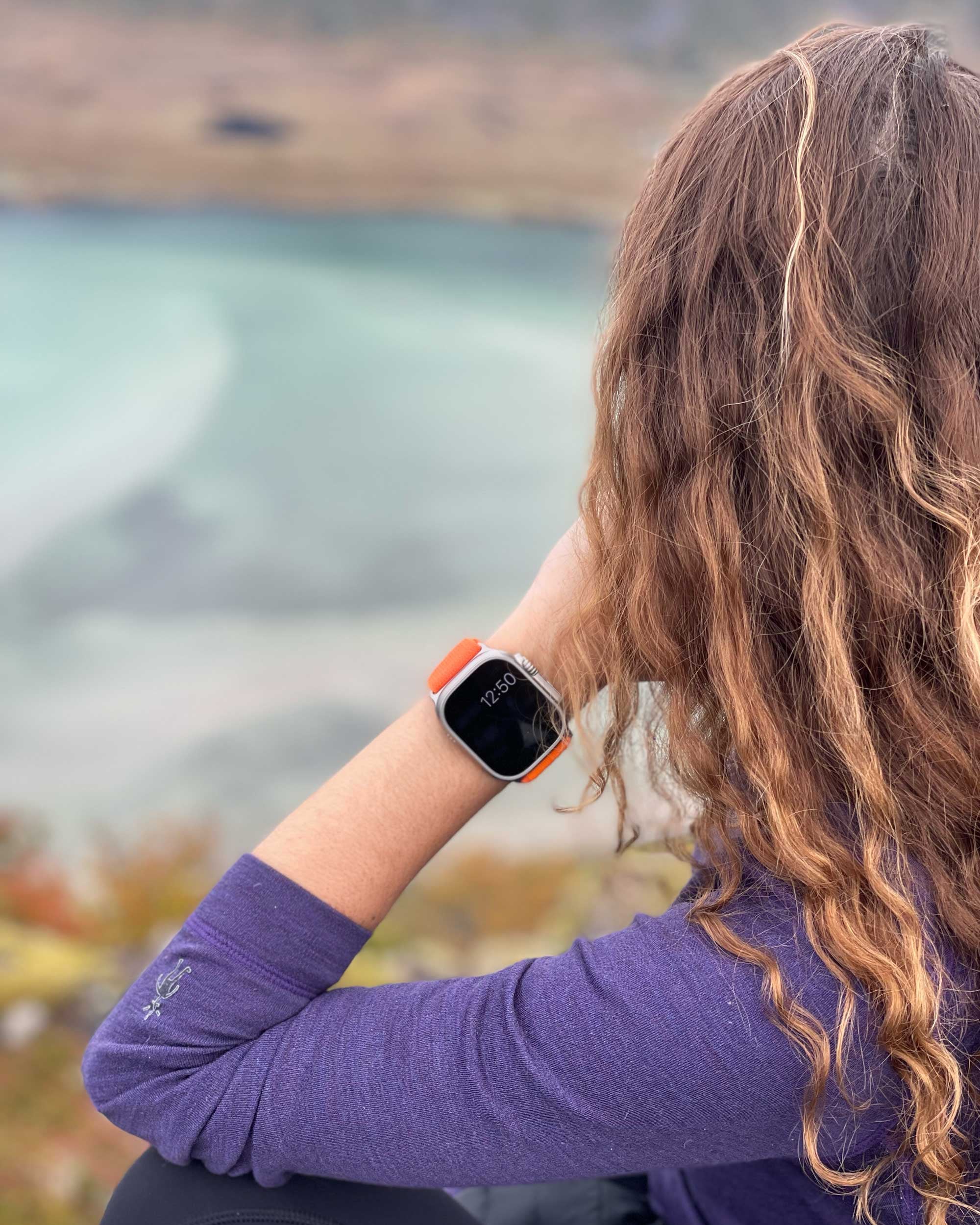 What's Worth Noting About the Apple Watch Ultra
I'll be honest: the Ultra is a little clunky. Unlike the Apple Watch Series 8, which comes in 45 mm or 41 mm sizes, there's just one Ultra, and it's 49 mm. Granted, that's pretty compact for a water-resistant supercomputer, but it looked a bit giant on my wrists, which are on the smaller side. The Ultra also got stuck on my jacket sleeves, for example, which was a little frustrating when I was trying to do a quick change on a mountainside or with frozen fingers post surf in the car. (Worth noting: after chatting with some Apple Watch devotees, I found out that the chunkiness is actually part of the aesthetic appeal for some people, and in the era of lug-sole boots and dad sneakers, I can totally see that.)
The Ultra also has a longer battery life than other Apple Watches. The company touts this as perfect for lasting through endurance activities like triathlons, full marathons, or weekend backpacking trips. The Ultra lasts up to 36 hours with regular use or 60 hours in low-power mode, a big step up from the Apple Watch Series 8, which lasts for 18 hours normally or 36 hours in low-power mode. That said, it's still nowhere near the life of, say, a Garmin device: the Fenix 7 series, for example, lasts up to 18 days in smartwatch mode and up to 57 days in battery-saver mode. Even though I didn't need the Watch to stay alive during any real endurance activity, I still found it to die faster than I expected; I ended up charging it nearly every day to prevent it from hitting zero at inopportune moments. That said, the Ultra does charge quickly; it took me only an hour to get to 80 percent and 90 minutes to get to 100.
To fully reap the benefits of the Ultra, I'd definitely need to get a cellular data plan for it, too. For example, I wasn't able to text or call my postsurf ride to come pick me up using my Watch alone, so I was wet and cold in a parking lot for more minutes than I would have liked. Without a cell plan, I'm still beholden to my iPhone for connectivity, which means as soon as my phone is out of reach or dies, so do the Watch's best features. So, in my mind, it's very worth the $10 a month.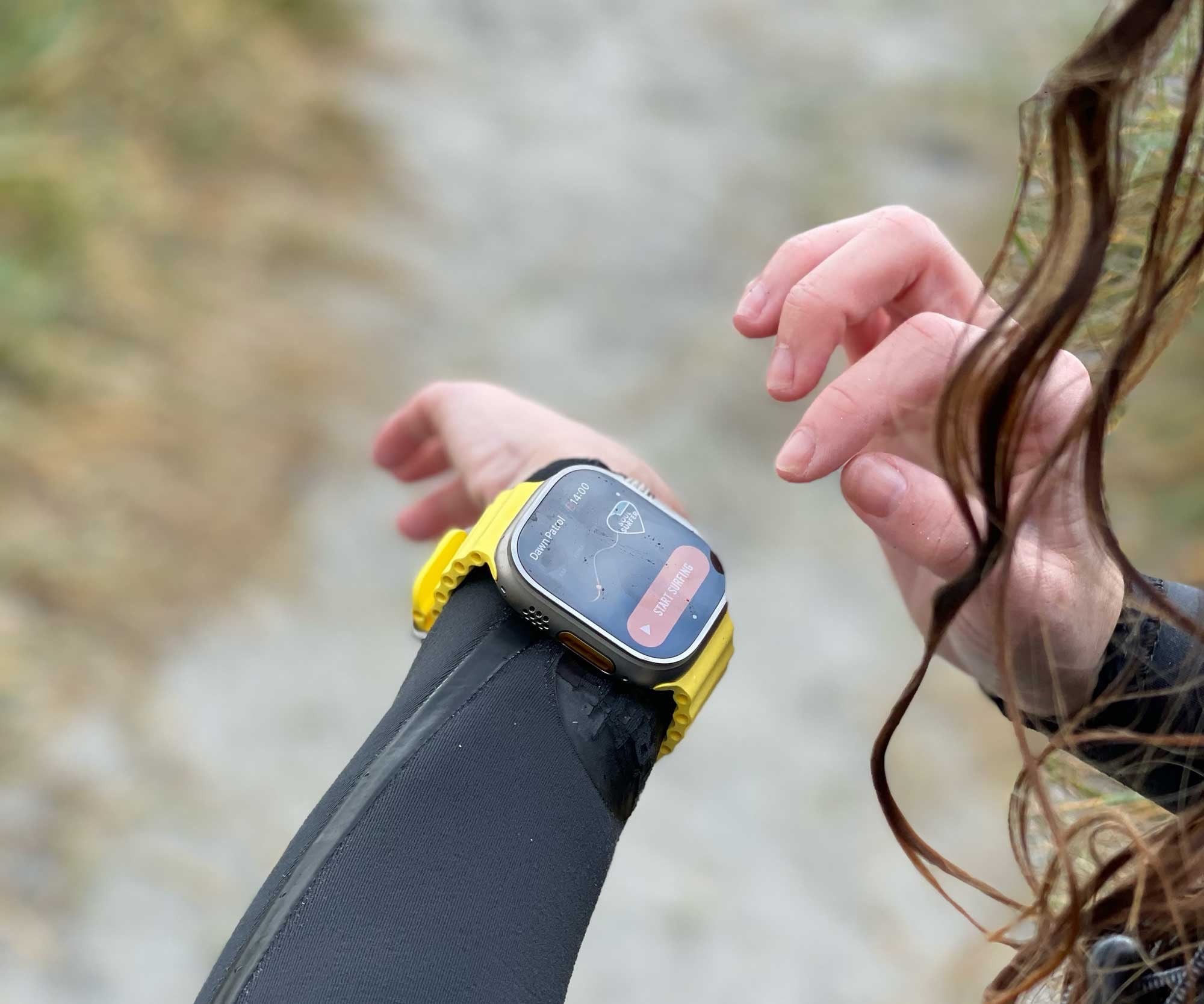 Who the Apple Watch Ultra Is Best For
Time for the hard truth: most people probably don't need the Apple Watch Ultra. They'll be just fine with all the (admittedly incredible) tools that come with the Apple Watch Series 8 ($399+) and the latest WatchOS. It's true that the Ultra's souped-up GPS system promises more accurate location data and tracking in dense urban environments as well as in the backcountry — so if you're an avid NYC runner, for example, who despises inaccurate run tracking, there's an argument for the Ultra there. But for the vast majority of people who want a smartwatch they can wear for workouts, to work, to sleep, and while going about their everyday lives, I venture to guess the regular Apple Watch Series 8 will be just fine.
But avid outdoor adventurers, trail runners, backpackers, mountaineers, backcountry skiers, scuba divers, and serious hikers — or those who just love to have the best of the best and have $800 to spare? This one is for you.
Is Apple Watch Ultra Worth the Splurge?
At twice the price of the Apple Watch Series 8, the Ultra is no small investment. If you're looking for something to wear only while you're logging runs or hiking, you could probably go with a cheaper GPS watch designed specifically for that purpose and with notably fewer bells and whistles. But if you're looking for a smartwatch that can do it all — like, Apple Watch-level do it all — plus go with you into the remote wilderness and track your favorite activities, I can confidently say the Apple Watch Ultra is worth it. The Ultra isn't all that far off, price-wise, from other top-tier GPS watches — take the $700 Fenix 7 series, for example — but it can do a whole lot more and also comes with the incredible device integration that only Apple can offer. Truthfully, while you can compare individual Apple Watch Ultra features to those offered by other devices on the market, there's nothing that quite measures up from a total-package standpoint.
Additional Details:
Ultra-Specific Bands: You can buy the Apple Watch Ultra with three special bands: the Alpine Loop (made for outdoor activities), the Ocean Band (made to be super secure even in high-velocity water sports), and the Trail Loop (made to be super lightweight and comfortable for endurance athletes). I tried both the Ocean Band ($99) and Alpine Loop ($99) and can attest both were great — except you definitely need to pay attention to sizing. The Ocean band is one size, but the Alpine loop comes in S, M, and L, and the Trail loop comes in a S/M and a M/L. While they're all adjustable to the side of your wrist, if you buy the wrong size, you risk running out of loops to fasten the G-hook into or having too long a tail.
Other Bands: You're not limited to these three Ultra bands. Apple notes that the Ultra is also compatible with 45 mm bands, which could improve the look if you do want to make the Ultra your everyday watch, though Apple notes you should reach for the Ultra-specific loops when you're doing anything particularly rugged.
Where Is the Apple Watch Ultra Available?
You can buy the Apple Watch Ultra directly from Apple or from select authorized retailers, such as Amazon, where you can buy the Apple Watch Ultra ($799) for the same price.
Rating:
Image Source: POPSUGAR Photography / Lauren Mazzo