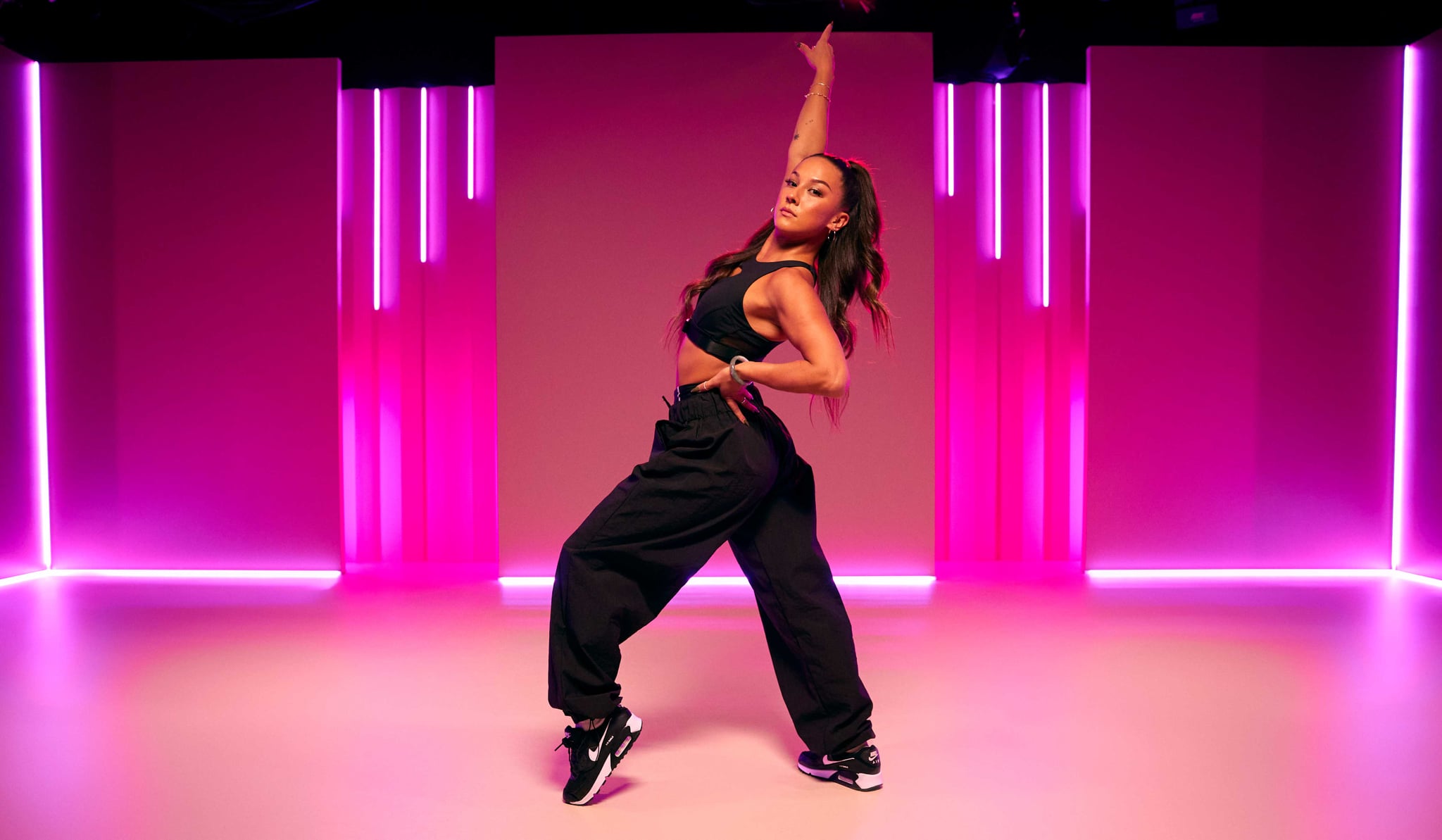 Catch Sheela Awe and the other Dance Fitsugar trainers in new episodes dropping every Friday on the POPSUGAR Fitness YouTube channel.
When Sheela Awe first got to Hollywood about 10 years ago, it was a different world. You wouldn't go to dance classes to snag a spot in the front line so you could film it for your YouTube channel or TikTok; you'd go just "to learn, to experience, to dance," she says. Though Awe originally moved from Southeast Asia to the United States to pursue a professional dance career, her path has taken a turn familiar in the industry — that is, it's gone digital. She's evolved from hopeful dancer to multifaceted entertainer, host, and content creator who uses movement as just one of the ways she surprises, delights, and engages audiences on TikTok, and Instagram and, most recently, as a new host for POPSUGAR's Dance Fitsugar series on YouTube.
As the times change, as the dance world changes, you have to shift with it, too.
While it can feel like there are infinite voices on the internet these days, Awe is bringing a fresh perspective and joyful humor to everything she does. The result? Contagious energy and personable content you just can't stop watching, whether she's showing off a dance combination, entertaining you with antics on the streets of New York City, or teaching Mandarin sayings during her #MandoMondaze series. We promise — all it takes is one video, and you'll find yourself hooked.
Following Her Dreams Across the World
Awe's parents are from Germany and Taiwan, and Awe was born in South Korea and raised all over Southeast Asia. She started dancing as a young kid, among a ton of other creative extracurriculars. "In the household that I was growing up in, we were always taking jazz classes or learning an instrument, because I'm also half Asian, so it plays into that whole cultural thing where it's like, 'Then on Saturday I have Chinese school, then Monday I have ballet, Tuesday I have jazz, Wednesday I have piano, Thursday I have violin, and then Friday I have calligraphy,'" she says.
Then, when she was about 16 years old and living in Shanghai, Awe found the local underground hip-hop dance scene. She never loved ballet, but hip-hop — and all its "grounded" movements — clicked for her, and this casual environment was a perfect place to find her moves. "You're not going there to shoot a music video or book dancers out there to tour. It's more so for the love of hip-hop and for the love of just dance, period," she says.
She started teaching dance and performing in local shows and music videos, and at the end of high school she decided that she wanted — no, needed — to follow her dreams of becoming a professional dancer. She scrapped her plans of studying something "business-y" in England, and instead, "I was like, 'OK, where do dancers bloom or thrive?'"
The answer: New York City. Awe started studying media and culture at The New School while minoring in dance, spending years in the vicinity of legendary dance institutions such as Alvin Ailey and Juilliard and honing her craft. "But deep down, I still wanted to do more so commercial, and that was all in LA," she says. So after graduation, off she went.
Making It All Happen in LA
Once in LA, Awe started auditioning, scoring dance gigs with different musical artists, appearing in music videos, and going on tour with Bhad Bhabie. She was also part of a girl group, Syd Youth, from 2013 to 2015. She never stopped dancing, but she started spending more time in front of the camera "talking, talking, and talking," she says — for example, as Shein's live-stream host and one of the faces on "The Loop," a Snapchat show about street style.
When social media content started feeling like the next big thing in the entertainment space, Awe was ready — she says creating came organically to her. She didn't necessarily seek out social media renown, but she started posting unique fashion hauls for fun. They really "took off," she says.
Her approach was simple. She and her friends are already creative types, dancers, and all-around "goofy people," Awe says, so she started filming herself doing the same things "I was already doing without cameras being on." Sometimes that involved getting glammed up or going wild at a music festival. But for Awe, it also meant filming choreographed routines that involved jumping over shoe boxes in her living room or singing into a potato.
What She's Bringing to the Mix
Awe doesn't reserve her comedic attitude for TikTok: she's bringing it to the POPSUGAR stage, too. "I want people to watch these videos and I want them to laugh while they're working out," she says. "I want them to feel inspired, not embarrassed . . . and to feel empowerment, as well. To do it all with laughter and humor, because that's really the best medicine. I know people — whether they're going through a heartbreak, they've just gotten fired, or whatever they're going through — they're always like, 'I just need to work out. I need to sweat. I need to do all these things.' To do that, to laugh at the same time, and to enjoy it, to heal and enjoy the process of healing, that's perfect."
A big part of her social content has been inspired by her multicultural upbringing. For example, Awe shares her favorite Taiwanese takeout dishes, and she teaches a new Mandarin phrase each week on her social channels, called "MandoMondaze". "People who are non-Mandarin speakers or who aren't even Asian watch that and they're like, 'Oh, my gosh. I love this. This is what I want to do and what I want to learn,'" she says. "That's a huge part that also keeps me going: to want to continue bringing my culture or continue representing my culture, in that sense."
But no matter how magical it all appears on social media, working in entertainment and as a content creator isn't without its ups and downs. Beyond her "perfectionist" Virgo urge to reshoot everything until each take is flawless, Awe says one of the biggest challenges she faces is how inconsistent the industry is. "You'll have the best experiences, you'll have a flow of income, and then you'll find stability that'll be very short term," she says. "Then you're back in the trenches and you're like, 'Oh, my gosh. Why did I do this? Why did I choose this career and this route?'"
Ultimately, she says the feeling of gratitude always returns: "I wouldn't have it any other way." And when she's in one of those lows, she simply has to remind herself that "it doesn't mean I'm back in square one, it just means I'm back creating again and I just need inspiration. Sometimes that takes time."
Image Source: POPSUGAR Video