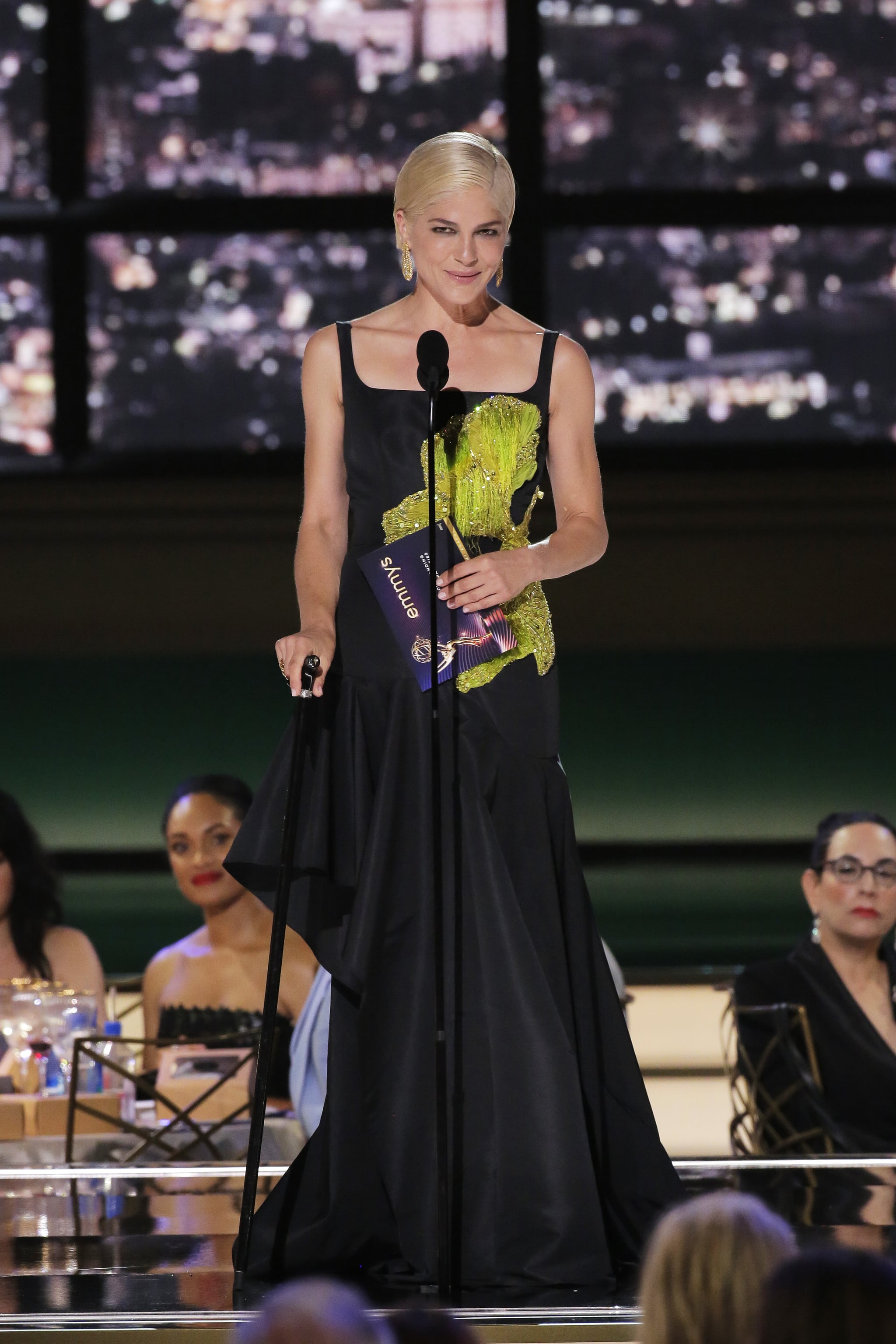 Selma Blair made a powerful appearance at the Emmy Awards last night, taking the entire audience by surprise and earning herself a standing ovation. Since her multiple sclerosis (MS) diagnosis back in 2018, Blair has become an advocate for actors with disabilities, speaking out about the importance of inclusion and representation. Her presence as a presenter at the Emmys, cane and all, was a great moment of visibility for members of both the chronic illness and disabled communities, serving as a reminder that it's possible to live fully and completely with a disabling illness. The actress arrived in a black gown with a sparkling chartreuse side detail by Alexander McQueen, later awarding "Succession" with the title of outstanding drama series, saying, "I am so, so honored. Thank you," as the audience stood and applauded.
"I never imagined I would walk across that stage and be given the truest gift for me. Love. Applause. Standing along with me."
Blair has previously spoken about her experience with MS, a condition in which the immune system essentially destroys the protective covering of nerves, damaging the connection between the body and the brain. She has undergone treatment, including bouts of chemotherapy and stem-cell treatment, and is currently in remission; however, the disease is ultimately incurable. Still, Blair is not letting her illness stop her from living her life, recently announcing that she will be joining the cast of "Dancing With the Stars" and posting adventures with her son, Arthur. If Twitter is any indicator, seeing Blair lauded at the Emmys after being so open about her journey with MS proved hugely inspirational for some folks living with disabilities and chronic illness specifically. Blair expressed her gratitude on Instagram.
"When I was invited to present Outstanding Drama Series at the 74th Annual Emmy awards, my spirits rose exponentially. I would be a part of this important Hollywood event, presenting the final award of the night. I never imagined I would walk across that stage and be given the truest gift for me. Love. Applause. Standing along with me," she wrote. "I am basking in this moment. I thank you for having me. For embracing me. Humbled with gratitude. Congratulations to all of the nominees and the winners alike. You made the shows that got us through. I love you. 💛"