Jennette McCurdy's future is rife with possibility. On Aug. 9, the former "iCarly" star released her tell-all memoir, "I'm Glad My Mom Died," in which she details the years of abuse, manipulation, and exploitation her mother inflicted on her as a child. Speaking with Jada Pinkett Smith, Willow Smith, and Adrienne Banfield Norris on the midseason premiere of "Red Table Talk," McCurdy had a candid conversation about her mental health, her childhood, and her unwritten family plans for the future.
"After having this experience, do you think you want to have children of your own?" Pinkett Smith asks in a clip shared exclusively with POPSUGAR. The "RTT" host is referring to the emotional and sexual abuse McCurdy endured at the hands of her mother, which McCurdy also dives into in the upcoming "RTT" episode.
People shared an exclusive clip of its own where McCurdy reads a shocking email from her mother. "'I am so disappointed in you,'" her mother begins the letter. "'You used to be my perfect little angel, but now you are nothing more than a little' — all caps — 'slut, a floozy, all used up,'" McCurdy reads at the table with the "RTT" hosts.
Her mother, Debbie, goes on to talk about McCurdy's dating choices and criticize her body. "'You look pudgier too. It's clear you're eating your guilt,'" McCurdy reads. "'Thinking of you with his ding-dong inside of you makes me sick. Sick! I raised you better than this. What happened to my good little girl? Where did she go and who is this monster that has replaced her? You're an ugly monster now. I told your brothers about you and they all said they disown you just like I do. We want nothing to do with you. Love, Mom — or should I say Deb since I am no longer your mother? P.S. Send money for a new fridge; ours broke.'"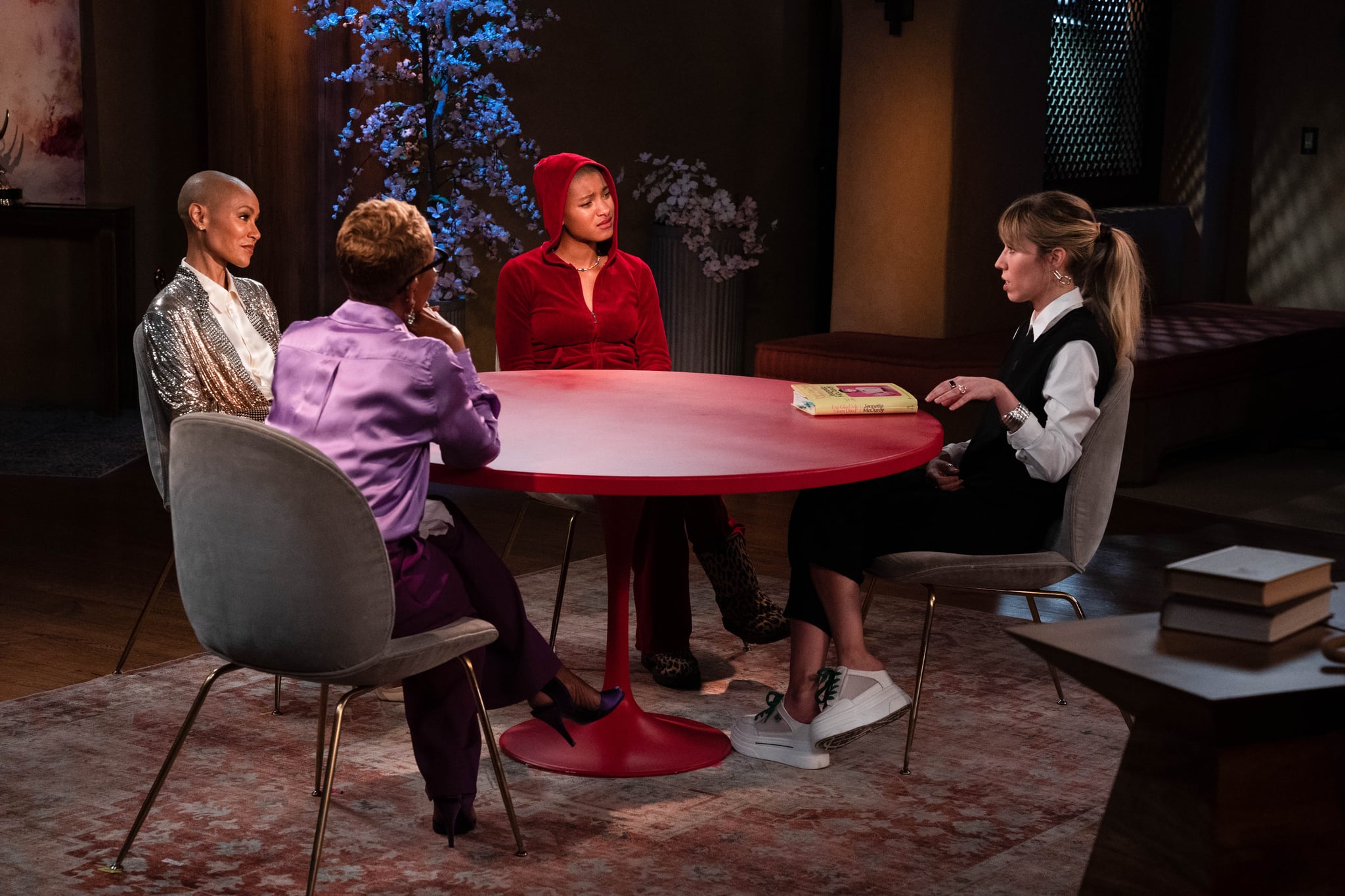 Image Source: Jordan Fisher
Needless to say, for McCurdy, who has also been open about her mother's direct influence on her eating disorder, self-esteem, and mental health, the question of whether or not she wants to have children poses its intricacies.
"I have two nieces that I adore, and I'm really happy to be an aunt."
"I would never want to have a child for my own identity," she replies in the exclusive clip shared with POPSUGAR, making it clear her mom's pattern of abuse and self-projection is not something she wants to repeat. "That's a very, very concrete [decision] for me. I'm at a place where — so, I'm 30 — I don't feel like I want kids. I have two nieces that I adore, and I'm really happy to be an aunt."
While McCurdy has no current plans to become a mother, she says the door is still "open" for a future with children of her own. "Right now, I don't feel that I want [kids]," she says. "But I'm also open to [having them], maybe a couple of years from now or whenever something hits me and I just feel like, 'Yeah, I do want that.'"
"But for now, you're good," Banfield Norris replies, to which McCurdy says, "Yes," before the clip cuts out. Deciding whether to have children, particularly after experiencing such a turbulent parent-child relationship, is difficult. For now, McCurdy is prioritizing her mental health and sharing her story to help other abuse survivors.
You can watch the full episode of McCurdy's "Red Table Talk" interview on Facebook Watch at 9 a.m. PT/12 p.m. ET on Sept. 7.