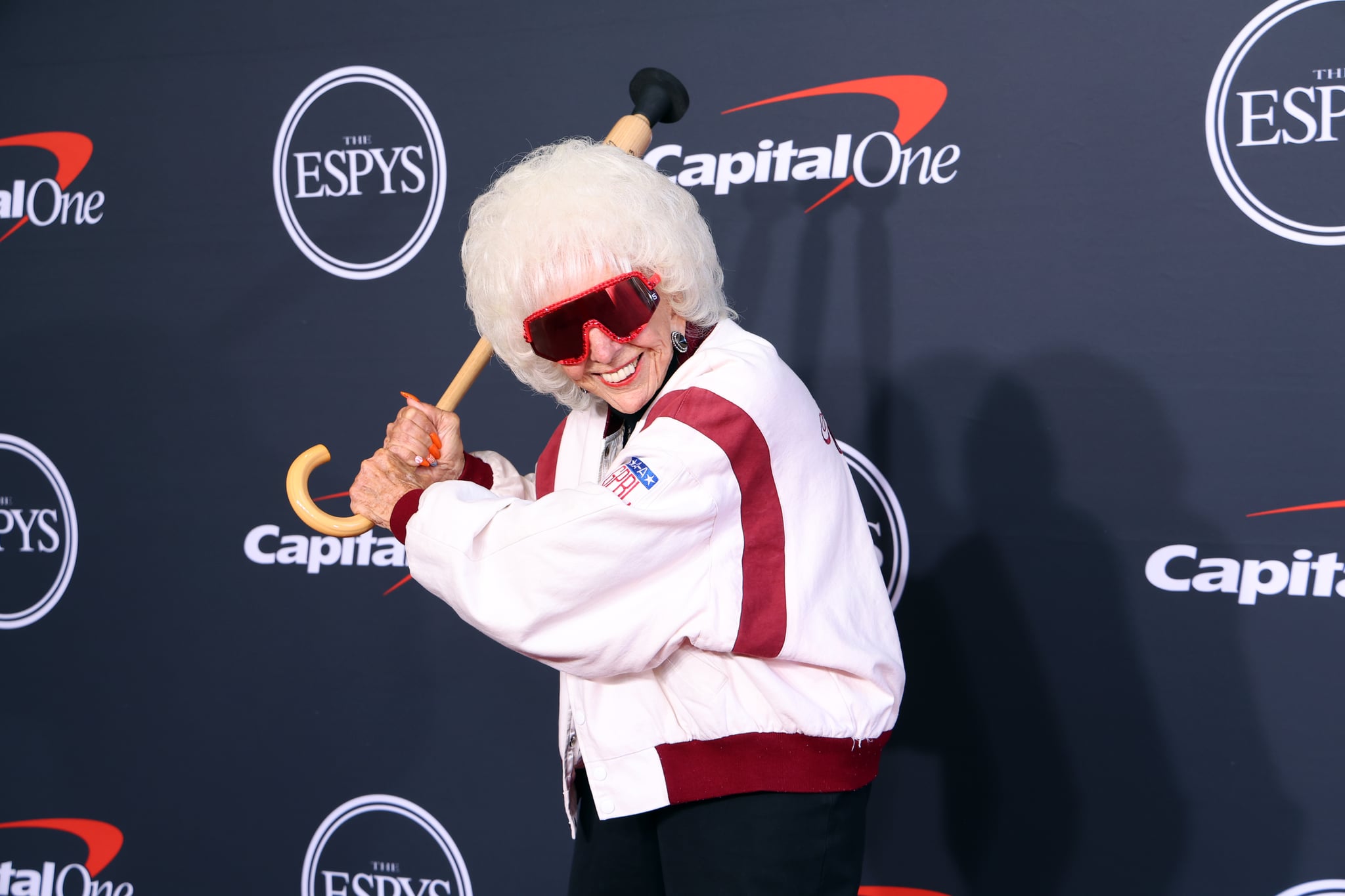 Image Source: Getty / Leon Bennett
Maybelle Blair, an original pro player in the All-American Girls Professional Baseball League (AAGPBL), had never planned to come out. So it was a surprise to everyone — the 95-year-old included — when she found herself on stage during a press tour for Amazon Prime's new "A League of Their Own" show, telling a room full of people that she was gay. "I hid for 75, 85 years," she told the crowd. "And this is actually, basically the first time I've ever come out."
Two months later, Blair can remember the rush of relief and joy she felt when she said those words. "I said to myself, 'If I can help one or two little girls, that's good,'" she tells POPSUGAR. Blair remembers feeling isolated because of her sexuality up until she was recruited into the groundbreaking AAGPBL during its famous run in the 1940s. It was then that she realized there were other women like her. Now, the 95-year-old hopes that the new "A League of Their Own" — which she says portrays "the whole story" of the famous women's league — will do the same.
Destined For Pro Ball
Blair grew up in Texas and California in the 1930s and '40s, knowing nothing but baseball. "Our whole family loved baseball because it was the . . . only thing we could afford to do," she says. Her father and his brothers and cousins played on a team that traveled around Texas, and Blair started learning the game as soon as she could, eventually participating in softball leagues. She played second base and third base "because that's what my brother played, and you know how it was — if you have an older brother, you wanted to follow him." In school in California, she would beg her teachers to form teams so she could keep playing.
Blair caught the eye of a scout while playing softball in southern California. He asked if she wanted to play pro baseball in the AAGPBL, a women's league formed when the majority of able American men were drafted for World War II. "Oh, you're out of your mind," she remembers saying. Her mother was against it, too, until the scout told them Blair would be making $55 a week — more than Blair's father was making at the time, she says. "My mother looked at my father and said, 'Go crank up the car. I'm packing her suitcase.' And I was on my way out."
Finding a "Different World" in the AAGPBL
The AAGPBL would later be immortalized in the original "A League of Their Own," a 1992 film starring Tom Hanks and Geena Davis, but when Blair joined the Peoria Redwings in 1948, it was primarily and crucially a place where she found a community of other LGBTQ+ women. For a young woman who once thought she might be "the only one in the world" who was gay, it was a life-changing realization. "When I got back to Chicago, I found out, whoa, there's a whole bunch of us like this," she remembers. "I thought I was in a different world, and it was the most wonderful feeling in the world. I wasn't all alone."
During her year in the AAGPBL, Blair was also immersed in the sport that she loved. "The most wonderful thing was when I put on my uniform, and then I put on my spikes," she recalls. That was when it sunk in: "Oh my god, Maybelle. You're a professional baseball player." She savored the "clickety-clack" sound of her cleats on cement and the vivid green grass of the outfield. Playing pro ball "was probably one of the most thrilling parts of my life," says Blair, who was a pitcher in the AAGPBL. "I was living my dream."
"The Whole Story"
Hampered by a leg injury, Blair left the league after a year and got a job at Northrop Aircraft (now Northrop Grumman). But her love for baseball continued to be a lifelong affair, one that inspired her to become an advocate for a new women's professional baseball league and, now, to pitch in as a consultant on Amazon Prime's "A League of Their Own," an eight-episode series that dropped Aug. 12.
Blair is quick to point out that the new series isn't trying to replace the beloved movie. "Nobody could ever do that," she says. Rather, the goal is to "tell the real story, the whole story, of what happened." That includes exploring the LGBTQ+ community and racial tensions in the league, parts of the story that the movie couldn't dive into in the early 1990s. "This is what actually took place in the league," Blair says. "We had to be so careful in our day. . . . But the door has opened up now."
Blair hopes that the new show and her own coming-out story will inspire other LGBTQ+ people who, like her, might be afraid to show the world who they really are. "I stood in that closet [for so long], I was getting mold on me," she says. "And the door opened up a little thanks to [this show], and then I actually pushed it open." She wants anyone in the same position to "realize that they're not alone in this world," she says, "and to keep following their dreams."
For the majority of her life, sports legend 95-year old @AAGPBL player, Maybelle Blair felt like she had to hide her authentic self. Today she came out publicly for the first time. We couldn't be happier for her, and continue to push for love and acceptance on and off the field. pic.twitter.com/BEaCisO2RH

— A League of Their Own (@LeagueOnPrime) June 14, 2022