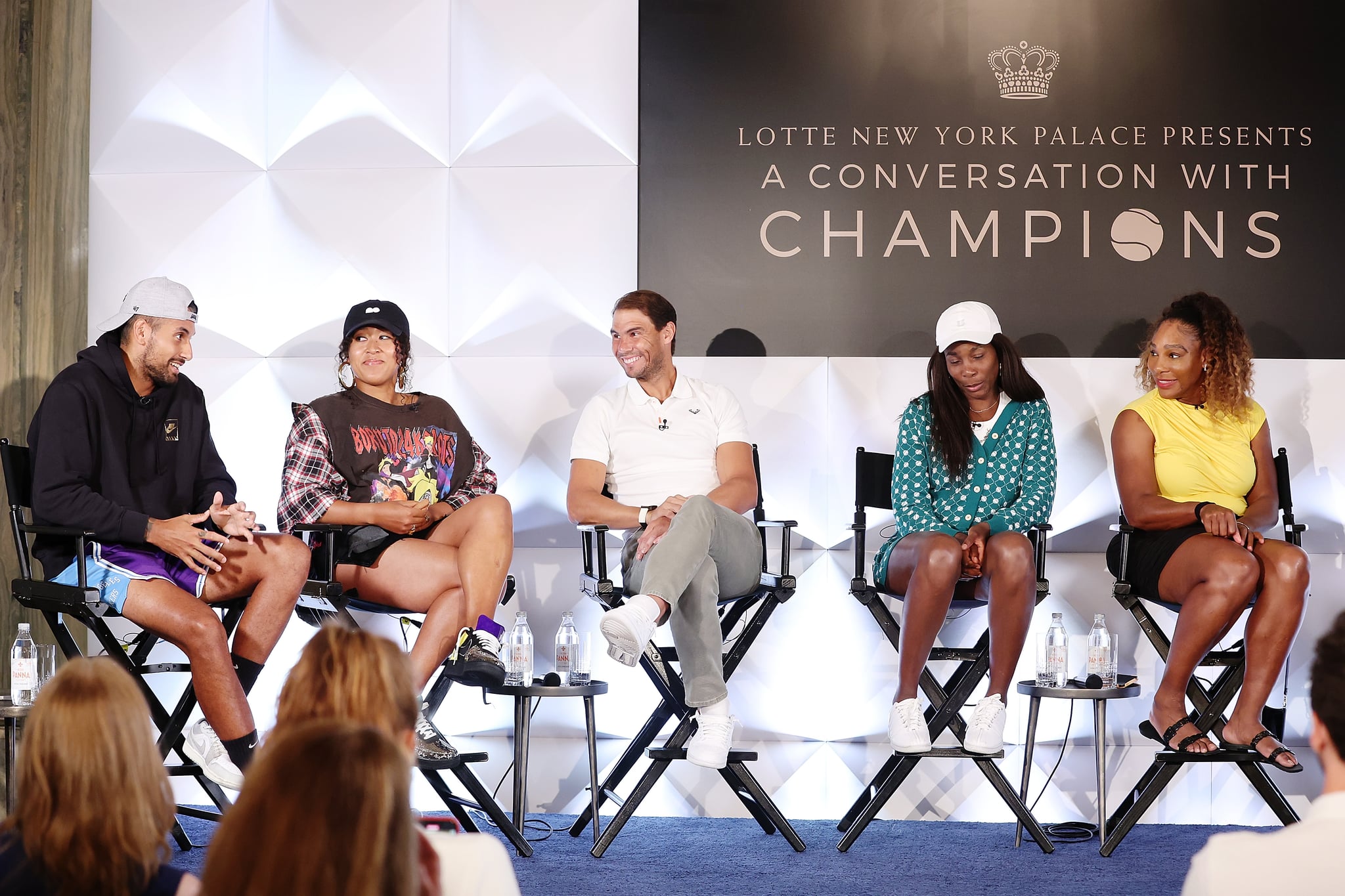 Image Source: Getty / Monica Schipper
The US Open is just a few days away, which means some of the top professional tennis players are in New York prepping for the tournament. POPSUGAR got to catch up with a few of them, including Naomi Osaka, Serena Williams, Venus Williams, Nick Kyrgios, and Rafael Nadal, at "A Conversation With Champions" hosted by the Lotte New York Palace.
Moderated by "Today" hosts Sheinelle Jones and Dylan Dreyer, the pros shared their feelings about this year's competition and opened up about some of their personal struggles being top tennis players.
But the most vulnerable moment of the night came from Kyrgios in talking about his mental health journey and how it changed when he met and worked with Osaka.
"I actually struggled early with mental health, and, you know, there was a time in my tennis career when I was really struggling and I wasn't sure if it was okay to feel that way," Kyrgios said during the event. Then he met Osaka and started getting to know her. "We did a podcast together, and she kind of opened up. And then, when she was going through all of that at French Open one year . . . that kind of opened my eyes like saying, 'Wow, there's another tennis player as great as a champion she is that was also going through [it].'"
"That made me feel more comfortable to open up about it," Kyrgios said. Eventually, the Australian player felt encouraged to share his own experience with self-harm and depression in an Instagram post in February. In the caption, Kyrgios wrote, "This was me 3 years ago at the Australian Open. Most would assume I was doing ok mentally or enjoying my life . . . it was one of my darkest periods. If you look closely, on my right arm you can see my self harm." He went on to detail his experience with suicidal thoughts, alcohol and drug abuse, and depression. He also encouraged fans to reach out to him if they were struggling. "I want you to be able to reach your full potential and smile. This life is beautiful," he closed out the caption.
Kyrgios told the audience at "A Conversation With Champions" that he gets messages related to that post and about his followers' own mental health journeys every day and "I try to respond to as many people as I can."
"Especially I think men around my age really struggle to open up," he continued, crediting fears of feeling weak. "But [Osaka] helped me a lot with that."
Osaka admits it's "really crazy" to think that she could play this kind of role in someone's life. But she wants to remind people who are experiencing mental health issues that they're not the only ones. "As a person, we all kind of think we're alone in the world, or we all have main-character syndrome," she told the audience. But the truth is our lives are not so unique, and "we all share a similar feeling."
The four-time Grand Slam champion says it was "really difficult" for her to be honest about her mental health, "but seeing how it helped people made it worth it." You can watch both Kyrgios and Osaka play at this year's US Open beginning Aug. 29 in the men's and women's singles categories, respectively.
If you or someone you know is dealing with a mental health issue such as depression or anxiety, the National Alliance on Mental Illness has resources available including a helpline at 1-800-950-NAMI (6424). You can also dial 988, the nation's new mental health crisis hotline.