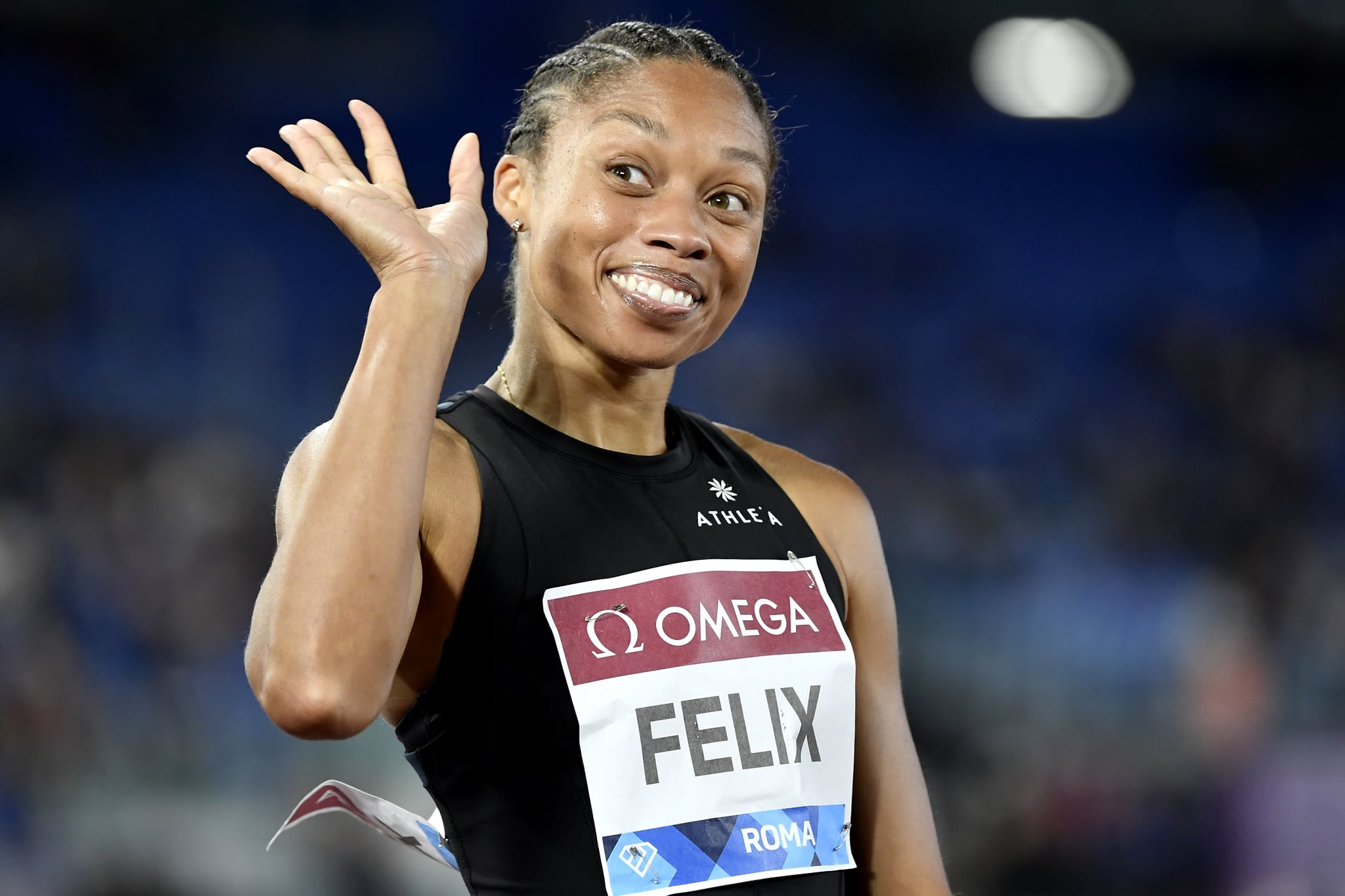 With more than 11 Olympic medals, Allyson Felix is the most decorated runner in history. She's also a strong advocate for professional athletes with children.
This week, Felix, who gave birth in 2018 to her daughter Camryn, announced that she is providing free child care to athletes, coaches, and staff at track competitions. The initiative will start this week at the US National Championships in Eugene, OR, and comes in partnership with Athleta and &Mother, a nonprofit founded by Alysia Montaño (nicknamed "the pregnant runner" for competing at the US Outdoor Track and Field Championships while eight months pregnant) and Molly Dickens.
The competition in Eugene marks Felix's final US outdoor national championships, as she announced last April that this track season would be her last. "This season I'm running for women," Felix wrote on Instagram in April. "I'm running for a better future for my daughter."
After a complicated pregnancy, Felix began publicly advocating for mothers — especially Black mothers, who experience disproportionately high rates of maternal death and poorer quality of care. Felix was diagnosed with severe preeclampsia — a condition marked by high blood pressure, protein in the urine, and potential organ damage, according to Mayo Clinic. The condition is life-threatening to both mother and child: Felix had an emergency C-section, and her daughter spent a month in a neonatal intensive care unit. Felix and her daughter both recovered, but the experience shows how uninformed women often are about their own bodies and the early warning signs of life-threatening developments.
For athletes, being a mother adds extra barriers to career security. Often, athletes must plan pregnancy around training, competition, and sponsorship commitments. The overall lack of structural support for mom athletes who want — or already have — children is so severe that getting pregnant is regarded as "the kiss of death" for female athletes, as runner Phoebe Wright told The New York Times in a 2019 op-ed. Felix pushed back against this narrative, seeing motherhood not as a deterrent to her success as an athlete, but an extension of it. In a moving letter to her daughter, Felix said, "I've had a lot of titles, but by far, Mama is my favorite."
In 2019, Felix made waves when she penned an op-ed for The New York Times about how Nike, her sponsor, failed to provide adequate support to mom athletes. (This came just 10 days after an earlier op-ed also called out athletic apparel companies, including Nike, for how they treated athletes through pregnancy and early parenthood.) "If we have children, we risk pay cuts from our sponsors during pregnancy and afterward. It's one example of a sports industry where the rules are still mostly made for and by men," Felix wrote. At the time of negotiations, Nike offered Felix 70 percent less money after her pregnancy. Amidst public outcry and a congressional inquiry, Nike announced a new maternity policy.
Felix continues to not just speak out, but to provide resources for mom athletes. After giving birth, Felix went public with her pregnancy story and partnered with the CDC's Hear Her campaign, an initiative to share potentially life-saving information about pregnancy-related death, complications, and urgent warning signs. Felix also works with Athleta and the Women's Sports Foundation to provide female athletes grants to cover child-care expenses as they train and compete. So far, WSF and Athleta have awarded more than $200,000 in grants — potentially changing the game for women who feel forced to choose between family and career.
"My final season is not about winning medals but giving back to the sport and future mom-athletes and leaving it better for the next generation of women raising children," Felix said in a statement. "I feel more committed than ever to leaving behind this legacy to ensure more women can both raise children and excel in their athletic careers."