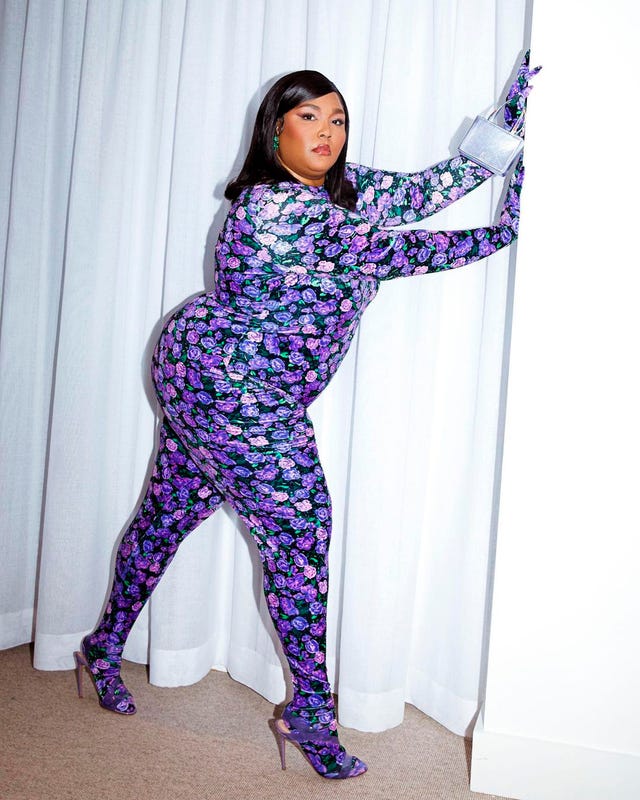 Lizzo in a Richard Quinn Design / Bonnie Nichoalds
Diana Rigg, as Emma Peel, wore one. So did Britney Spears and nearly every Catwoman from Julie Newmar to Zoë Kravitz. By turns fetishistic and innocent, futuristic and throwback-worthy, the modern-day catsuit came into being when designer John Sutcliffe introduced the style for bikers in the '50s. It went from fun, liberatory garment to slick Barbarella accoutrement fast, and its contradictions have been fascinating fashion ever since.
This season has brought us a full-on catsuit resurgence, both on the runway and in celebrity wardrobes. It feels like the perfect marriage of the body-conscious fashion that has ruled recent years and the more covered-up, unfussy options we reached for in lockdown. "Designers have fully embraced this new wave of sexy dressing, through everything from cutout dresses to flashing midriffs and crop tops," notes Libby Page, senior market editor at Net-a-Porter. "And the catsuit is no exception." Rickie De Sole, the women's designer fashion and editorial director at Nordstrom, attributes the garment's popularity to "its ability to provide an effortless yet bold way to dress up for a night out." Hailey Bieber wore a slinky crushed-velvet Saint Laurent version on her birthday. Anya Taylor-Joy and Lizzo have both sported floral Richard Quinn styles. And of course, musicians love the way all-in-ones lend themselves to onstage calisthenics while still delivering arena-engulfing sex appeal—just ask Dua Lipa, Doja Cat, and Normani.
Versatility is also part of the allure. On the runway, catsuits came in all flavors: Marine Serre's dystopian-chic style, complete with a face covering; Gucci's logo-heavy chartreuse reimagining; Collina Strada's floral crunchy-girl option, accessorized with a fruit-shaped bag. De Sole cites designers like LaQuan Smith and Mugler's Casey Cadwallader, who have made sexed-up takes on the catsuit a signature.
London designer David Koma tells me his personal fascination with the silhouette stems from his love of sports—he's a huge tennis fan, and his spring collection, shown at the Zaha Hadid-designed London Aquatics Centre, was inspired by synchronized swimming. He chalks up the catsuit's current reign to our love affair with all things athleisure. "It's a multifunctional, beautiful piece of clothing that could be taken from high-performance sport, to daywear, to partywear, to a proper red carpet moment." Take the custom Flo-Jo-inspired catsuit that Koma created for Serena Williams to wear to the premiere of King Richard. A riff on a sinuous single-leg look from Koma's spring collection, it was the ultimate tribute from a tennis aficionado to one of the sport's greats, who's often favored catsuits on the court. (In what he calls a "twinning moment," Koma also designed a matching look for Williams's daughter, Olympia.)
For spring, De Sole is excited about the wealth of options from Burberry, Dundas, and Saint Laurent, where cutout-heavy versions of the style dominated. Page calls the catsuit "the perfect building block" and notes that Net-a-Porter will be carrying seven styles from Saint Laurent and three from Pieter Mulier's debut collection for Alaïa. And Koma's still riding high on a look from spring 2020 that keeps garnering newfound attention: a sequined zebra edition. "Actually, today," he confides, "I had another request for that from a super-big celebrity." Consider it coming soon to a pap photo near you.
This article appears in the May 2022 issue of ELLE.
This content is created and maintained by a third party, and imported onto this page to help users provide their email addresses. You may be able to find more information about this and similar content at piano.io