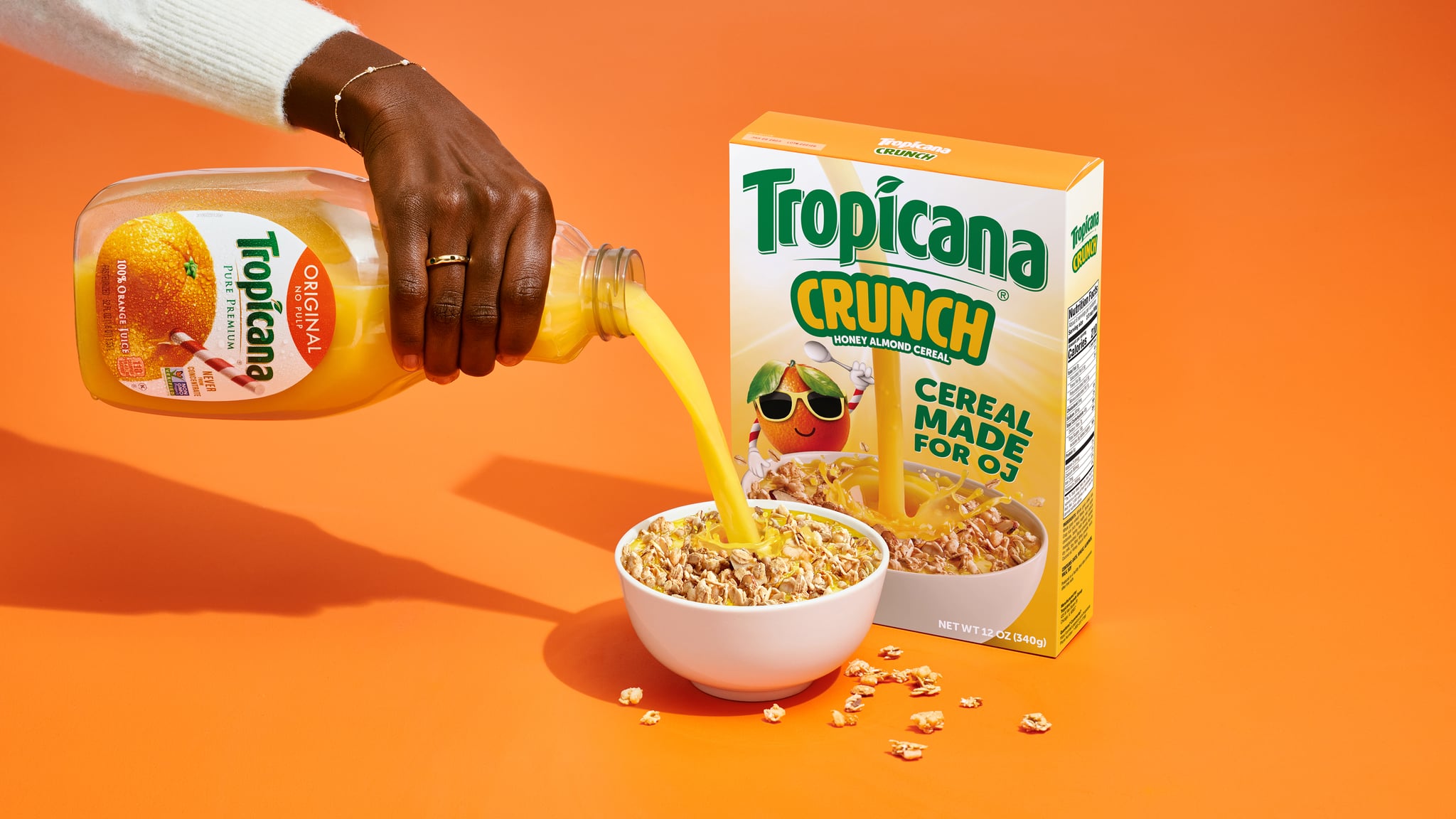 Image Source: Tropicana
Milk, cereal, and a glass of OJ are as classic a breakfast as you can imagine. But Tropicana wants you to ditch the dairy. In honor of National Orange Juice Day (on May 4, for those of us who don't celebrate), the beverage brand is introducing Tropicana Crunch, which it's claiming is the first-ever cereal designed to be eaten with orange juice instead of milk — as in, the OJ goes into the bowl with the honey-almond clusters. Sound strange? I thought so, too. But visions of the cereal were living rent-free in my head since I first heard of it, so finally I caved and asked for a box so I could try it myself.
I ripped the box open the same day it arrived, immediately noting that the cereal looks and tastes like granola mixed with Rice Krispies. When I tasted the clusters dry, I noticed a hint of citrus sweetness, which raised my hopes a bit. Maybe drowning it in OJ would . . . just work?! What does milk add to a cereal, after all, besides a little creaminess and moisture? Was OJ and cereal all that different from an orange smoothie bowl with granola on top?
How Does Tropicana Crunch Cereal With Orange Juice Taste?
To answer the million-dollar question: no, I did not use orange juice with pulp. And when I took my first bite, I was wowed by the strong, tangy citrus flavor; it was almost overpowering but in a good way. I took another bite and could taste more of the almond-oat flavor. I immediately had a flashback to when I'd hit up the frozen-yogurt spot next door to my step-aerobics class. The only dairy-free option was orange, and I'd ask for granola on top — Tropicana Crunch tasted just like that.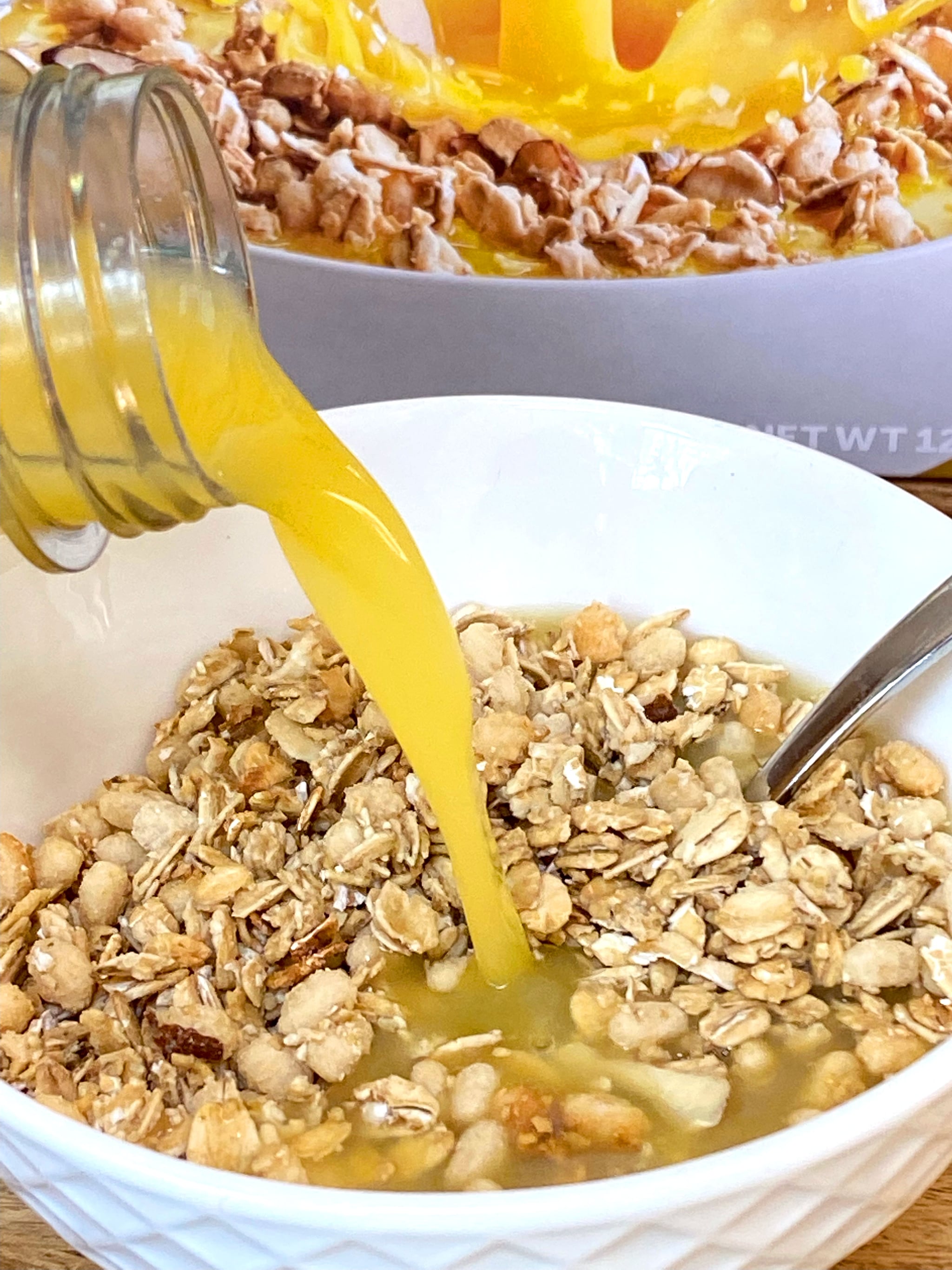 Image Source: POPSUGAR Photography / Jenny Sugar
The website says, "It may not be for everyone (but it could be for you!)," and I totally agree. If you love orange juice, you will love pouring it onto this Tropicana Crunch cereal. The combo of citrus, almond, and honey definitely works.
A side note: My initial thought when I heard about this cereal was that it might be a good option for vegans who aren't a fan of more traditional milk alternatives in their cereal. But when I took a closer look at the ingredient list, I saw that the cereal is made with nonfat dry milk, whey, and honey — so it's not totally vegan friendly.
My final impression: I wouldn't say I'm an orange-juice-in-my-cereal convert, but I didn't hate it like I thought I would. If you like to be adventurous with your food and find the typical box of cereal to be boring, you might try swapping juice into your breakfast bowl. To me, the best part about this cereal is that it comes with an adorable red-and-white-striped paper straw, so you can sip up the extra OJ. If you want to try it yourself, you can go to TropicanaCrunch.com starting May 4 to order a box for yourself for free, but only while supplies last.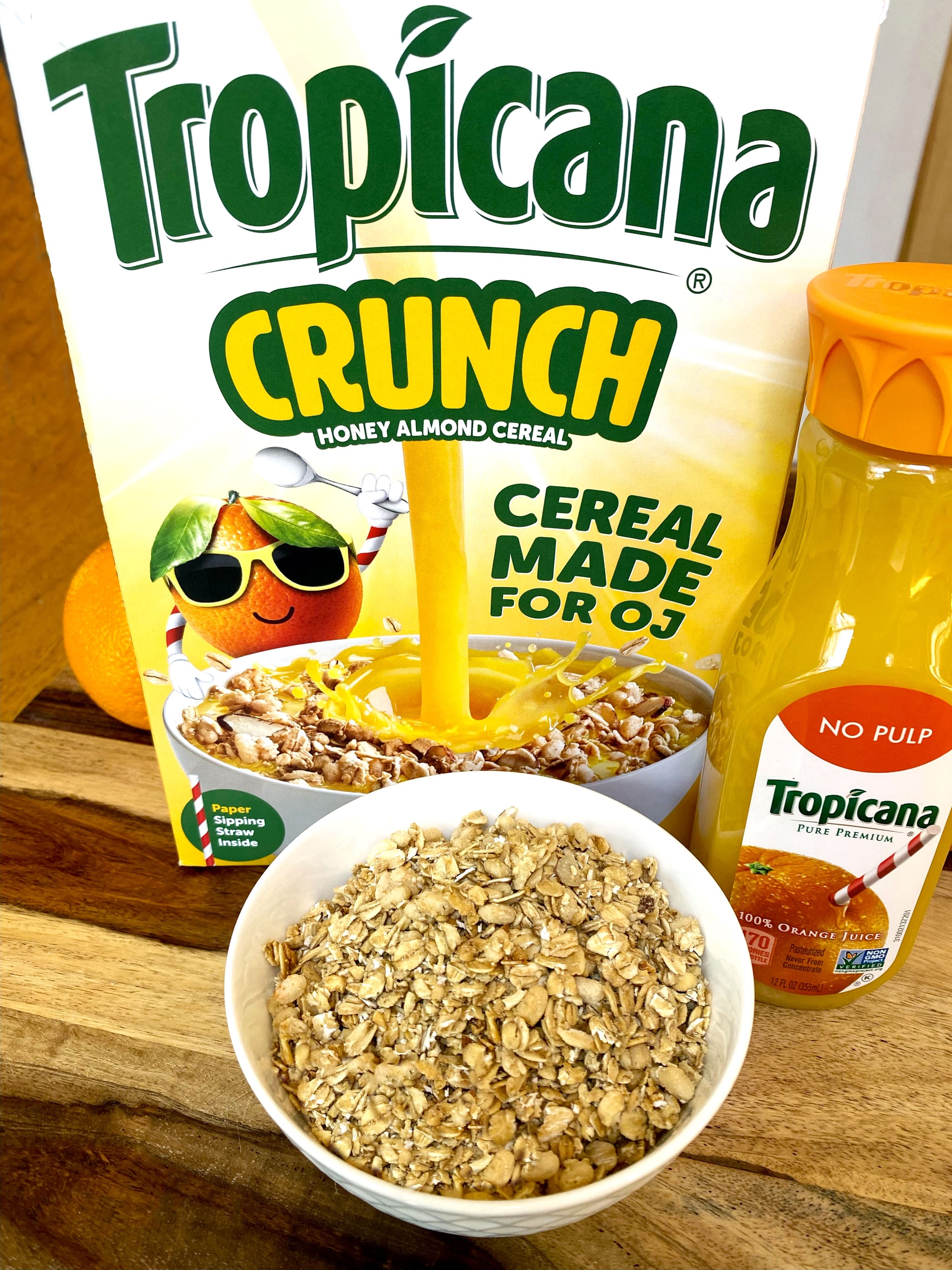 Image Source: POPSUGAR Photography / Jenny Sugar