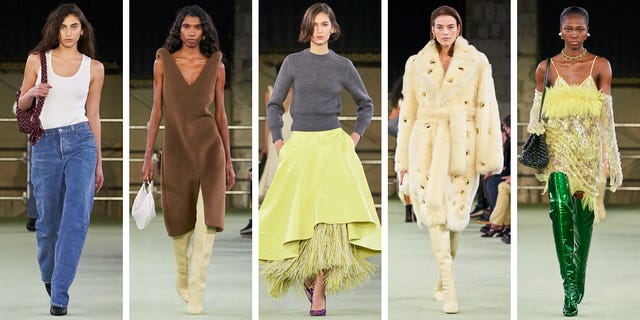 Courtesy of Bottega Veneta
Bottega Veneta gave a silent shout to the fashion world on Saturday evening in Milan, ushering in yet another new era for the Italian house as newly appointed creative director Matthieu Blazy had his highly anticipated debut, following Daniel Lee's abrupt departure last November. In his few years at the helm, Lee took Bottega Veneta to bold new heights with heavily detailed looks and technicolor handbags and shoes—the bread and butter of the brand—bringing Bottega's name back into the international boxing ring of heavyweight sartorial players. Blazy, however, has proved that he is certainly not afraid of following in those footsteps with a quiet⁠—yet not total (as one might have expected)⁠—departure from Lee's oftentimes ostentatious takes on the brand's DNA.
Blazy started the fall 2022 show with a simple white tank and jeans⁠, styled with an over-the-shoulder intrecciato bag and heeled boots. Though seemingly simple, the entire look was crafted in nubuck leather, marking the designer's return to basics and relying heavily on the house's next-to-none leather quality. The strikingly chic look was followed by a bevy of well-cut double-breasted men's and women's peacoats in heavy wool and leather.
Blazy spoke to Tim Blanks about the need to consider an outfit's look from 360 degrees, versus how they've become flattened on our phone screens. His sentiment was evident in a navy caban coat with a swingback cut, along with matching swingback navy trousers that move with every step. Similarly, a pair of platform patent heels suggested movement. Little hints of his past work at Nicolas Ghesquière's Balenciaga, Phoebe Philo's Céline, and Raf Simons's Calvin Klein were sprinkled throughout, but rather than feeling like tropes, the reimagined codes felt like little Easter eggs dropped by a designer who has worked with the best and is now establishing his own voice.
Sleeveless velvet dresses were padded in the shoulder straps, almost elevating the dress off the body in an empowering and subtle way. Gorgeous nappa leather skirts in lavender and lemon were paired with neutral knits and heels—sleek, understated, and totally wearable. The show pieces were sheer sequined strappy dresses, smartly teamed with matching gloves and metallic boots. (The light purple rendition in particular is calling Dua Lipa's name.)
In a time where clothes are designed for a single Instagram photo, Blazy developed a wardrobe that is top of the line without screaming out a single brand or a single moment; rather, he tapped into the meaning of true luxury—one that prioritizes cut, cloth, and proportion over flash and sheen. Bottega's accessories market is one to covet, and Blazy's approach was decidedly more relaxed, giving classic intrecciato a new life via bucket bags, thigh-high combat boots, and mini skirts. The show spoke to a more subdued luxury, one that is immediately practical and impeccably stylish at once. If this is Blazy giving us a first look at his full vision, we can't wait to see where he takes us next.
See all the looks from Bottega Veneta's fall 2022 runway show, below.

This content is created and maintained by a third party, and imported onto this page to help users provide their email addresses. You may be able to find more information about this and similar content at piano.io