This 30-day plank challenge will help strengthen and tone your core while tasking your upper-body strength, too. In just two weeks, you'll be holding the move for a total of five minutes! And weeks three and four will up the challenge by introducing plank variations that target parts of your body you didn't know existed.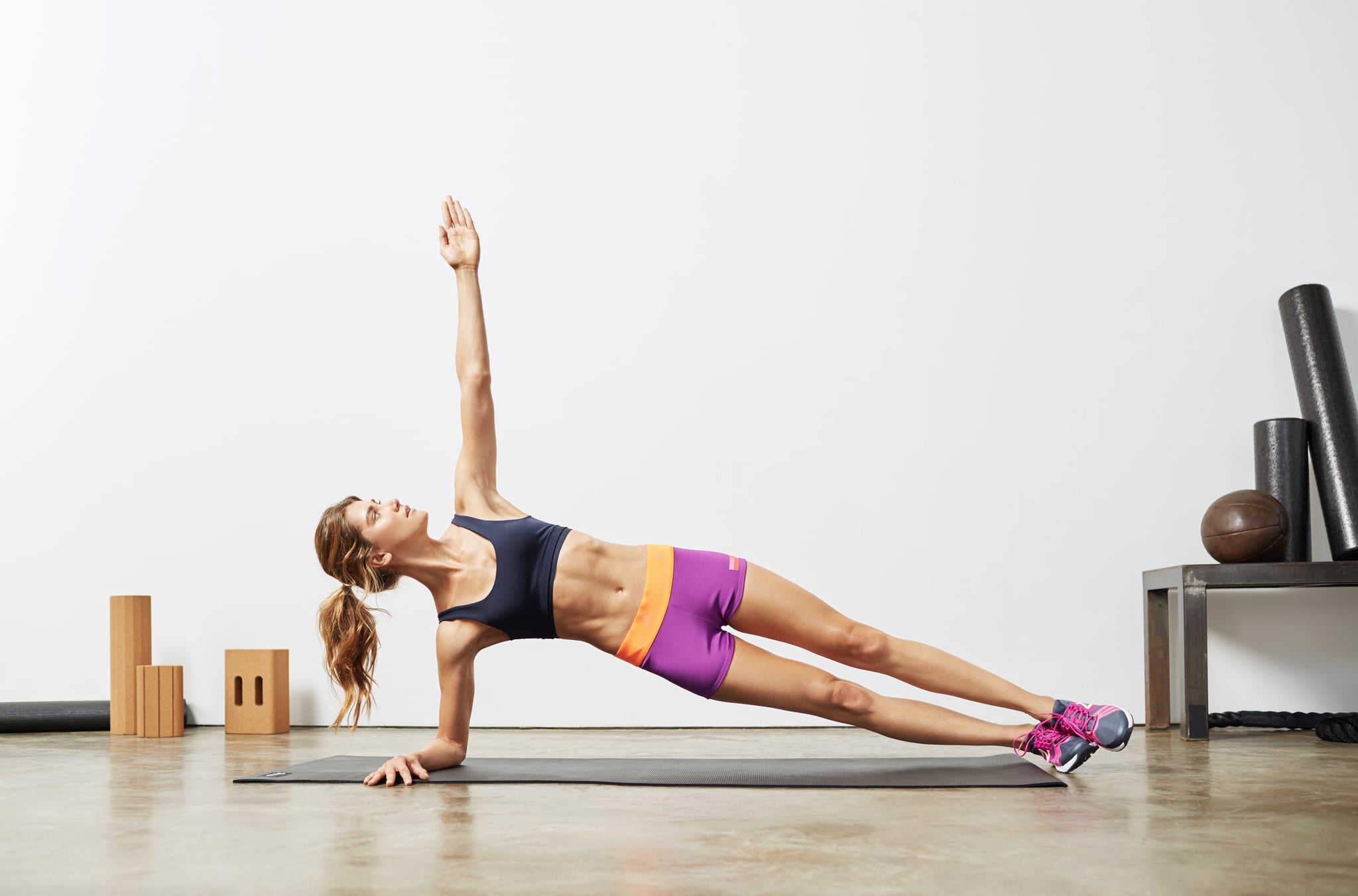 To help you along this journey, we enlisted Youfit Health Club's national director of fitness, Raphael Konforti, MS, CPT. Ready to get started? Here's all the moves you'll need to take on this challenge.
Elbow Plank
The beautiful centerpiece of this challenge is the gold standard of core training: the elbow plank. You'll incorporate this movement throughout the challenge and even step up from it from time to time the further you go into the 30 days.
Konforti's form tip: To get in plank position, start on the floor, placing your elbows underneath your shoulders on the ground. Lift your entire body up and hold it keeping a straight line from your head to your heels. The further apart you place your feet the more stable you'll be so the less your core has to work. If you increase or decrease the intensity, try changing your foot positioning before resting.
Spider-Man Plank
You won't need to scale walls around your neighborhood for this move, but you will be upping the challenge from the standard plank. You'll feel your entire core in Spider-Man plank, much like you do when your legs churn in bicycle crunches. It's a BOGO (buy one, get one) move for your core.
Konforti's form tip: For this movement, it's actually more challenging to be in a low plank position with your elbows on the ground, so adjust as you need to starting in a plank or push-up position. Holding a plank, bring your right foot off the ground and drive your right knee up and out to your right elbow. Reverse the motion then repeat with the left leg. As the knee goes toward the elbow, exhale and tighten your obliques and abs for an extra burn. To up the challenge, try holding this top position for one second on each side.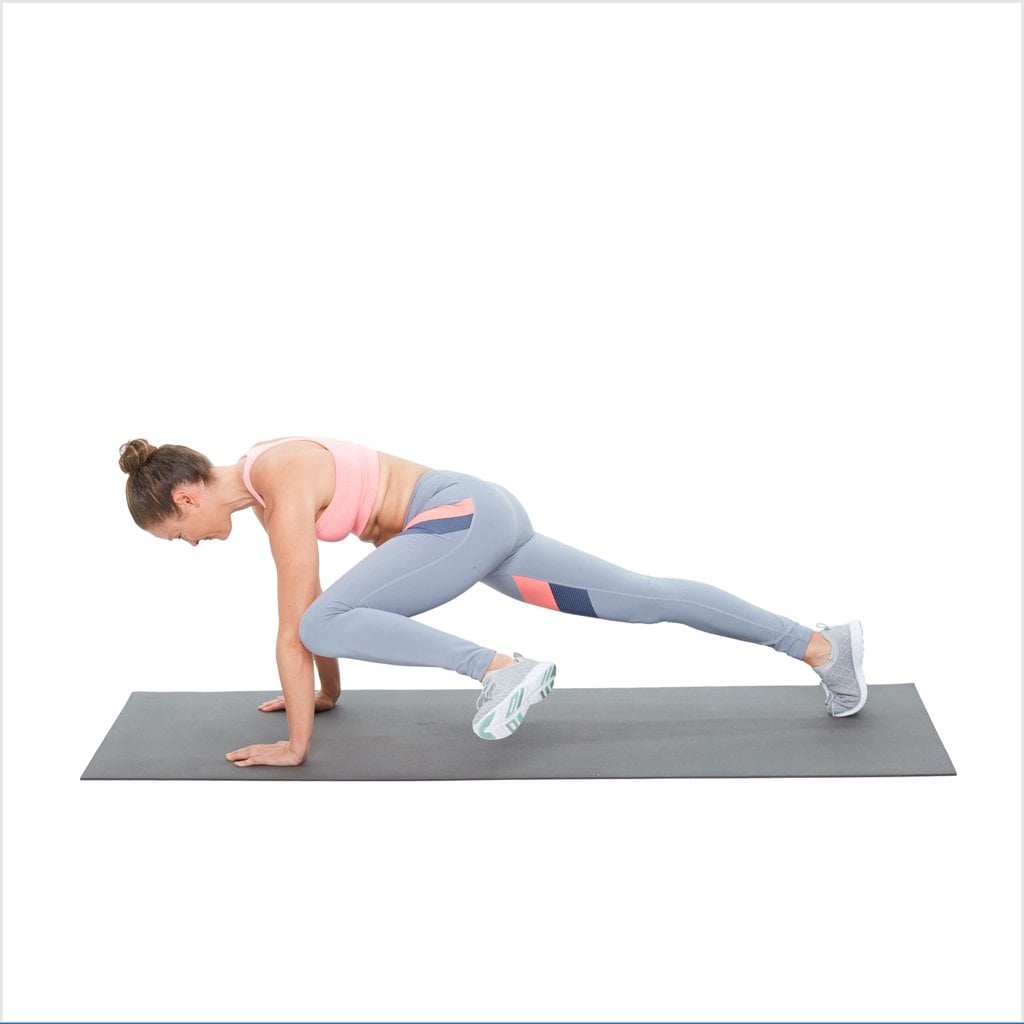 Side Plank
It wouldn't be a full plank challenge if we didn't get oblique action in with side planks. At first, a side plank may seem challenging, but as you get used to them, they'll be like a coffee shop with no line in the morning — a welcome sight.
Konforti's form tip: While lying on your side, place your elbow down and lift yourself up so your body makes a straight line through your feet, hips, upper back, and head. Do your best to keep a 90-degree angle between your body and the floor, avoiding leaning toward the ground. Imagine the back of your body is pressed flush up against a wall. To increase the intensity, try adding in a small leg lift or reaching overhead. These movements change your center of gravity so the core has to work overtime to hold the side plank.
Side Plank Crunches
No one ever worried about overtraining their obliques, so adding in an crunch is a no-brainer here. Side plank crunches are the kicker to take your core strength up the next level!
Konforti's form tip: Starting in a side plank position with your right elbow down, bring your left elbow and left knee together, then reverse the motion, breathing throughout. The larger the range of motion you use, the more challenging the movement becomes. Start with small movements you can control, then try holding yourself up with your hand instead of elbow. You can also change the intensity with your speed. Going slow and controlled makes it easier to get a good abdominal contraction, and increasing the speed will challenge your balance and raise your heart rate.
30-Day Plank Challenge
Directions: Perform all of these exercises once, trying not to rest between moves. If you feel you need to rest, keep it as short as possible. You've got this — every workout is less than five minutes!
Day 1: Plank 30 seconds; Side Plank 15 seconds each side
Day 2: Plank 30 seconds; Side Plank 20 seconds each side
Day 3: Plank 40 seconds; Side Plank 20 seconds each side
Day 4: Spider-Man Plank 30 seconds; Side Plank 30 seconds each side
Day 5: Spider-Man Plank 40 seconds; Side Plank With Side Crunches 20 seconds each side
Day 6: Rest
Day 7: Plank 30 seconds; Spider-Man Plank 30 seconds; Side Plank 30 seconds each side
Day 8: Side Plank 30 seconds each side; Plank 60 seconds; Side Plank 30 seconds each side
Day 9: Plank 60 seconds; Side Plank 40 seconds each side; Plank 60 seconds
Day 10: Spider-Man Plank 60 seconds; Side Plank 45 seconds each side; Plank 70 seconds
Day 11: Side Plank With Crunches 30 seconds each side; Plank 80 seconds; Side Plank 45 seconds each side
Day 12: Side Plank 45 seconds each side; Plank 90 seconds; Side Plank 30 seconds each side
Day 13: Rest
Day 14 — 5-Minute Plank Total: Side Plank 30 seconds each side; Plank 60 seconds; Side Plank 45 seconds each side; Plank 90 seconds
Day 15: Side Plank With Crunches 30 seconds each side; Plank 60 seconds; Side Plank With Crunches 30 seconds each side
Day 16: Plank 60 seconds; Side Plank With Crunches 45 seconds each side; Plank 60 seconds
Day 17: Side Plank With Crunches 40 seconds each side; Plank 90 seconds; Side Plank With Crunches 40 seconds each side
Day 18: Side Plank With Crunches 30 seconds each side; Plank 60 seconds; Side Plank 30 seconds each side; Plank 60 seconds
Day 19: Side Plank With Crunches 30 seconds each side; Plank 60 seconds; Side Plank With Crunches 45 seconds each side
Day 20: Rest
Day 21 — 5 Minutes Total With Side Crunches: Side Plank With Crunches 30 seconds each side; Plank 60 seconds; Side Plank 45 seconds each side; Plank 90 seconds
Day 22: Spider-Man Plank 60 seconds; Side Plank With Crunches 30 seconds; Spider-Man Plank 30 seconds
Day 23: Side Plank With Crunches 30 seconds each side; Spider-Man Plank 90 seconds; Plank 30 seconds
Day 24: Side Plank 45 seconds each side; Spider-Man Plank 60 seconds; Plank 30 seconds; Spider-Man Plank 30 seconds
Day 25: Spider-Man Plank 90 seconds; Side Plank With Crunches 30 seconds each side; Side Plank 30 seconds each side; Plank 30 seconds
Day 26: Side Plank With Crunches 45 seconds each side; Spider-Man Plank 60 seconds; Side Plank 30 seconds each side; Plank 30 seconds
Day 27: Plank 90 seconds; Side Plank 60 seconds each side; Plank 90 seconds
Day 28: Side Plank With Crunches 45 seconds each side; Spider-Man Plank 90 seconds; Side Plank 45 seconds each side; Plank 30 seconds
Day 29: Rest
Day 30 — 5 Minutes Total With Spider-Mans and Side Crunches: Side Plank With Crunches 30 seconds each side; Spider-Man Plank 60 seconds; Side Plank 45 seconds each side; Plank 90 seconds
Image Source: POPSUGAR Photography / Kathryna Hancock