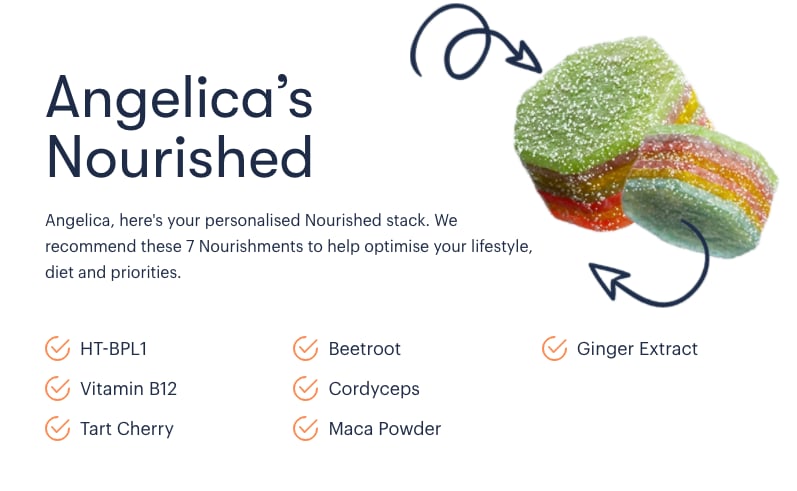 I don't enjoy swallowing pills, so taking my morning supplements isn't my favorite part of the day. Yes, gummy multivitamins exist, but they normally have high amounts of citrus, which I'm sensitive to. I was delighted to find out about Nourished ($70), a plant-based, 3D-printed multivitamin that I can customize to my lifestyle. When I was asked to try a box, I said yes faster than it takes for me to swallow my morning pills.
My usual supplement routine is comprised of ashwagandha, zinc, B-complex, and ginseng, as I like a combination that helps with maintaining my energy throughout the day, helps me avoid muscle cramping, and has anti-inflammatory benefits. The only thing is, I've found I can't take capsules on an empty stomach in the morning, otherwise I feel nauseated until I eat. Here's how I customized my Nourished multivitamin and how it compared to my usual supplement routine.
Taking the Nourished 3D Multivitamin Stack Quiz
The Nourished quiz begins with questions covering your general background, like your name, age, and gender. Then, the quiz prompts more detailed questions about your life. On a sliding scale, you choose your overall energy level, how active your lifestyle is, the quality of your sleep, how much time you spend in front of a screen, your eating habits, your mental health, and more. The quiz concludes by asking what your top priorities are for your health in the coming months — more energy, better stress management, and gut health are a few examples.
Going through the quiz myself, I felt like the questions offered a holistic look at my health in order to fine-tune the results to my needs. Some of my answers included mentioning that I spend a lot of time in front of a screen with an active lifestyle, having asthma, not having the best sleep quality, as well as that I'm looking for more energy and have plans to tone up in the coming months.
My Custom Nourished 3D Multivitamin Stack
Before receiving my vitamin results, I got to chose what flavor I wanted my gummies to be; I chose sweet cola since I've never seen a cola-flavored multivitamin and was curious about how it would taste. There were other options like strawberry, orange, and flavorless gummies, any of which could be made sweet or sour. With my sweet cola flavor set, Nourished then revealed what vitamins and ingredients would make up my stack, along with the potential benefits of each, according to the brand, which I've summarized below:
Vitamin
Its Benefits, According to Nourished
Serving Size
Beetroot
Boosts endurance
Stamina maintenance
Exercise recovery
100mg
Cordyceps
Helps to improve stamina
Reduce inflammation
Support liver health
100mg
Ginger Extract
Reduce migraines, nausea, and inflammation
Helps to reduce muscle pain and soreness
100mg
HT-BPL1
Appetite suppressant
Visceral fat reducer
Anti-inflammatory
Anti-oxidant
Cholesterol level reducer
33.33mg
Maca Powder
Boosts energy level
Increases libido
Enhances memory & brain functionality
50mg
Tart Cherry
Antioxidant rich
Improves endurance and athletic performance
Improves cognitive brain function
Prevents exercise-induced muscle damage
100mg
Vitamin B12
Increases energy levels
Helps to regulate moods and reduce stress
Helps to improve sleep
3.75mcg
Nourished 3D Multivitamin Stack Review
Upon opening my box of Nourished, I saw that all of the vitamins were individually wrapped with my name on them — and the packaging is plastic free. At that point, I was more than ready to taste my sweet cola, 3D-printed multivitamin. At first, the cola flavor made me feel like I was having a mini morning soda for breakfast, but having it every morning eventually made me realize I'd like a more subtle flavor (maybe the strawberry or flavorless options) in the a.m. The Nourished gummy's texture is also slightly firmer than a typical gummy bear. Paired with the cola flavor, I felt like I was eating candy instead of having a supplement.
Now, almost been a month since my first bite, I feel no different than I did while following my normal supplement routine, which, for me, is a win. I feel like my energy level is sustained throughout the day, my muscles are happily cramp-free, my joints don't ache, and I don't feel nauseated if I take Nourished on an empty stomach. If you want to try Nourished for yourself, click here.