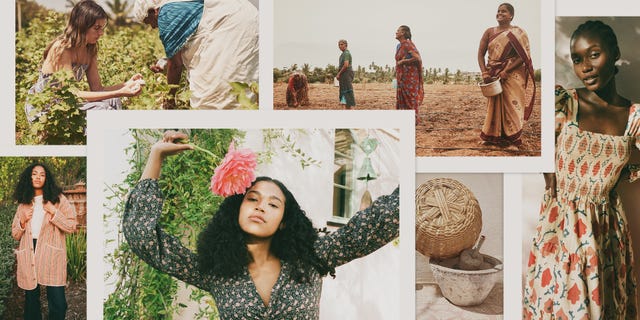 Ashish Chandra c/o Christy Dawn
Style Points is a weekly column about how fashion intersects with the wider world.
If you're remotely foodie-adjacent, you probably have a sense of where your dinner comes from. But fashion, which has no real equivalent to the term "free-range," is a bit more of a gamble. Beyond a location listed on a tag, you may have no real idea about the origin story of your new garment.
Christy Baskauskas had the same quandary when she founded her line Christy Dawn. She was mainly using deadstock fabrics because they were an affordable and relatively green option. But their provenance, and chemical content, were harder to track. Says Mairin Wilson, the brand's head of regenerative practices, "Deadstock is amazing. And it's a great way to not be a part of the problem in the fashion industry [of] all these toxic practices. But it's also not a solution."
Baskauskas keeps a small garden and chickens, but she's not a farmer per se. When she did a little more digging, so to speak, she decided to put her energy into regenerative farming, a practice which seeks to enrich the earth rather than strip-mining it of nutrients. She certainly isn't the only fashion brand embracing regenerative techniques—so are outdoor staples The North Face and Patagonia and luxury giant Kering—but she's been one of the most vocal on the subject. As Wilson says: "Healing the soil will heal the Earth. And so, how can we really work to use it as a solution to climate change, to all of these problems that we're facing environmentally, in a way that not only helps the soil, but also helps the farmers and helps our consumers learn more about what's going on underneath the surface of each piece of clothing we make?"
The answer was to create their own farming experiment. Working with Oshadi Collective, the company found a site in India and began operating on a land stewardship model. In addition to the cotton, the land supports more than a dozen other plants, which serve as pollinators, cover crops or trap. Both women are quick to acknowledge that this isn't a new or particularly technologically cutting-edge concept. Instead, it draws from ancient Indigenous practices. For example, one of the farmers has a longstanding family tradition of burying a pouch of rice under the oldest tree on the property, then turning it into a tea and distributing that among the other crops. "From a traditional perspective, that's such an amazing story," says Wilson. "But when you think about it scientifically it [also] makes total sense, because the oldest tree on the farm is going to have the most nutrients. It's going to have this abundant microbiome underneath it because it's been there for so long. So whatever nutrients the rice absorbed are creating a really amazing fertilizer without using chemicals."
One of the most important parts of the process is "creating systems of trust," she adds. "The only way to have an ethical relationship to something is to understand it. Christy and I, as two women sitting here in downtown Los Angeles, we don't understand what's happening on the farm in India. So we're not going to tell the farmers exactly what to do," but will simply provide ground rules, like keeping the land chemical-free, full of diversified crops, and fed with drip irrigation. The result: their "Farm to Closet" collections, the first of which debuted in May.
Baskauskas defines regeneration as "starting somewhere, trying and then learning each step of the way and continuing to do better each time." That means there are some hiccups along the way that might not occur with mass production, but the label is embracing them as happy accidents. For example, when a monsoon recently struck the region, it delayed the latest collection, which is block-printed, since there was less sunlight available to dry the fabric and cure the dyes. But the label is rolling with it, making the pieces available for pre-order; each dress represents 42 pounds of sequestered carbon.
And now, the brand is offering something new for those who truly want to go all in: the purchase of land stewardship. $200 covers 3485 square feet of land, as well as line items like the farmers' salaries, seeds for other crops, compost, and worms. They'll receive a gift card based on the amount of usable yield produced, which goes towards buying a dress made with that very cotton. (Think of it as a much chicer CSA box.)
Baskauskas has been learning by doing, and she wants to make sure the knowledge she's acquired along the way stays open-source so that others in fashion can use it, too. "We want to create a roadmap for everybody as we try everything and we see how it works," she says. "We're journaling it all down and creating this roadmap for our customers and also for any other brands that want to jump in and learn more." For her, sustainable is no longer the goal: "The word itself is just a linear line. You're just sustaining something. When you really look into the work, it feels like, Is sustainable actually something that I want to be? I have two small kids. I don't really want to sustain where we are right now in the world. We need to make it better now. And can we do that by making clothes? Yes, we can—because we're doing it."
This content is created and maintained by a third party, and imported onto this page to help users provide their email addresses. You may be able to find more information about this and similar content at piano.io