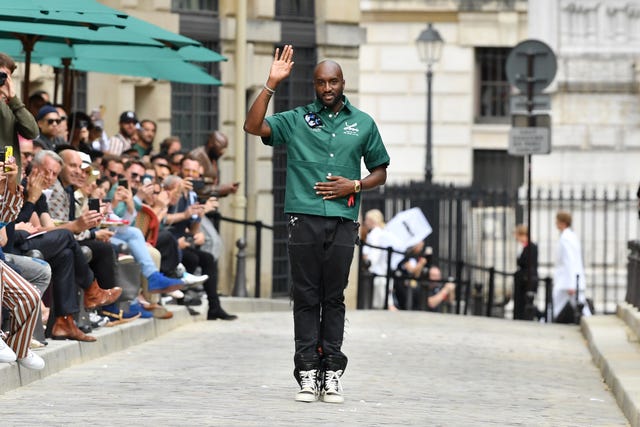 Pascal Le SegretainGetty Images
This week, as the fashion world and social media writ large mourned the death of streetwear icon Virgil Abloh, founder of Off-White and artistic director of menswear for Louis Vuitton, the French luxury house was in the midst of planning its men's runway show in Miami during Art Basel. What was originally ideated we may never know, but what Vuitton gave us was a celebration of the designer's profound legacy and impact ("per his wishes," Louis Vuitton chairman and CEO Michael Burke said in a statement).
The show began with a clip of a young boy riding a bicycle through the streets of Miami, arriving at the beach, then, eventually, in front of a giant red hot air balloon emblazoned with the LV logo. He hops on, grinning widely, it cuts to nighttime, and Abloh's voice comes in: "I've been on this focus, in terms of my art and creativity, of getting adults to behave like children again. That they go back into this sense of wonderment. They start to stop using their mind, and they start using their imagination."
Then came the clothes: tailored suiting, tracksuits, dresses, skirts, and sneakers (another collaboration with Nike), rife with pops of color and all imbued with Abloh's trademark sense of casual-cool and, of course, "childlike wonderment." Guests including Kanye West, Kim Kardashian West, and North West—in a show of solidarity for their longtime friend and creative partner—showed up for the presentation. (Abloh interned with West at LVMH's Fendi before becoming his creative director.) Kid Cudi, a longtime friend of Abloh's, walked the runway, as quintessentially Virgil electronic music played.
Culminating with a return to the hot air balloon motif, a fitting metaphor for the designer's ascent and current reign over the culture—and high couture—the lights dimmed and Abloh spoke again: "There's no limit. Life is so short that you can't waste even a day subscribing to what someone thinks you can do versus knowing what you can do." Fireworks rocketed across the sky and the words appeared: "Virgil was here." Indeed he was.
Watch the full show here:
This content is imported from YouTube. You may be able to find the same content in another format, or you may be able to find more information, at their web site.
This content is created and maintained by a third party, and imported onto this page to help users provide their email addresses. You may be able to find more information about this and similar content at piano.io