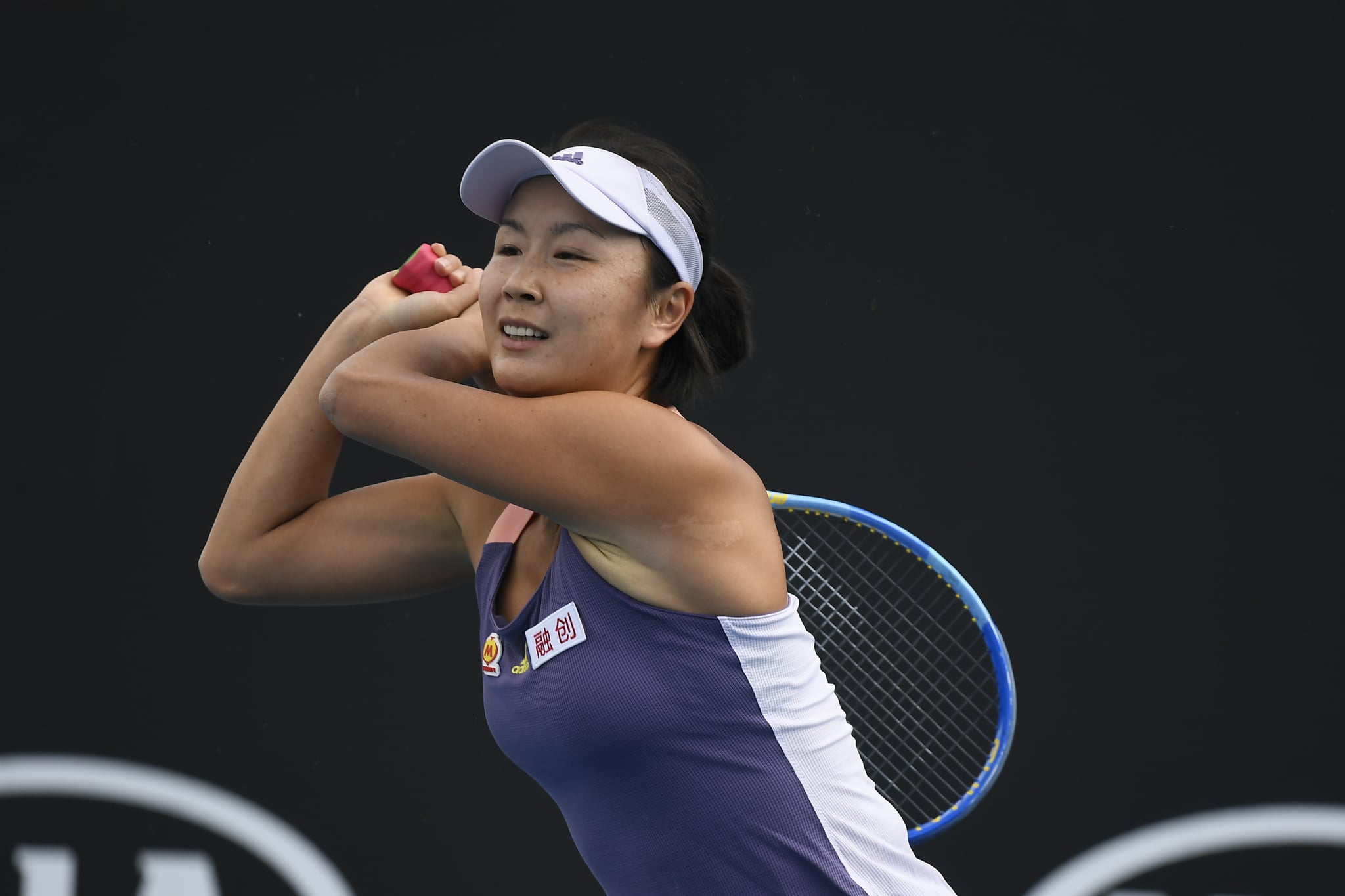 Content warning: This post contains an account of sexual assault.
Weeks after Chinese tennis player Peng Shuai accused retired Chinese official Zhang Gaoli of sexual assault, fellow tennis stars and voices around the sport, including Naomi Osaka, are speaking out in support and concern for her welfare. Peng has reportedly not been seen in public since posting the lengthy allegation to Weibo, a Chinese social media platform, on Nov. 2.
"I was recently informed of a fellow tennis player that has gone missing shortly after revealing that she has been sexually abused," Osaka wrote on Twitter. "Censorship is never ok at any cost, I hope Peng Shuai and her family are safe and ok."
Peng's accusations detailed both a consensual relationship with Zhang, now 75, earlier in her career as well as an alleged sexual assault in 2017, just after Zhang stepped down from China's leadership. According to the Associated Press, Peng wrote that the assault happened after they played tennis together, and that Zhang forced her to have sex despite her multiple refusals. She said Zhang's wife stood outside the door to keep watch. Peng also noted that she couldn't give evidence to back up her allegation, the New York Times reported.
Peng's post was taken down from Weibo within 30 minutes, but screenshots and fan translations are still circulating, at least outside of China; on Chinese internet, searches of Peng's name and even the word "tennis" appear to be blocked, according to NYT.
On Nov. 14, 12 days after Peng's post went live, the Women's Tennis Association (WTA) released a statement in support, saying that "Peng Shuai, and all women, deserve to be heard, not censored. Her accusation about the conduct of a former Chinese leader involving a sexual assault must be treated with the utmost seriousness."
The situation is continuing to evolve. Today, an email supposedly from Peng to WTA chairman and CEO Steve Simon stated that the allegations of sexual assault were "not true" and rumors of her disappearance are false. "I'm not missing, nor am I unsafe. I've just been resting at home and everything is safe."
In response, Simon released a statement saying that the email "only raises my concerns as to her safety and whereabouts." He expressed doubt that Peng wrote the email, commended her courage in speaking up in her original post, and stated that he has repeatedly tried and failed to contact her. "The WTA and the rest of the world need independent and verifiable proof that she is safe."
In the meantime, influential voices throughout the tennis world are continuing to call for an end to Peng's censorship. "Hoping that Peng Shuai is found safe and that her accusations are fully investigated," tweeted Billie Jean King. "I'm in shock of the current situation," Osaka wrote in her post, "and I'm sending love and light her way."