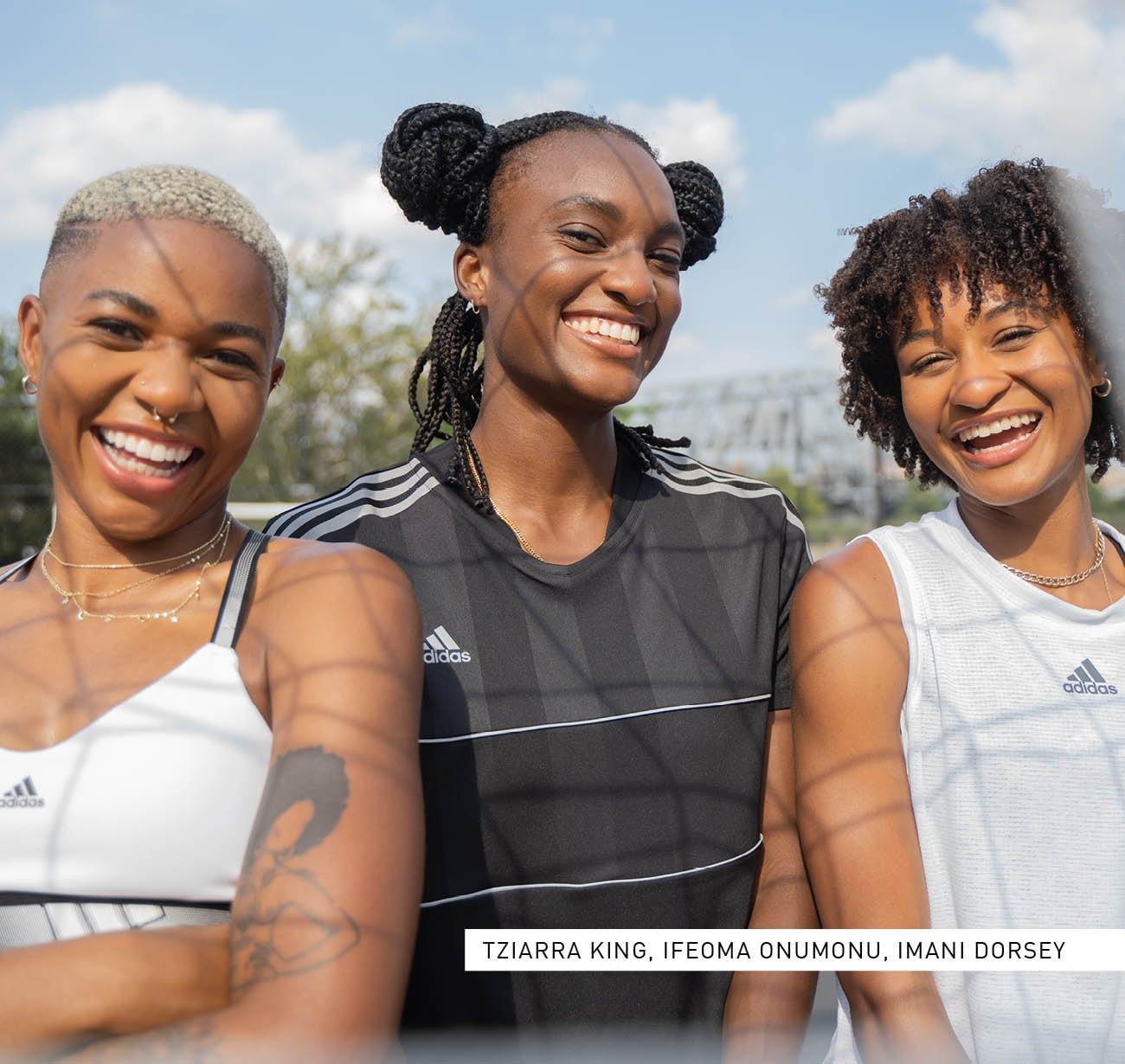 Photo: Board members of the Black Women's Player Collective. Image Source: Courtesy of Adidas
Imani Dorsey and Ifeoma Onumonu, from the National Women's Soccer League's (NWSL) Gotham FC, both believe in the power of visibility — seeing is believing. Onumonu specifically recalls a time in college when a young girl identified her as her favorite soccer player. "She was a young Black girl, too," Onumonu told POPSUGAR. "Looking back, I didn't realize that's why representation's so important. She look[ed] up to me, yes, because I'm Black, but I think for her, that meant so much more, just seeing someone that looked like her, or she could see herself in, playing this sport at a high level."
Dorsey noted she didn't have many Black women role models growing up in soccer. "But when I would think about going to professional games when I was a kid, or even college games, I loved when I would see a Black player on the field, and it just felt so inspiring and exciting," she said. "And even in the media that I would watch as a kid . . . you wouldn't see Black representation or Black women on the screen, and that kind of gets into your head."
The NWSL did not respond to POPSUGAR's inquiries to confirm the total number of Black players on this season's rosters — the season wraps up on Saturday, Nov. 20, with the NWSL final — but there are currently 44 members in the Black Women's Player Collective (BWPC), including seven on the Collective's board. Back in the summer of 2019, there were only 32 Black players listed on NWSL rosters.
Dorsey and Onumonu are both board members of the BWPC, which made its first organized statement in August 2020. The Collective announced a new website in mid-October of this year, along with a logo that tilts the W, for "women," on its side seemingly as an ode to stairs — the potential of upward growth. Onumonu noted that this represents the BWPC's mission to uplift Black women and girls. And Dorsey said, "We know just putting our voice out there as a collective is going to give kids across the board, but especially young Black girls, another perspective of what's out there and what their future can be."
The Women's Sports Foundation reports the "drop-out rate for girls of color in urban and rural centers is twice that of suburban white girls." To address this, the BWPC, in partnership with Adidas, Black Players for Change, Musco Lighting, and the US Soccer Foundation, set out to install 12 mini-pitches in predominantly Black communities by 2022. Adidas is also working alongside the BWPC to create soccer clinics for young girls; the BWPC recently shared photos from clinics in Louisville, KY, and Atlanta. According to an Adidas spokesperson, a total of 40 girls attended the Atlanta clinic on Oct. 23, and coaches from a local club, Inter Atlanta FC, led sessions while four BWPC members — Mandy Freeman, Jennifer Cudjoe, Domi Richardson, and Jasmyne Spencer — acted as assistant coaches.
"We know just putting our voice out there as a collective is going to give kids across the board, but especially young Black girls, another perspective of what's out there and what their future can be."
Onumonu explained that through the clinics, these girls have the opportunity to meet professionals and gain insight into the game that they might not necessarily have acquired otherwise. "And I think the biggest thing that we want to do with these clinics and these mini-pitches is just [give] more access to the game and [give] more access to players who are in the game and build a community around the pitches. Because it's so much more than soccer," she said.
One overt boundary attributing to dropout rates for Black American players is financial cost — Yahoo! Sports' Henry Bushenll delves into how soccer in the US is geographically and economically inaccessible in a piece entitled "The Privilege of Play: Why the world's game is a white game in the U.S." Dorsey added, too, that the culture isn't necessarily as inclusive or welcoming as one would hope. She grew up in central Maryland in a predominantly white and affluent area, and "thinking back on my own experiences, my family is quite active and engaged in a lot of social justice issues and things that are going on in the Black community and just in the world in general, and that was something that we talked about very openly," she said. "And so having that base outside of my sport or friends at school was enough for me."
However, being in the minority in soccer, Dorsey said, was very isolating "when you're feeling things that are specific to your experience as a Black individual and no one's relating to it or engaging with you about it." It's this cultural issue within soccer that she thinks is another factor for Black girls discontinuing the sport. Dorsey did say she was lucky enough to have a handful of other Black players on her teams later in life — and how special that was for her, she said, is hard to put into words. Previously, she felt as though she had to keep her perspective as a Black woman to herself. She would "downplay" it to "fit in."
Dorsey explained, "That's really where the work that we're doing with the Black Women's Player Collective and coming together as a group is so impactful because it's really us taking ownership of our identities and experiences as Black women and bringing that to the forefront and encouraging the rest of the soccer community to acknowledge that and see its value as much as we do."
Separately, Onumonu shared that she felt "interchangeable" with other Black players in the past and was commonly described as "athletic and fast" regardless of whether or not it were true. "I mean, you don't really necessarily feel like an individual," she said. "You don't really feel like a complete player, and that can be quite hindering." Though Onumonu believes she has overcome that obstacle, she knows she's not the only one to go through it. "It's important that we show that we are not a monolith, that we all bring different aspects to the game, that we all have different experiences," she stated.
Photo: A BWPC clinic was held at Smith Elementary in Atlanta on Saturday, Oct. 23. Image Source: Courtesy of Didi Haracic
The 2021 NWSL season came to a halt the first weekend in October after North Carolina Courage head coach Paul Riley was fired due to allegations of verbal and sexual abuse from former players originally published by The Athletic. Teams, including Gotham FC, came together at their games' six-minute mark on Oct. 6 in solidarity with those who faced abuse, bringing awareness to how long it took for them to be heard (six years). Allegations against Riley sparked a larger conversation about a pattern of NWSL overlooking player concerns, and Dorsey said at the time she was very proud to take part in this act of solidarity.
"It's important that we show that we are not a monolith, that we all bring different aspects to the game, that we all have different experiences."
"Players work so hard to be the best possible athletes they can be, so the revelations of the abuse and lack of player protection that came out recently have felt, quite frankly, debilitating," Dorsey said. "At the very least, player health and safety should be the league's utmost priority. Therefore, I know it is important that the actions we take as players on and off the field hold the league accountable and remind them that this work is just beginning. Systemic change is required to root out pervasive abuse and a culture of silence throughout this league."
Dorsey continued on to say she believes "there needs to be greater accountability at multiple levels to protect NWSL athletes, but first and foremost, the league needs to listen to players and prioritize their concerns." She referenced the eight demands the NWSL Players Association released in response to The Athletic's story on Riley, noting she believes those demands, which the NWSL officially agreed to at the end of October, are a start to protecting players. "But I do think additional consideration is required to protect Black / non-white athletes, trans athletes . . . any athlete that does not identify as cis, white, or straight," she added, stating that the league as a whole and individual clubs must to do their research on people they hire so players feel safe.