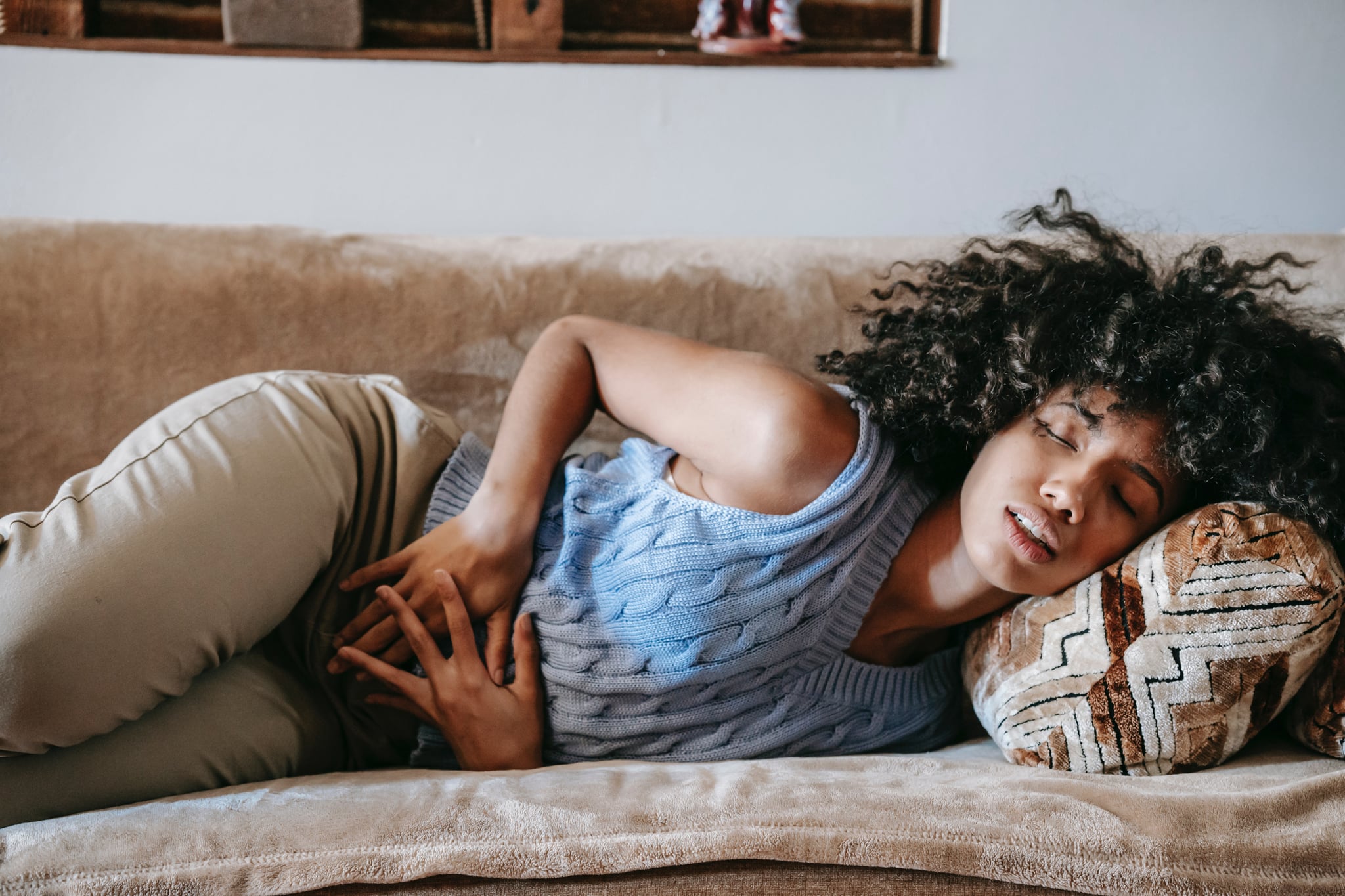 Period cramps are one of the awful side effects of menstruating, but cramping without getting a period is somehow more frustrating. Cramps can come from a variety of causes and can be bad enough to knock you out for days on end because of the pain. If this pain is something you deal with frequently, you might be used to it and already have an idea of why those pangs are radiating through your body. However, for some people, cramping without getting a period can be a new (and terrible) experience that's a bit of a mystery. We spoke with an ob-gyn to get some answers about why this is happening and what you can do about it.
Why Do I Have Cramps but No Period?
Cramping without having a period can come from a number of things, some more concerning than others. Simple things like constipation or ovulation can cause cramping, but more serious issues can include IBS, endometriosis, or an issue with a pregnancy (if you're pregnant). "Some causes may be natural or normal," said Alessandra M. Taylor, MD, an ob-gyn based in Austin, TX. "Other causes may be more serious and should be discussed with a doctor." Cramping can also be linked to ovarian cysts or appendicitis, both of which need to be treated quite quickly. Urinary-tract infections can also cause cramping.
At What Point Should I Be Concerned About Prolonged Cramping?
"If the cramps last for long periods of time, are extremely painful and not relieved by over-the-counter pain medicines, or if you're experiencing other symptoms such as a fever or vomiting, it is best to talk to your doctor," Dr. Taylor said. The length of time can vary based on your body, and you know yourself best. Check in with yourself and make your best judgment call on when the cramping gets to be too much. If you regularly experience cramping while not on your period — perhaps from constipation or ovulation — consider calling the doctor if it goes on longer than usual. If cramping while not on your period is extremely unusual for you, you may want to call the doctor sooner rather than later.
Does Birth Control Affect Cramping?
Birth control can, in fact, cause cramping, especially if you're starting a new brand or method. Dr. Taylor noted that new birth control methods can lead to mild cramping, but it shouldn't last long, and will change as your body adapts. This can come from the pill, an IUD, or other birth control methods. If you start a new birth control method and cramps persist, let your doctor know and consider changing birth control methods under their guidance.
How Can I Alleviate Cramps at Home?
If your cramps are manageable, taking over-the-counter pain relievers like an ibuprofen should help clear them up. These pain relievers will help low-grade pain as long as it's not from a deeper concern. Using a heating pad on the area that's cramping can also alleviate pain. If you try these pain-relief methods to no avail, it may mean your cramps are a more serious concern like an ovarian cyst or appendicitis, in which case, it's time to call the doctor.