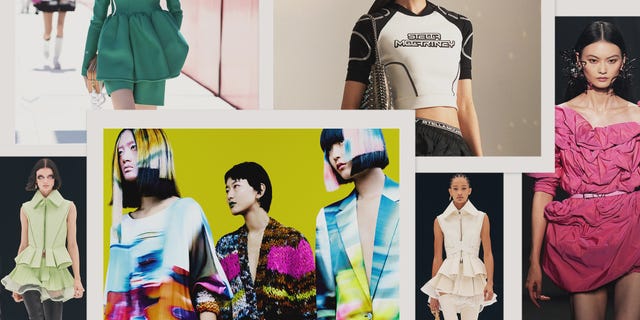 Dries: Rafael Pavarotti; AZ Factory: Peter White; Getty Images; Courtesy of the brands.
Style Points is a weekly column about how fashion intersects with the wider world.
Much nostalgic hay has been made of the revival of Y2K's and the early aughts's most fun—or, depending on your perspective, fearsome—trends. From low-rise jeans to velour sweatsuits to everything going on over at Blumarine, the comparatively innocent time is getting another airing in fashion's spotlight, and the spring 2022 shows offered a bumper crop of the era's best.
But another fashion epoch is rearing its head: the just-completed 2010's. Yes, now that the trend Tilt-a-Whirl moves fast enough to make your head spin and fashion enthusiasts are constantly reshuffling their wardrobes via resale sites, the early days of the decade are becoming bona fide vintage terrain. We saw peplums in Matthew Williams's spring lineup for Givenchy and Nicolas Ghesquière's Louis Vuitton cruise collection (one popped up at Moschino as well), blurry Technicolor prints at Dries, wetsuit-style tops at Stella McCartney, and 2010's-Lanvin-esque ruffles and exaggerated sleeves in AZ Factory's show, where designers paid tribute to the late Alber Elbaz. Isabel Marant even released a reinvented version of her hit wedge sneakers earlier this year.
Off the runway, galaxy-print Jeffrey Campbell Lita boots, perhaps the horcrux of the early 2010's, are all over the resale sites. (In August, Jezebel declared that the style's renaissance was nigh.) Depop shared some statistics with me, among them the fact that it's seen a 333% increase in searches for the Lita style since this time last year. Other trending terms on Depop: wedge sneakers (searches rose by 400 percent last month) and neoprene (which has seen a 22 percent jump in search queries, month over month.)
Rebag, too, is seeing a renewed interest in "vintage" items from the early end of the decade. The company shared with me that one of its top 10 most-favorited bags of this past year has been 2010's Boy Chanel flap bag. The Celine Luggage bag, designed by Phoebe Philo and launched early in the 2010's, also ranks high. A few other styles from the era, including Prada's Galleria tote and Balenciaga's City Mini, have shown a modest increase—though I was told it's still a tad early to say whether those will go big. Still, if you're a betting woman, you might start looking through your closet for some 10- to 12-year-old treasures to resurrect.
I'm aware that all these findings might feel as premature as the Pretty Little Liars reboot, but they're driven by the same impulse that spurs us to constantly revisit those recent cultural artifacts. (And to create @OldCeline and, gulp, @OldBottega Instagram accounts in an instant.) The nostalgia overdrive can also be attributed to our tendency to view the recent past through rose-colored LeSpecs. Just as Y2K felt like a hinge between the 20th century's merry excesses and the 21st century's shift into dystopian gloom, the early 2010's now seem like a relatively optimistic, innocent time, at least when seen through fashion's myopic lens. The emergence of digital prints, which were everywhere at the first London Fashion Week I attended in 2012, felt like an expression of the techno-optimism of that time, when most people were still cheering on startups' "move fast and break things" ethos, rather than streaming documentaries about their failings. Superfluous cascades of ruffles and peplums, too, reflected that mood of optimism and plenty.
As far as nailing down what the 2020's vision of the 2010's aesthetic will be, that still seems to be coalescing. When I searched Depop for various combos of "'10s" and "2010s" fashion, everything from a Rachel Zoe-esque furry Vera Wang vest to Yeezus merch greeted me. Just as most people in the early aughts didn't really go all out in crystal-bedazzled velour every day, the gap between the era's reality and how fashion chooses to memorialize it will likely widen. The good news is that there's still time for us to decide how we want to remember it—and what we'd rather forget.
This content is created and maintained by a third party, and imported onto this page to help users provide their email addresses. You may be able to find more information about this and similar content at piano.io