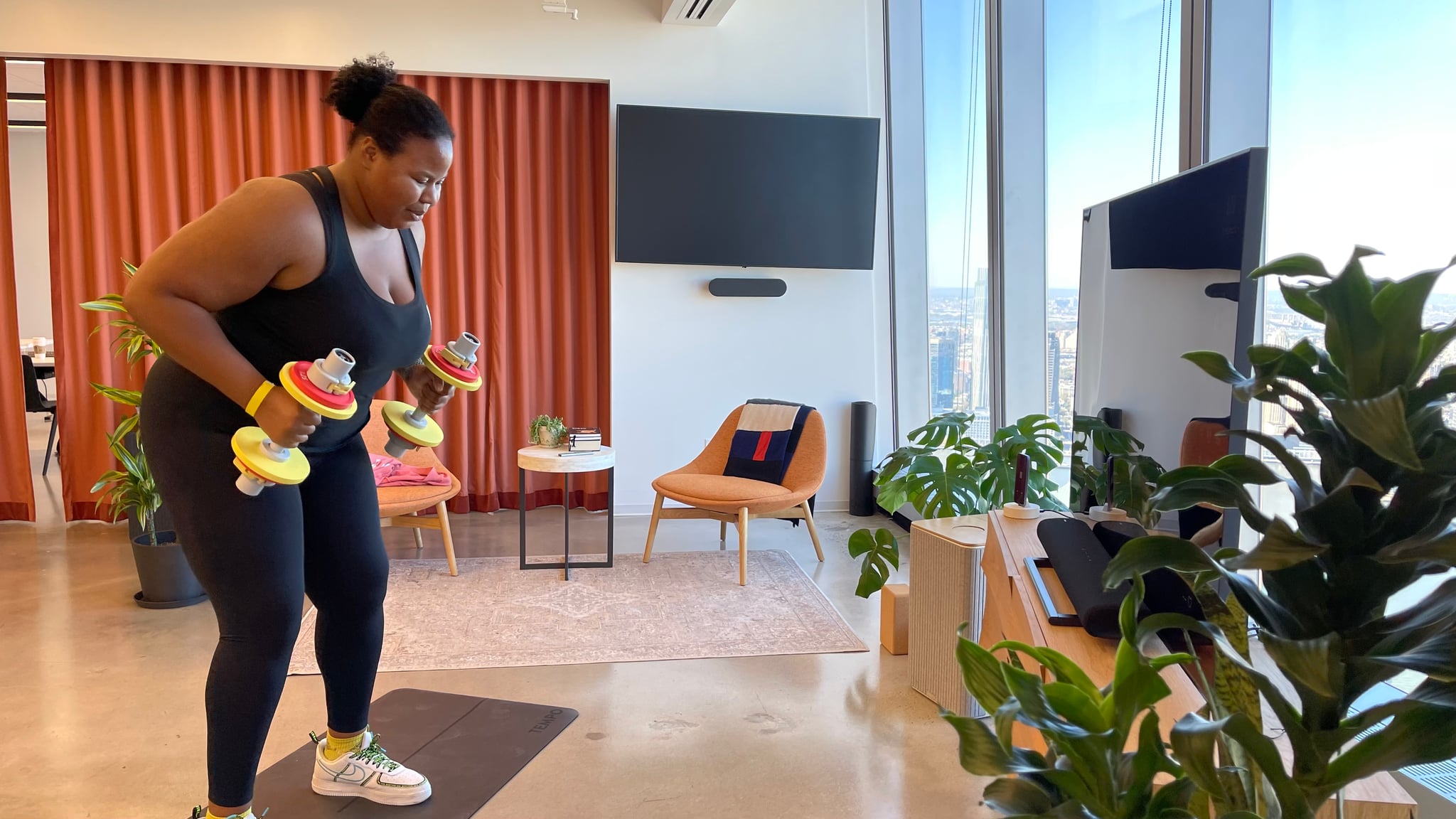 Take a peek at the image above. Can you find the Tempo Move ($495) device? When I was guided into Tempo's showroom by co-founder and CEO Moawia Eldeeb, he asked me the same question. And, honestly, I couldn't find it. The original Tempo is about the size of a six-foot-tall bookshelf and costs $2,000 more. I thought it was the speaker beneath the television. But it's actually the light grey side table next to the TV. Tempo Move is so discreet that it would be easy to move around your home, but the more I learned about the device it's evident that this is a great portable gym for someone who's on the move.
Tempo Move comes with two adjustable hand weights; 4 clamps; four 1.25 pound plates, four 2.5 pound plates, and four 5 pound plates, in the bottom compartment which opens from either side via a magnetic strip. Underneath the wooden surface is another compartment that can hold any workout bands that you have as well as an HDMI cable and your personal TV remote. Along with the Tempo Move the only other items a user would need is a monthly $39 membership on the Tempo Fit app (which up to six people can use) and an HDMI cable. Tempo also has a number of accessories including mats, and larger weighted plates with a kettlebell coming soon — in case there's anything else you'd want to include in your personal gym.
Speaking with Eldeeb about the reasoning for a Tempo Move, he mentioned that most people can't afford to see a trainer every week. With Tempo Move's assortment of live and pre-recorded personal trainer-lead classes, users can access a range of HIIT, yoga and cardio classes. After experiencing Tempo Move for myself, I completely agree that, for some, this compact device can be the home gym that people can actually fit in their homes while receiving similar feedback from a trainer as they would in a gym.
How Does Up Tempo Move Work?
At the top of the Tempo Move is the removable Core (dock) for your phone. It's a circular disc that can rest comfortably in the side table like stand or you can set it up wherever it's most convenient for your phone to be able to scan your body using 3D Tempo Vision, which also scans any weights you're holding.
3D Tempo Vision currently works with iPhone Xs – iPhone 13 Pro Max, using Apple's front-facing TrueDepth camera — and will soon use the rear-facing LiDar camera — to scan the user's entire body (and equipment) with thousands of tiny invisible dots to check for proper alignment throughout a workout. Note: These motion capture capabilities are currently unavailable on Android phones.
Setting up the Core to your TV only requires an HDMI which connects the TV to the Core. Once the Core and TV are connected, open up the Tempo Fit app, set up an account and make sure the cameras are able to scan your body when you select a workout. Then place your phone on the Core and start your workout. If you're traveling and only want to do bodyweight workouts, then all you need is your phone (with the app), an HDMI cable, and the Core to work out.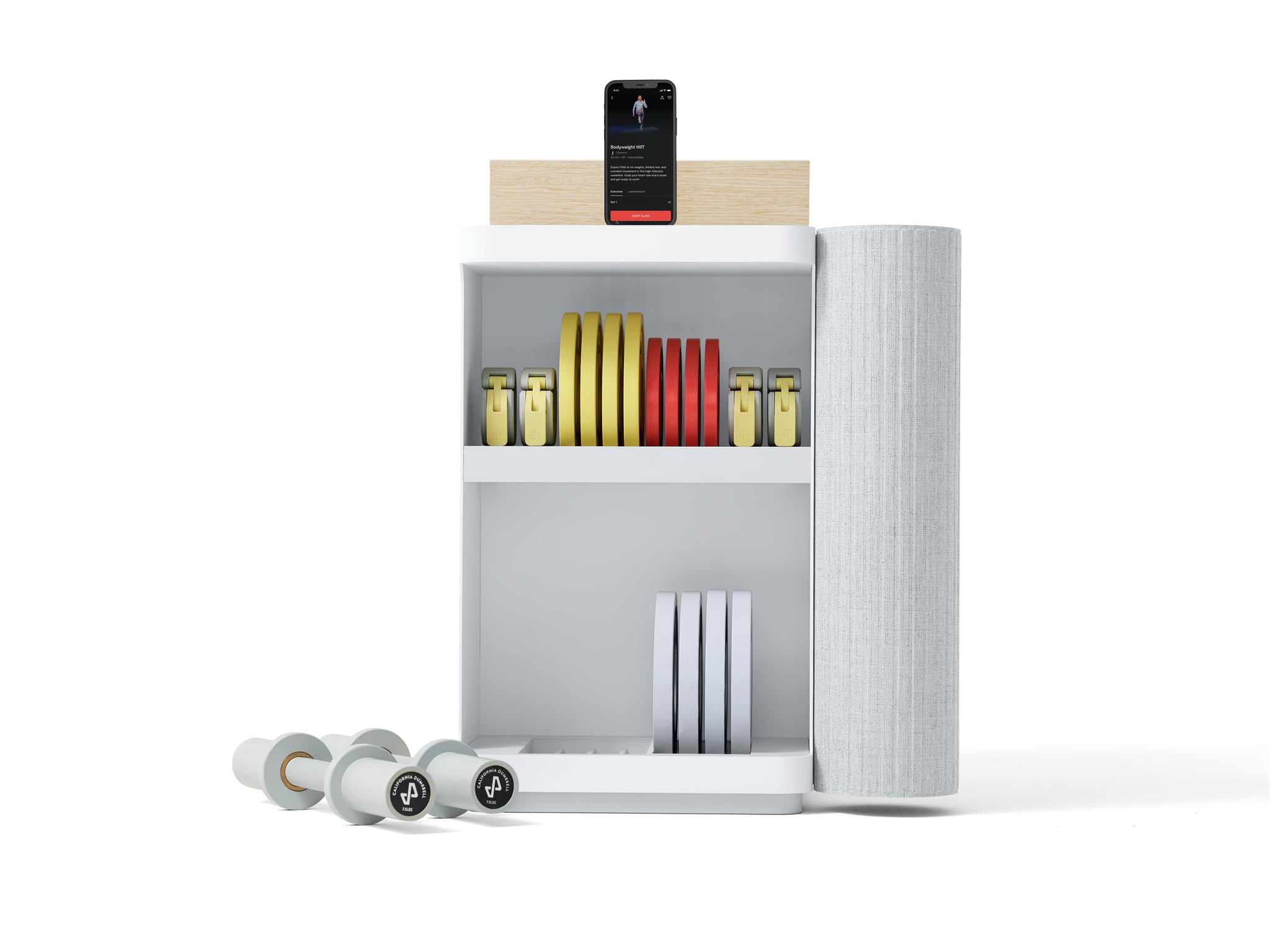 Working Out With Tempo Move
With the silicone coated weights in hand at the showroom, Eldeeb picked out a strength workout for me to try. Once the instructor appeared on the screen I was greeted by an array of metrics which surrounded them. On the lower left portion of the screen I found a rectangle with an echoing circle that represented me standing on the mat. On the right side of my virtual mat was my rep count. On the lower right corner of the screen was my heart rate which was being read by a heart rate monitor, which you can purchase separately or use your favorite smart watch. Just above that was a responsive leaderboard.
The leaderboard functions in such a unique way. You can filter it to people in your area or even select personalized groups that you can make through the Tempo Fit app. Also, you don't have to work out at the same time as your friends for it to move you up or down. The device compares where you are in the workout to where your friends were at the exact same time. So if you have a long distance bff you can still compete with them.
Just above the leader board is one of my favorite features, the countdown. The countdown shows you how much time you have left in the workout. For me, a countdown is a great way for me to stay in tune with the workout because I can always look over and say to myself "you've got this, just five more minutes Angelica!" Speaking of affirmations, the upper left corner of the screen will encourage your form if you're moving in the proper way but is also there to offer tips on having correct form.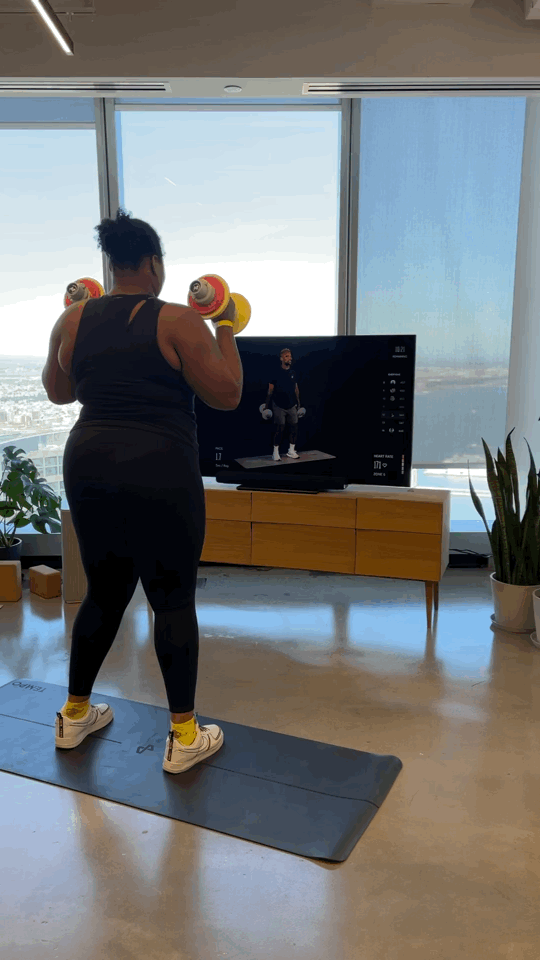 Trying it out for myself I was amazed at how much it felt like I had my own personal trainer. I felt supported during my strength workout in that I got feedback from the metrics on the screen and encouraging instruction from the trainer. Experiencing Tempo Move's ability to track me while I worked out so I didn't have to stare at myself in a mirror to check on my form. Instead I could just let Tempo Move guide me through the workout until the countdown was complete.
If you're looking for a compact home gym that also provides feedback on your form in a constructive way, give Tempo Move a try!
Image Sources: POPSUGAR Photography / Angelica Wilson and Courtesy of Tempo