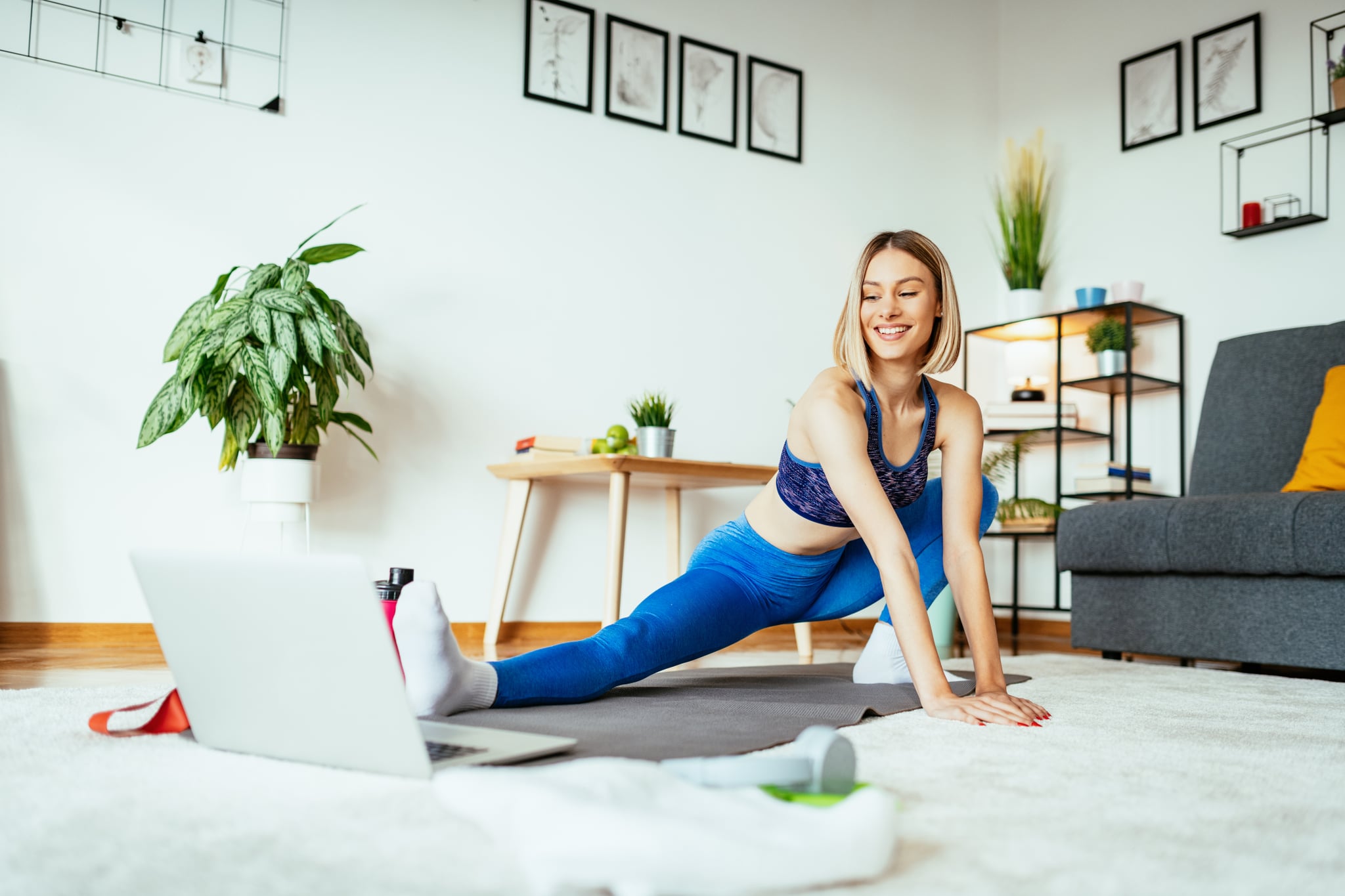 I know that exercise is a must for so many reasons, but after years of working out, I simply became burnt out on the whole thing. Binging some terrible reality show was much more appealing than lifting weights or doing yoga. And, when I calculated how much time it would take to commute to and from my local barre studio — on top of actually taking a class — I decided I'd rather stay home.
I was in a workout rut. Nothing sounded exciting or enjoyable to me anymore, and I lacked the motivation to get through a virtual workout class on my own. Whenever I tried, I ended up checking my phone "super quickly," just to find myself mindlessly scrolling through social media while the rest of the class continued to lift and burn.
Eventually, I started to feel the effects of getting out of my fitness routine, and I knew something needed to change. Not working out was not an option, but apparently neither was going to a group fitness class or trying to go it alone at home. So, I decided to give virtual personal training a try. Unlike virtual classes, working with a trainer one-on-one eliminates any possibility of checking out mid-session or cheating an exercise. And seeing someone virtually allows me to skip the time-sucking commute to a local gym.
Unlike virtual classes, working with a trainer one-on-one eliminates any possibility of checking out mid-session or cheating an exercise.
I decided to sign up for four 30-minute sessions with FlexIt Virtual Personal Training ($149 for four sessions). With this platform, I was able to select a trainer who offered the types of workouts I was interested in and book a session at a time that was convenient for me. Once I settled on a trainer, I had the opportunity to email her some preliminary information so she could create a workout routine for me ahead of our first session.
Unfortunately, my first session was a bust. My trainer was 10 minutes late and had a hard time logging on. I was disappointed, but my session was refunded so I could try again. Now with lowered expectations, I selected a second trainer, and thankfully, everything went smoothly. I explained to her that what I need is accountability. I described how I "cheat" when working out alone and tend to check my phone when I get bored during a class.
When it was time for my first session, I logged into the FlexIt platform and my trainer was waiting for me. We were able to see each other through our respective cameras and shared brief pleasantries. I was happy to find a kind and understanding voice on the other end of the screen, assuring me that she understands that I'm not super excited to work out these days.
Once we were settled, she took me through a routine she had created just for my needs and goals. After a brief warmup, she guided me through some circuit training that was incredibly challenging but doable. Throughout the workout, she offered words of encouragement and modified the exercises as needed. And when she had concerns about my form, she was able to give me effective verbal cues that helped keep me safe. Honestly, I don't think the session would have been any more successful if we physically met in person. I got in a great workout, I didn't feel any pain, and I didn't check my phone or cheat once.
By my third session, the trainer and I were already in a groove. She knew where my strengths lie and I knew what to expect. In a quick 30-minute session, we were able to zip through some pretty intense exercises and have time for a cooldown.
One of the many things I love about these sessions is that I can book them at a time that works for me. I'm not at the mercy of a class schedule, and I can book a session at 4 p.m. on a Sunday or at 7 a.m. on a Tuesday if I wish. Even better, I only need 30 minutes — there's no scrambling to get out the door or time lost commuting to a studio.
Virtual personal training has been a game changer for me. I have no trouble dedicating 30 minutes to a workout, and I appreciate having the accountability from my trainer. While I still don't love working out, FlexIt makes sneaking in some exercise pretty painless, and it doesn't take too much time away from my work or family. It was exactly what I needed to get out of my rut.