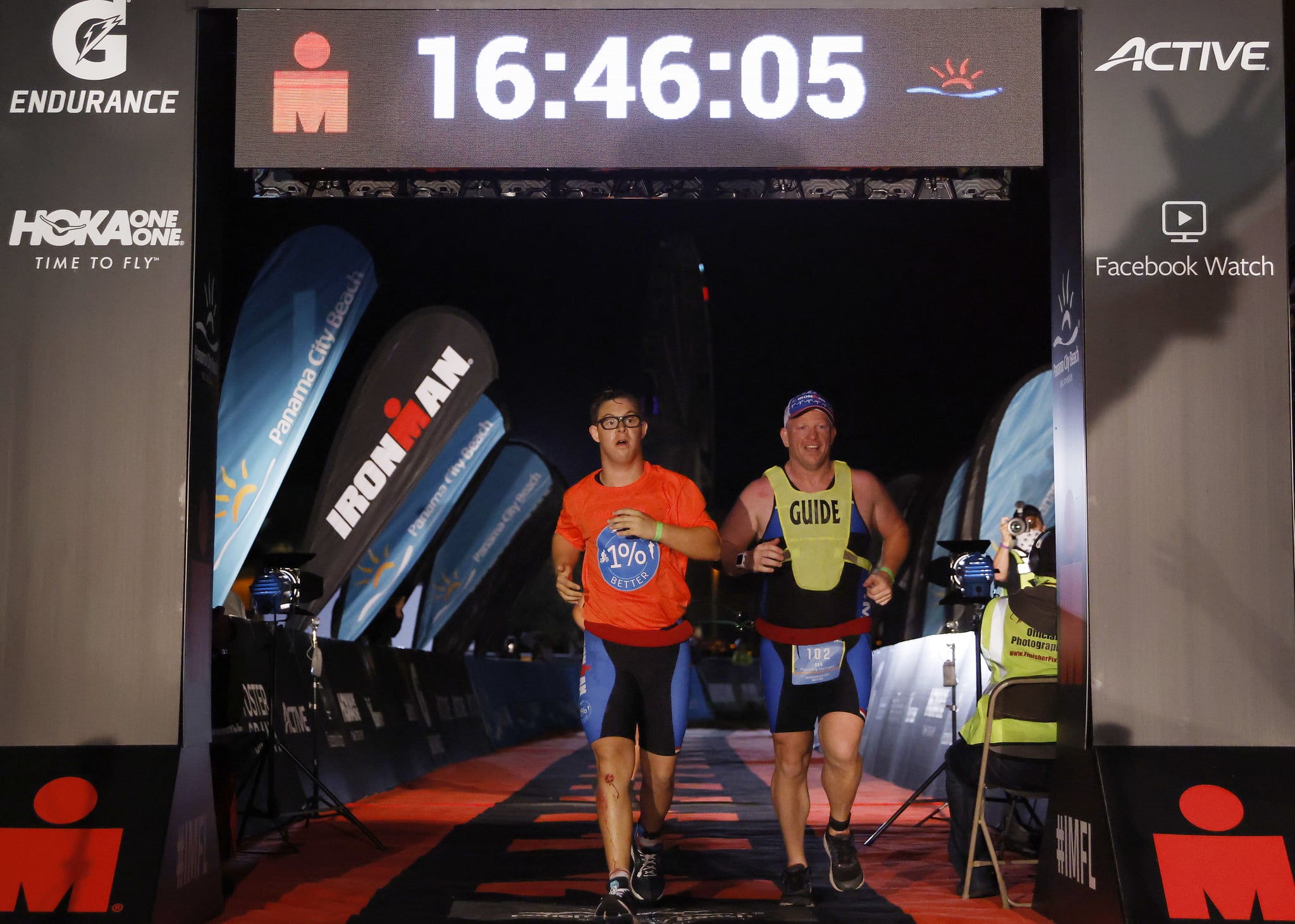 You might know Chris Nikic as the first person with Down syndrome to finish an Ironman, which he accomplished last November; or the Jimmy V Award recipient at the 2021 ESPYs; or, and most recently, the co-author of 1% Better: Reaching My Full Potential and How You Can Too. Some people just know him as Chris, the always-smiling 22-year-old athlete who loves (and I mean loves) Chipotle.
When POPSUGAR sat down for a video call with Nikic and his father, Nik, back in August, Nikic was preparing for the 2021 Ironman World Championship as well as the New York City Marathon. The first of the two, in St. George, UT, was postponed from this month to next May, due to the COVID-19 pandemic, and Nikic is now training for both the Boston Marathon on Oct. 11 and the NYC Marathon on Nov. 7. In addition to the postponed 2021 championship, the 2022 Ironman World Championship is set to take place in Kailua-Kona, HI, next October. According to an Ironman spokesperson, "The selection process for athletes to choose which event they will compete in is ongoing," and Nikic hasn't made an official decision yet.
Through all of the recognition Nikic has received over this past year alone, he wants other people with Down syndrome to believe they, too, can strive to achieve whatever they pour their energy into. That's where his motto, "1% better," comes from — working at something slowly and persistently until you're improving bit by bit, one percent at a time.
Nikic is looking forward to these marathons — running is his favorite part of triathlons — but he's also most excited for the post-race celebrations. (In his mind, that will include "clubbing and drinking champagne," plus Chipotle, and we don't blame him!) If you're planning on rooting for Nikic, he'd love signs that say "Pain Versus Gain" and "Chris Nikic Is Coming to Town." May we also suggest "Chris, You've Got This!" with a burrito bowl drawn on for good measure.
At the NYC Marathon specifically, he will be running alongside a team from nonprofit KultureCity, which one of his good friends with autism, Rachel Barcellona, is involved in. He wants to support her and others like her. The charity focuses on "sensory accessibility and inclusion for those with invisible disabilities" such as autism, PTSD, and dementia.
Nikic has a goal of eventually finishing a marathon in 3 hours and 21 minutes (he first told Men's Health this, this summer); 3:21 stands for the extra copy of chromosome 21, referred to as trisomy 21 — three separate copies of chromosome 21 instead of two — which causes 95 percent of Down syndrome cases. His father says that though it's a lofty goal for this year's marathon season, it might be attainable next year.
"We want kids to really look up to me," Nikic stated, adding, "not only do I do the work, but I do it for the kids." He eventually wants to open his own gym, where athletes, no matter the level, can come train. He aims to teach them his "1% system," to continue to "spread the word," and to inspire the "whole Down syndrome community behind the scenes."
Nik pointed out that as a result of Nikic's history-making Ironman competition, Nikic and his teammates from Special Olympics Florida's Unified triathlon team were invited to the 2022 Special Olympics USA Games. They are the first team to receive an invitation to participate in those Games, and Nik noted that the group is made up of about 80 percent people with autism and about 20 percent people with Down syndrome. "Those are 20 young individuals who would have never had the opportunity to do what they're doing and to experience something like the USA Games," Nik said.
"He has pushed me to think bigger. To expand my thinking beyond what I thought was possible."
Nik has witnessed his son's growing influence with each race, public speaking engagement, and interview opportunity, and he said Nikic has taught him "that we set our sights too low. That we need to believe more in ourselves and our abilities to achieve more." He continued, "And he has pushed me to think bigger, to expand my thinking beyond what I thought was possible, because you can't watch him make the kinds of breakthroughs he's making and the way he works and the way he just does everything . . . you can't do that and not look at yourself and say, 'What more can I do?'"
Nik describes Nikic as someone who leads by example "and creates an opportunity for others to follow so they can achieve their potential." It's due to this example, Nik said, that his son "can inspire others like him, but it can also inspire others like me and you."