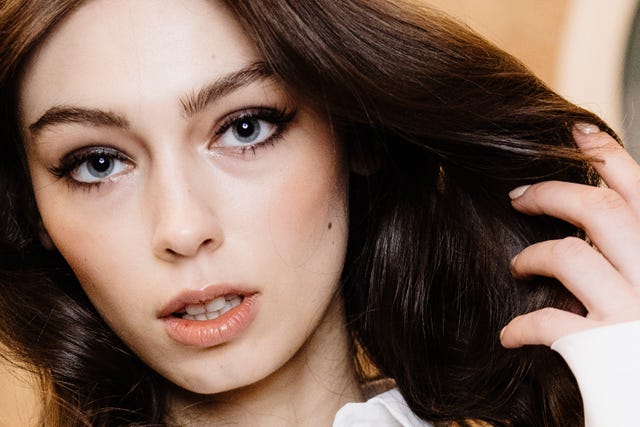 Rosdiana CiaravoloGetty Images
As someone who's addicted to heat damaging my own brittle, dry hair (I refuse to put down a blow dryer, sue me), I am perpetually curious about anything that could help soothe my split ends and tame those wild, broken flyaways. Whether it's hair masks, bond repair treatments, or overnight creams, you name it, and I've tried it. And while my hair is familiar with plenty of oils, I have heard rumors of a miracle oil for brittle hair. Meet jojoba oil. (You know everyone's favorite hydrating hair treatment Olaplex? It's packed with jojoba oil.)
I've heard about the wonders that jojoba oil can work on skin, but I needed a little more information about using it for hair before I doused my strands in it. So I turned, as we all eventually do, to the expert hairstylist, brand founder, and legend Guy Tang. Below, he breaks down everything you need to know about using jojoba oil in your hair.
Is Jojoba Oil Good For Your Hair?
Yes! "Jojoba is rich in vitamins and minerals that nourish the hair fiber to help keep hair strong and healthy," says Tang. So if you're someone whose hair needs a little extra love, this might be the best thing for it. "It also has great moisturizing properties to prevent the hair from becoming dry and brittle."
Who Should Use Jojoba Oil?
If your goal is hydrated, luscious hair, jojoba oil could probably work well for you. "Fragile hair types like curly hair, or fine hair, will benefit the most from jojoba oil because it will help keep the hair from breaking," says Tang. "These two types of hair are the most commonly known to break from brushing, heat tools, and chemical services." Also, if your hair tends to shed a lot in your routine, that might be a sign that you could benefit from the vitamins in jojoba oil.
How Should You Use Jojoba Oil In Your Hair?
While you can certainly apply the oil straight to your hair, there are some innovative ways you can use it without overdoing it. "My favorite way is to add a few drops of the pure Jojoba Oil in conditioner, apply from roots to ends and leave on for 10 minutes like a hair mask," says Tang. "Then rinse thoroughly. This process will benefit both the hair and scalp."
You can also be on the lookout for hair products that have jojoba oil as an ingredient. "I added Jojoba Oil into #mydentity permanent and demi-permanent color, to help condition the hair and keep it strong during the coloring process."
Below, four more of our favorite jojoba oil hair products for all of your hair needs.
This content is created and maintained by a third party, and imported onto this page to help users provide their email addresses. You may be able to find more information about this and similar content at piano.io