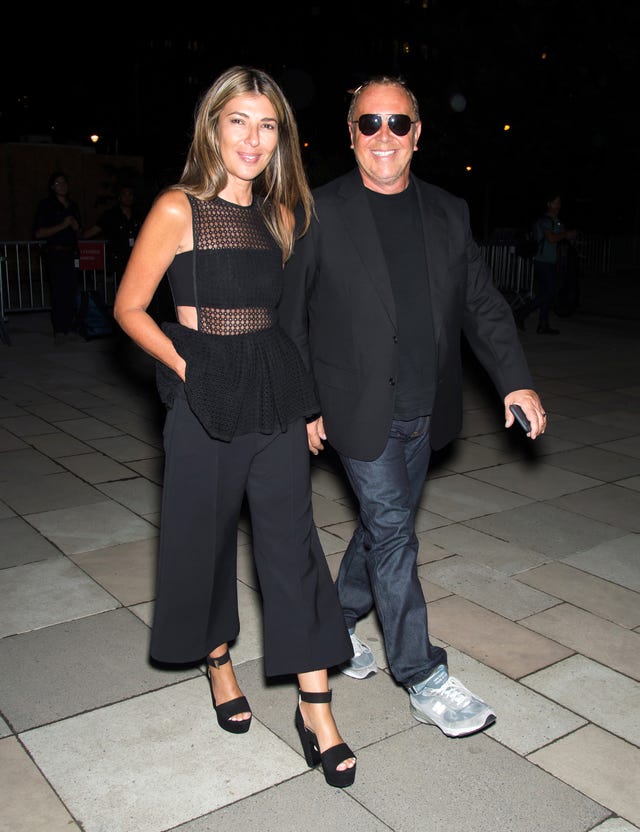 Gilbert Carrasquillo/Getty Images
Nina Garcia: Your fall collection was a tribute to Broadway. How did that love affair begin for you?
Michael Kors: The first musical I ever saw was Annie Get Your Gun, with Ethel Merman. I was five years old. I had no idea who Ethel Merman was. I was knocked out—loved it. And I think I loved the fact that for however long, you're transported somewhere else.
Garcia: You started with the best of the best.
Kors: It's as if the first dress you ever wore was couture. And the funny thing is, it does come full circle. The most iconic song among many in that show is "There's No Business Like Show Business." So when we were talking to Rufus Wainwright [who performed at Kors's show], I said, "I want it to be a love letter to New York, to performance." Fashion is like the entertainment business. Sometimes it beats you up, but there's no business like show business.
New York has always been such a colorful picture, and the pandemic drained the color out. Because our office is in Midtown and we go to the theater so often, all of a sudden I felt like the heartbeat of New York City was not fully stopped, but really slowed down. And so that's why I said, "You know what? This has got to be about stepping out again and making everything a special occasion."
Garcia: That was a phenomenal collection. It was all the very best of Michael, and you felt the inspiration of Broadway in it. Not many designers have the ability to transport us like you do. You've taken us to Aspen, to St. Barts, to Capri. You've taken us to Broadway. You have the ability to be a storyteller on the runway without all the artifice. You don't need all the set designs; it's just the music. It's your clothes. It's the way you put that show together. But I do know, even though you've taken us to all these destinations, that your first muse and your forever muse is New York.
Kors: Always. Where was life the fastest first? Here in New York. And of course, during the pandemic, all of us had gotten used to running so quickly, and suddenly we stopped ourselves. I think it made everyone more appreciative so that when you're going back to the office, it's a special occasion. You're going to want to stand out and look fucking fabulous. I don't think anyone's going to want to go to the theater anymore wearing flip-flops. I also feel like eating outside has brought the idea of street theater to a whole new level. We joke that when we go out to dinner, I want to bring number cards like I'm at the Olympics: "10s across the board." It's like you're watching a vogueing exhibit.
Garcia: You always find the silver lining. And you always bounce back stronger, Michael. Just like the city.
Kors: My favorite person in the theater is always going to be Stephen Sondheim. And of course Sondheim said it best: "I'm still here." You just keep going.
Garcia: Did you ever think, "I'm going to have a business for 40 years?"
Kors: Honestly, I still feel 22. To me, the ultimate modern fable is Working Girl. When I met Melanie Griffith, I said to her, "I'm a little Tess McGill." And she said, "What do you mean? You have a head for business and a bod for sin?" And I said, "The point of the character was that Tess McGill was always thinking of new ways to do things. And I think it's a very New York attitude. Mike Nichols made that movie knowing that New Yorkers don't take no for an answer."
Garcia: If I were a tourist coming to New York, what would you put on my to-do list?
Kors: You've got to go to Yankee Stadium and see a game, and eat on Arthur Avenue in the Bronx afterward. Then have a Sunday brunch of bagels and smoked salmon: If you're uptown, Barney Greengrass. If you're downtown, Russ & Daughters. Have a cocktail at the Carlyle, then go to Bergdorf Goodman and run through the main floor and feel like Barbra Streisand in a television special. Then head downtown and get lost in the West Village, and sing a Broadway tune at Marie's Crisis. Head down to Chinatown for dim sum. Walk across the Brooklyn Bridge, because it's the most stupendous thing to do, and go to the Promenade in Brooklyn Heights and look at the skyline. And you've got to go to Coney Island. My great-grandmother lived there, and I grew up going. Talk about the amalgamation of different people. Nothing more fabulous. So yeah, I would be that weird mix. I'd be Bergdorf's and hot dogs.
Garcia: What is the future of New York?
Kors: I think we're going to see creativity explode from young people. I think people are going to be able to actually move back into the city. It'll be more affordable. Young entrepreneurs and creative people will be able to start their own businesses. And I think we're going to see this resurgence of youth. Because I have to say, when I'm out on the streets in New York, what an incredible moment to be 25 here and see the city coming back to life. When people say to me now, "When you moved to New York, weren't you afraid?" I say, "No, I was excited at the possibility." Anything could happen.
Garcia: What would you tell all those people who left New York and are thinking about coming back?
Kors: We need everyone to be here to celebrate the amazing possibility of this city. And that goes for cities all around the world. For me, I still get a heart rush when I am on the Long Island Expressway, getting to the Queens-Midtown Tunnel, because when I was growing up in the suburbs, New York City meant anything was possible. We need everyone to realize that the magic of all of that creativity and energy is something you can't duplicate. So you've got to come back.
New York, Michael Kors Style
Favorite Broadway Shows
Anything by Stephen Sondheim
NYC Playlist
Billy Joel, "New York State of Mind"
Liza Minnelli, "New York, New York"
Jay-Z featuring Alicia Keys, "Empire State of Mind"
NYC Streaming Queue
Top Three Elements of NYC Style
This article appears in the October 2021 issue of ELLE.
This content is created and maintained by a third party, and imported onto this page to help users provide their email addresses. You may be able to find more information about this and similar content at piano.io