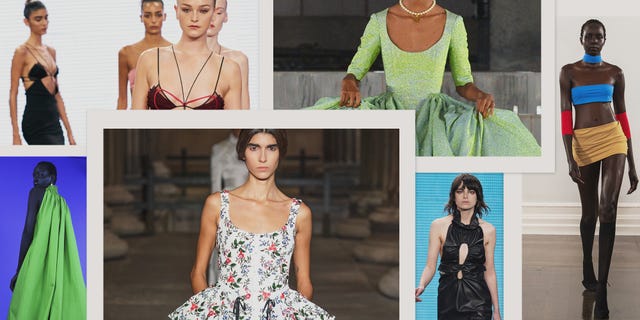 Courtesy of the designers; Crutchley: Eamonn McCormack/BFC; Maximilian: Chris Yates
Style Points is a weekly column about how fashion intersects with the wider world.
By the looks of the recently concluded London Fashion Week, designers spent their lockdown downtime either delving deep into fashion history or craving the lights and EDM drops of clubland. While New York Fashion Week saw a new focus on a sober, trend-proof style of dressing, London's talents went to further extremes. Some of the standout shows split neatly into two camps: There were those who hewed to tradition, though very much seen through a modern lens. And those who pushed the limits of body-con as a release valve for all the cooped-up club kids out there.
The body-con agenda was furthered by brands like Maximilian, Supriya Lele, KNWLS, and Nensi Dojaka. Showing as part of Fashion East, the group show devoted to up-and-coming talent, Maximilian Davis drew on memories of family trips to Trinidad and the risqué style of Bond Girls, particularly in 1962's Caribbean-set Dr. No, for his brightly colored, cutout-heavy lineup incorporating military and scuba elements. Lele reimagined basic items like a simple men's tank top, which was transformed into a sleeveless dress, and worked keyhole cutouts and ethereal netting into her minimalist looks.
Charlotte Knowles and Alexandre Arsenault of KNWLS, known for their take on corseting, showed well-cut low-rise trousers and leather creations with a Western edge, as well as their signature underpinnings. And fresh off her LVMH Prize win, Dojaka called her offering "a wardrobe for the new world," with lingerie motifs, cool cutouts, and inventive tights. All four have made skintight and flesh-revealing their wheelhouse, but this season, the looks felt more fully realized, less like clubland fantasies and more real-world-adjacent. (Amid all this body-consciousness, however, it bears noting that it would have been nice to see a wider range of body shapes represented.)
Meanwhile, Emilia Wickstead, Erdem, Roksanda, and Edward Crutchley hit the books, turning back to chapters past, channeling historical dress. Wickstead cited 1961's frequent fashion-world touchstone Last Year at Marienbad, but many of her designs felt of an even earlier vintage; her show notes cited "a melding of old-world and modern proportions." Amid the '60's references, there was a touch of the Bridgerton effect in some of her sweeping, voluminous skirts and Romantic necklines—not to mention the location of her lookbook shoot, a maze at the Badminton Estate in Gloucestershire. Roksanda Ilinčić's pieces played with volume, too, most winningly in a luxuriant bright-green gown that wouldn't be out of place on Daphne Bridgerton herself.
One of fashion's biggest history buffs, Erdem Moralıoğlu, adopted twin muses for spring 2022: Bloomsbury habitués Edith Sitwell and Ottoline Morrell. Both towering British icons (literally: both women hovered around six feet in height) their eccentric, and often anachronistic, style drove a collection that expertly zigzagged between time periods with the giddiness of Bill and Ted. And Crutchley pulled from England's LGBTQ history, citing a newspaper report from 1728 about "male Ladies" who were jailed and tried for cross-dressing, but also celebrating the vibrant, and too little-remembered, queer cultural spaces of that time. He opened and closed his show with richly textured panniered gowns that paid no mind to gender restrictions, making for the perfect fusion of Old World and New.
This content is created and maintained by a third party, and imported onto this page to help users provide their email addresses. You may be able to find more information about this and similar content at piano.io