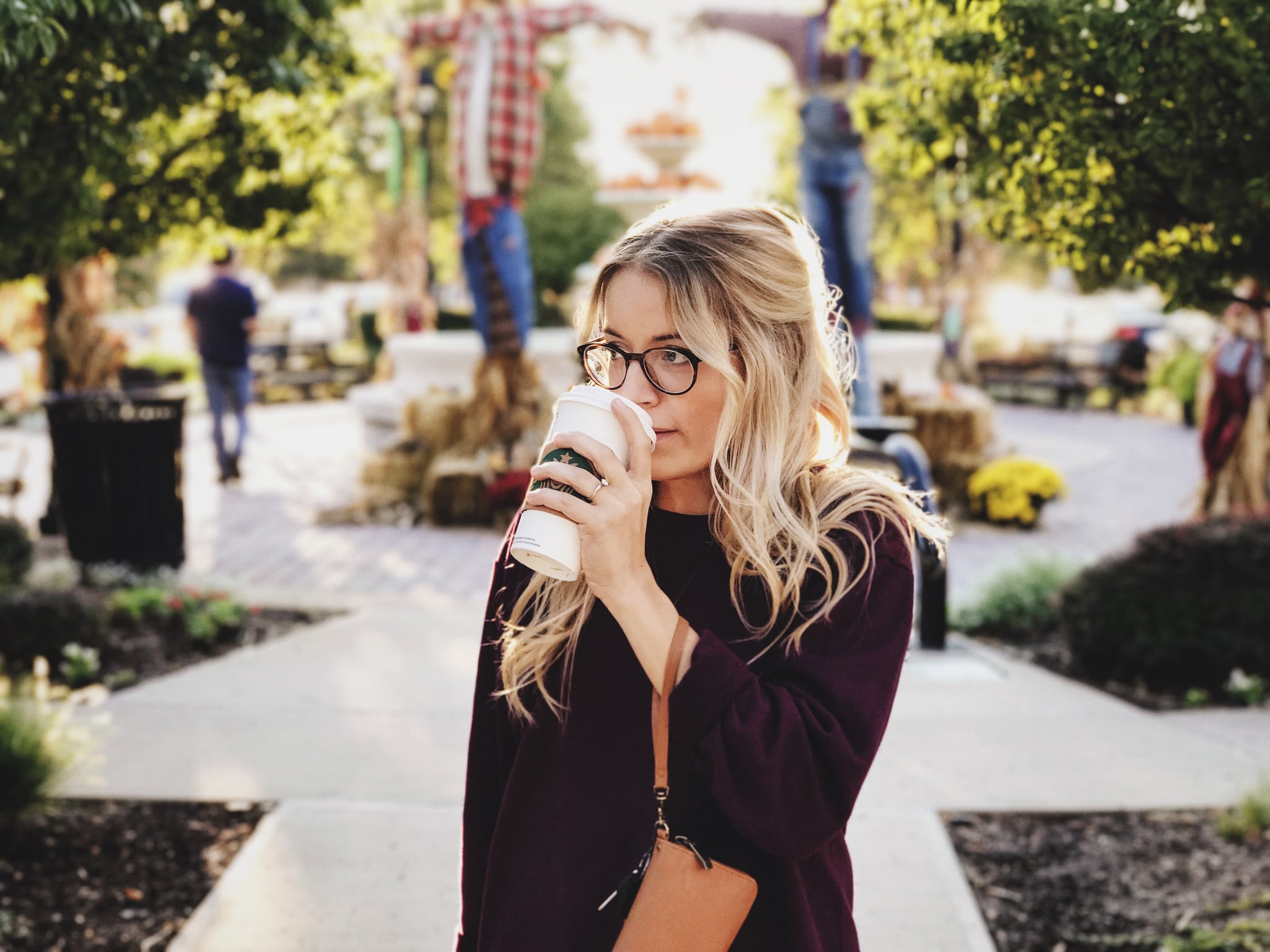 When you start to feel a bit of crispness in the air and people begin swapping out their flip-flops and tank tops for scarves and booties, it can only mean one thing: Pumpkin Spice Latte season is upon us. And while there is nothing quite like indulging in a creamy and super-sweet pumpkin-flavored latte on a cool autumn day, sometimes you just want something a little lighter.
Fortunately, whether you're team pumpkin-spice-everything or more of a purist when it comes to cozy beverages, your local Starbucks barista can whip up some incredibly satisfying, seasonally appropriate drinks made with better-for-you ingredients. If you're ready to get your fall on while still making healthy choices, here are some drinks for you to try on for size:
Chai Tea: Naturally flavorful with no added sugars, a warm cup of Starbucks's Chai Tea is loaded with fall favorites like cinnamon, ginger, and cloves — as well as a boost of healthy antioxidants. If you need a little sweetness, add a dash of stevia.
Oatmilk Latte With Pumpkin Spice Topping: If you crave the taste of a classic PSL but can do without the added sugar and calories, order your choice of a latte made with oat milk, and ask the barista to add a sprinkle of the coffeeshop's Pumpkin Spice Topping. That bit of cinnamon, ginger, nutmeg, and clove will deliver the same cozy, fall vibes without the sugar rush.
Steamed Apple Juice With a Sprinkle of Cinnamon: Freshly steamed 100 percent apple juice is as good as cider, but with no added sugars or artificial flavorings. Ask for a sprinkle of cinnamon on top for some extra fall flavor.
Caffè Misto: The Caffè Misto is a one-to-one mix of brewed coffee and steamed milk — a simple but perfectly satisfying cup for a cool autumn day. A Tall Caffè Misto made with dairy milk contains five grams of satiating protein, giving this drink some staying power.
Skinny Cinnamon Dolce Latte: This combination of espresso, steamed nonfat milk, and Starbucks's Sugar-Free Cinnamon Dolce Syrup will only set you back 100 calories when you order a Tall, and it's so warm and inviting.
Honey Almondmilk Cold Brew: If the weather isn't quite calling for a warm cup of joe, try this satisfying cold brew. Made with only cold brew coffee, almond milk, and a touch of the coffeehouse's Honey Blend, a Grande contains just 50 calories and packs a punch in the nutrition department. Consider asking your barista to swap the Honey Blend for a bit of real honey for even more antioxidants.